Our Top Picks
To save you time, here's a short list of the best wireless headphones we recommend.
Good wireless headphones can be used for just about anything: from making it easier for you to exercise, to taking calls, to listening to your smart TV, to simply enjoying music at its highest quality.
The best wireless headphones give you more mobility, are not obtrusive, and perform just as well as headphones with a wired connection.
Sony is a leading maker of headphones, and a top provider of premium, high-quality wireless headphones.
These have a ton of cool features and high performance—so it's no wonder it's at the top of this list of the best wireless headphones.
This is nearly tied for first with a Beats model below, but edges it out slightly for a few reasons:
Pros:
Prime membership discounts price significantly
Noise-canceling
Multi-device connection lets you switch easily between two devices
Touch sensor controls let you easily pause, play, skip, control volume, activate the voice assistant, and switch to calls
Speak-to-chat feature automatically reduces volume when switching to a call
30 hours of battery life; quick charging means a 10 minute charge can provide 5 hours of listening
Wearing detection pauses playback when headphones are removed
Built-in microphone with a voice-pickup feature lets you have higher quality calls
Highly rated: 4.6/5 stars with over 5,000 reviews to back it up
Cons:
On the pricier side overall, but normally priced for headphones of its calibre
Consistent complaints that touch controls can be glitchy, particularly for altering volume
Some complaints about the multi-device connect feature not working, but these are a small minority
Some complaints about sound quality, but these are also a small minority
You've probably heard about Beats already, because they were very high-profile when introduced, and have influenced the headphone industry a lot.
To this day, Beats remains a premium, high-end brand, so it's no surprise that it's got a top spot on this list of the best wireless headphones.
In particular, these Beats headphones are the best wireless headphones for users of Apple devices.
Pros:
Slick design, and choice of several different colors
Features Apple's H1 chip as well as top-tier Bluetooth, resulting in high-quality connection
Compatible with iOS and Android, plus voice command capability with Siri
22 hours of listening life normally, which can be extended to 40 with a couple features disabled; Fast fuel feature means a 10 minute charge can provide 3 hours of listening
Foldable, and folding or unfolding automatically turns the headphones off and on
Active noise-canceling and transparency modes (which lets you hear your surroundings better)
Built-in microphone plus speech detection for better quality calls
Highly rated; 4.6/5 stars with well over 3,000 reviews to back it up
Cons:
Pricey compared to lower-tier wireless headphones, but normally priced for high-end wireless headphones
Consistent complaints that these are uncomfortable after extended use because of how they press the ear
Some complaints that sound quality isn't as good as other headphones by Beats and competitors, but these are in the minority
Vankyo's wireless headphones are near the top of this list because they have been just as well received as the first two, but are a fraction of the price.
But if these wireless headphones have the same rating as the top two options, and are significantly cheaper, why isn't it at the top of the list?
Because these are fundamentally less advanced wireless headphones. For some people, these should be #1; but for others, it's not luxurious enough.
Pros:
Very affordable, especially for the quality
Active noise-canceling
Has an option for wired connections
Memory foam on earpads molds to your ear shape
30 hours of listening time, and a 10 minute charge can provide 2 hours of listening
Built-in microphone for wireless calls
Highly rated: 4.6/5 stars with over 3,000 reviews backing it up
Cons:
Not as advanced as some other premium wireless headphones
Some complaints that connection stops working after some time, but there are very few of these
Consistent complaints that active noise canceling is mediocre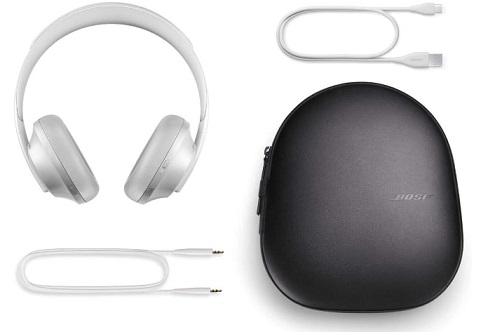 Here we have another option from a top-tier brand. Bose has been around since 1964 and since then has stuck to making high-quality audio-equipment.
So it should be no surprise that Bose's wireless headphones have made it to the list. The only things holding it back: the price, proportionate to other similarly priced options.
But make no mistake, these are still some of the best wireless headphones around, and they may be the most advanced on this list.
Pros:
11 levels of active noise canceling
20 hours of battery-life on a single charge
Wired option available
Compatible with both Amazon's and Google's voice assistants
One touch/tap can instantly bring up your last Spotify session, though this only work when paired with iOS
Can be paired with some Bose soundbars (advanced speakers)
Advanced built-in microphone automatically filters noises in your environment when you talk
Alexa-to-Alexa calling lets you use the headphones to call other Alexa-enabled Bose devices or Amazon Echo
High-quality material/sturdy build
Highly rated: the 4.5/5 star rating has nearly 13,000 reviews to back it up, and it's an Amazon's Choice product
Cons:
On the pricier side, though the price is normal for premium wireless headphones
Headphones will not work unless you install Bose's smartphone app and make a Bose account
Plus, consistent complaints that the app is buggy and frequently requires re-pairing of the headphones and phone; when logged out of the app, the headphones won't work
Cowin's E7 wireless headphones are another great budget option. They've been very well-received, and are a best-seller on Amazon.
As with the Vankyo's wireless headphones, what puts these lower on the list is that they're not as advanced as more premium options. Plus, they're not as well-received as the first three options, though again, they're still very popular.
Pros:
Very affordable
Range of colors available (7 total)
Has option for wired connection
30 hours of playtime at full charge
Noise cancelation
Built-in microphone for wireless calls
18 month warranty
Highly rated: 4.4/5 with a whopping 55,900+ reviews to back it up
Cons:
Doesn't have a fast charge like many options here
Manufacturer recommends removing headphones after 1-2 hours of continuous use in hot weather
Consistent complaints that noise canceling isn't very good
Consistent complaints that it's not very sturdy
Sennheiser's wireless headphones are another premium option. What holds them back on this list: more consistent complaints, relative to the price point.
Nonetheless, Sennheiser's Momentum 3 wireless headphones have been positively received and are highly praised for their sound quality, so it's no surprise it's earned a spot on this list.
Pros:
Prime members get a significant discount, which makes the price impressive
Automatic on/off feature
Active noise canceling plus transparency modes
Simple, reliable three-button interface
Nice build quality
Consistent praise for sound quality, even among people leaving negative reviews
Highly rated: 4.3/5 stars with hundreds of reviews backing it up
Cons:
Without a Prime discount, these are on the pricier side, especially proportionate to its reception
Not as many advanced features compared to other headphones with similar prices
Consistent complaints about Bluetooth connection quality
Consistent complaints that the auto on/off feature is poorly implemented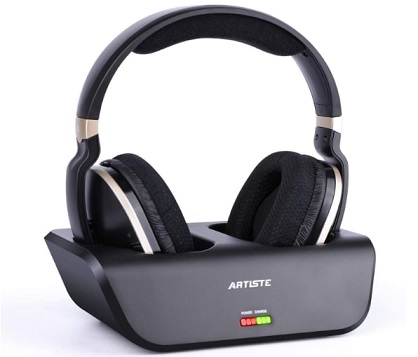 As you can see, ARTISTE's wireless headphones stand out from the others on this list, being charged through a docked charging station.
But it stands out in another way: these use a different radio frequency than most Bluetooth types, which adds some unique pros.
The reason it's at the end of this list is that it's not as good as the others—but in the scheme of things, it's still one of the best, and comes at a low price point. It's especially good for TV.
Pros:
Relatively affordable
Auto shutoff to save power after 3 minutes of non-use
20 hours of battery life
Wired connection available, plus can connect via RCA outputs
Manual wireless pairing isn't required, as these can auto-connect without user intervention
Connection range is farther than that of most Bluetooth headphones (up to 100 feet away from the source)
Because of the range, extra good for people who primarily want to watch TV
Overall, positively received: 4.1/5 with over 2,800 ratings supporting it
Cons:
Not as highly received overall as other options here, including some with similar price points
Consistent complaints about sound and connection quality
Consistent complaints that it's not good for connecting to smart TVs
Functionality is tied to having the charging base nearby
Our Winner: Best Wireless Headphones
Ultimately, our top spot goes to Sony WH-1000XM4 Wireless Industry Leading Noise Canceling Overhead Headphones.
However, that's a very close call: the Beats Solo Pro Wireless Noise Cancelling On-Ear Headphones are a close second.
Both of them provide excellent sound, have loads of cool features, and are from reputable, leading brands. Ultimately, Sony's wireless headphones are just a bit better for the average buyer.
But remember that this is just an overall list, and your specific needs will probably result in a different order. So if you're prioritizing price, for example, theActive Noise Cancelling Headphones VANKYO C750 Bluetooth Headphones would be best.
To help you figure out what to look for, check out our buyer's guide below.
Buyer's Guide: How Do I Buy the Best Wireless Headphones?
The basics of how wireless headphones work
Believe it or not, even though wireless headphones are a specific category of headphones, there are still a lot of differences between them.
The first wireless headphones were wireless because they used Bluetooth. Bluetooth is a technology that digitally encodes sound and transmits it wirelessly over certain (short) distances.
Bluetooth is NOT WiFi (wireless internet), by the way. They are similar in daily use, but not the same; you could use Bluetooth without an internet connection, and visa versa.
To an extent, all wireless headphones are "smart" headphones, because they can connect digitally. But even then, some are more basic, and some are more advanced.
So on that note:
Should I get smart wireless headphones?
As said, there's a range in how "smart" wireless headphones are. Sounds funny, right? Aren't they all Bluetooth?
Well, yeah, actually. But, some are designed to be used in conjunction with smart devices, which themselves also support Bluetooth connections.
Additional characteristics include having the headphones manufacturer provide an app for mobile devices and/or computers, to go along with the headphones; and having extra features related to filtering noise and voices in and out, or a lot of touch controls.
So, there isn't exactly a clear dividing line between smart and non-smart wireless headphones. It's really a spectrum, a question of "more" or "less" smart.
Some people may NOT want smarter headphones for specific reasons:
One of them might be privacy. Smarter headphones find a lot of their utility in connecting to voice assistants from Amazon and Google. Some people prefer to avoid such devices, and those people would find a lot of the additional functionality wasted on them.
Plus, like I said, a lot of smarter headphones have you install apps from the company. Those apps may require you to give away privacy permissions so you can even use the headphones.
But another reason some may not want smarter wireless headphones, is just a personal preference for simplicity.
To some people, wireless headphones should just be wireless headphones; that is, just like normal tethered headphones without the tether.
Such people would argue that a lot of extra features appear to make things easier, but actually make the user experience more annoying and complicated, especially when done poorly.
For example, tap-based volume controls are a frequent source of complaints on basically all wireless headphones, even the best. Let alone more complicated tap-based commands.
Plus, some people would only use their wireless headphones on a few select devices that they would probably use a headphone cord with anyway, like a phone, tablet, or computer: those people probably don't have a huge need for super advanced headphones in general.
If you want to use your headphones with a smart TV though?
Well, generally, as long as your smart TV has Bluetooth capability, you could still connect it to wireless headphones. However, some smart wireless headphones still offer additional features that make pairing with smart TVs even better.
Lastly, the final major dividing line between the smartest wireless headphones and the most basic is…
Price. Of course. The more advanced your headphones, the more expensive they are.
There are intermediate options and exceptions here and there, but for the most part: the standard feature set of "smart" wireless headphones will start around $300. Less advanced ones frequently fall under $100, sometimes being as affordable as around $60.
So why would anyone get smarter wireless headphones at all?
Well, again, they're great if you use voice assistants or other smart home products. Also, advocates would argue that once you get used to the controls, they're far easier and more intuitive than anything else.
Plus, though smarter does NOT necessarily mean higher-quality, usually more advanced wireless headphones are also better in connection and sound quality. Meaning, a lot of people aren't paying only for smart features, but top-tier quality plus features
How important is active noise canceling in a wireless headphone?
You might have noticed that every headphone on this list has some level of noise cancellation. Most wireless headphones will list noise cancellation as a feature.
But, some companies are just referring to the basics of how headphones work, which is that they block out the environment by their physical design. It's a bit of a marketing ploy.
If noise cancellation is what you're really after, it's best to pay attention to active noise canceling (ANC).
ANC headphones have systems for using the built-in microphone to listen to the surrounding environment. To "cancel" noisiness in your surroundings, the headphones emit specific soundwaves that neutralize specific soundwaves outside.
That might raise concerns from people who think it's cool, but dangerous—what if you're in an area where you need to be more attentive to your surroundings?
Well, basically all ANC headphones have an ability to turn off ANC. So if you want to be more mindful, or if you're mostly working in a quiet environment, you can just switch it off. Some headphones even have different ANC levels.
ANC isn't going to be 100% perfect, but it definitely can be better or worse. It's worth paying attention to what customers say here, if active noise canceling is something you're prioritizing.
One final note on this, however; good ANC generally is more expensive.
That doesn't mean all expensive wireless headphones have great ANC, or that cheap ones always have poor ANC. But, generally, good ANC wireless headphones will start around $100 and typically cost $200-$350.
Conclusion
Let's recap: our winner is Sony's WH-1000XM4 Wireless Industry Leading Noise Canceling Overhead Headphones, but it's a close race.
Ultimately, it's most important that you pay attention to your own priorities. Is it bang-for-your-buck? Top-tier sound and connection quality above all else? Having loads of cool features?
Whatever your preferences, today's wireless headphones can meet them.
Happy listening!
X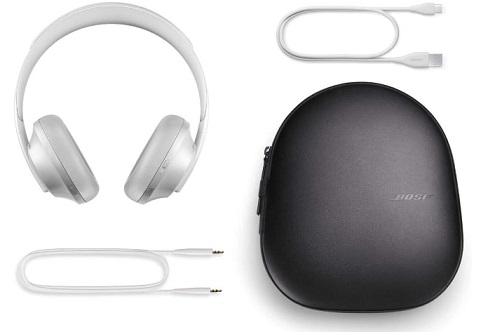 You might want to hear this:
Mr.Noseley…
"You put these headphones on and the worlds noise clutter instantly dissolves. Great sound reproduction AND the best noise cancelation in the business as I have the sony 2000xMk3's and the comparison is night and day as the Sony's noise cancelation is just about as good as last years Bose QC."