Losing your belly fat is the most challenging aspect of your weight-loss journey. It is very stubborn that gets accumulated easily but needs a lot of hard work to lose. If you have belly fat and you love riding bikes, then following some simple tips would help you to get back in shape.
If you want to lose your belly fat using your exercise bike, consistency is the key. You will need to ride it on a daily basis following the tricks given below. Only then you will get fitter, leaner, and look great even in those body hugging clothes.
Shedding the extra kilos on exercise bike
Exercise bikes can be of great help when it comes to your overall physical and mental health. It strengthens your immune system and contributes to your overall weight loss. By cycling on your favorite exercise bike, you will not only lose belly fat but also get toned muscles.
Cycling has also shown to increase your lung capacity. It also reduces the chance of various heart diseases. And even if you have a busy schedule, you can opt for real bikes instead of the exercise ones, to travel to your school or work, which would save your time, money and you will be able to lose weight on the go.
Tip 1: Always keep a steady pace
Always maintain a steady pace if you want to shed those extra kilos while cycling. The activity might not exert the same amount of high stress on your stomach muscles as crunches or sit-ups would do, but it does help in losing weight.
You can go for a moderate intensive pace, which is one of the best ways to lose belly fat. Do this at least three times a week for around two hours. Remember that, low intensity workouts are sometimes great in helping you to lose weight more than that of high intensity workout.
However, the calories burnt in a low intensity session would be much less in number. So if you are planning for a heavy post-ride snack, we would suggest you to avoid that.
Aim to ride at least 70% of your maximum heart rate.
As your fitness increases, up your riding time to more than 2 hours for more fat burn.
Ride at a greater speed in the morning while you are fasted.
Tip 2: Focus on Interval Training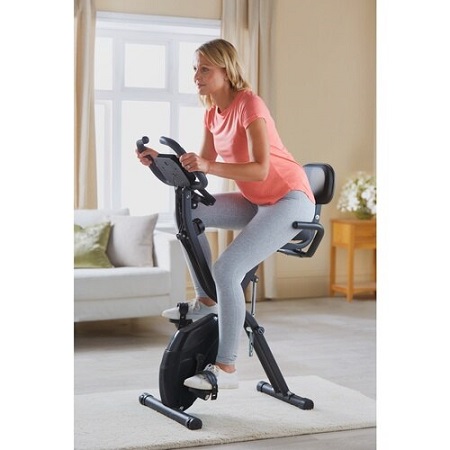 If you want to step up your calorie burning and belly fat losing journey, nothing can be better than interval training. After the end of your ride, you can go for six sets of all-out-efforts. Continue doing this for sometime, till you are comfortable with the regime.
With interval training, you would burn a lot of fats and it would also give a boost to your metabolism. Thus, with interval training and your exercise bikes, you would not only reduce weight during the regime but after it as well.
You can follow this regime to get the maximum benefits from cycling on your exercise bike, repeat all the sets for 4 times:
Warm up for 5 minutes.
30 seconds high intensity, 1 minutes of low intensity.
40 seconds high intensity, 1 minutes of low intensity.
Tip 3: Follow a Workout Regime
If you want to lose belly efficiently and fast, you would need to follow the right combination of HIIT and cardio. You can start with the first set of exercise, once your body is accustomed to it, start with the next set. You should plan the exercises every alternate day.
Set 1:
Start with 30 minutes cardio.
On the next day, do 25 minutes of HIIT.
Finally, on the third day perform 45 mins of cardio workout.
Set 2:
First day, start with 45 mins of cardio.
On the next two alternate days, perform 25 minutes of HIIT.
On the third day, perform 60 minutes of cardio
Things to remember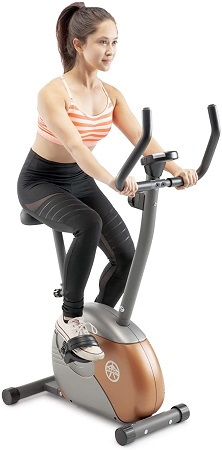 Apart from exercising, you should also keep in mind the following points to lose belly fat more effectively:
You can brisk walk for 40 minutes a day for better and faster results.
Limit your carbohydrate consumption. Avoid junk food.
Say no to sweets. Keep yourself away from processed sugar and food. You can go for natural sweeteners like jaggery or honey, but in limited quantities.
Have fruits and nuts for snacks. You can have almonds, roasted makhana, sprout salads, etc., when you are hungry.
Never ignore having your green vegetables. A bowl of salad or any green veggies can do wonders to your body.
Have food that is rich in fibres. You can have oats, whole wheat grains, etc.
Sleep for at least 8 hours everyday. Giving your body enough rest is one of the main requirements when it comes to losing weight.
Finally, keep stress away. A disturbed mind cannot have a healthy body.
Conclusion
Follow the workout regime on your exercise bike and remember the points for better fat burning results. Consistency is the key, you should set up small term goals and adhere to it. When you are efficient with your journey, you will surely reach your fitness goals.