Our Top Picks
Squirrels are cuddly and cute creatures but they annoy us by stealing and dropping over the seeds that are meant for birds to be eaten.
Squirrel-proof bird feeders are the simple yet creative devices that can help you feed the birds keeping squirrels away.
This review will help you to choose the best bird feeder and also guide you to note the special points while purchasing the bird feeder.
'Brome Stores' bird feeder is the top choice of the bird lovers due to the patented squirrel buster technology in its products.
It attracts a wide variety of small birds that include American GoldFinches, Chickadees, Hairy Woodpeckers, Cardinals, etc. The bird feeder holds up to 1.4 quarts of birdseed, whether it's Black Oil sunflower seed (good all-round birdseed) or other seed blends specific to your area.
Pros:
Lifetime guarantee on the product.
The weight of a squirrel triggers the shroud and it closes automatically. This stops it from eating the seed.
Chew-proof materials make it a tough task for squirrels.
The Seed Ventilation System keeps the seeds fresh longer. The hot air escapes through the vents at the top of the feeder and replaces it with the fresh air.
The product is designed to be dismantled by hand into individual components without the use of tools and can be cleaned easily by washing with hands.
All components are UV resistant, waterproof, rustproof, and use RoxResin material that keeps the feeder looking new.
A handy maximum-seed-level indicator on the bottom helps to prevent overfilling.
The feeder includes a negative grip tube that prevents squirrels from grabbing the wire hanger with their hind legs and hanging down alongside the feeder thereby, defeating the closing mechanism.
Cons:
It is not dishwasher safe.
It needs to be affixed on a certain height and at a specific dimension that is away from the tree so as not to allow the squirrels to eat the seeds.
Some users complain that squirrels jump on the bird feeder and drop the seeds on the ground. This defeats the purpose of the patented closing mechanism.
Droll Yankee squirrel bird proof feeder is made in the USA and engineered for perfection after much research. It has a powerful yet simplistic design to keep the squirrels away.
It has a large capacity to hold 5 pounds of birdseed. The motorized perch ring spins when it is triggered by the weight of the squirrel and flips them off.
Pros:
The motorized perch ring starts to spin due to the weight of a squirrel and throws it off the bird feeder gently.
The tube bird feeder holds up to five pounds of birdseed and has four feeding ports.
The bird feeder is constructed with a heavy-duty metal base and cap. The seed tube is UV-stabilized polycarbonate and does not fade.
The internal baffle is designed to keep seed flowing freely to all four seed ports.
The feeder tube is designed to be too wide and long for the squirrels to cling to and helps you to keep track of the seed levels.
The Flipper is covered by the Droll Yankees Lifetime Warranty against squirrel damage and a one-year limited warranty on electronics.
Stainless steel hanging wire reduces motion to prevent seed spills.
It works with mixed seed, peanut chunks, safflower seed, sunflower kernels, and cracked corn, though it works best with sunflower seeds, a favorite of almost every backyard feeder bird.
Cons:
It is expensive compared to the others in a similar category.
Many users have complained that it requires frequent recharge for the motor.
It uses NiCad cells instead of lithium cells.
There is nothing to indicate whether the unit is fully charged.
Scavenger birds often know the mechanism of the motor and displace their weight to activate the spinner. After the motor is completely discharged, they drop the seeds on the ground and prey on the squirrels that come to eat it.
Some users complain that the base unit comes off too easily. The base unit falls off when the motor begins.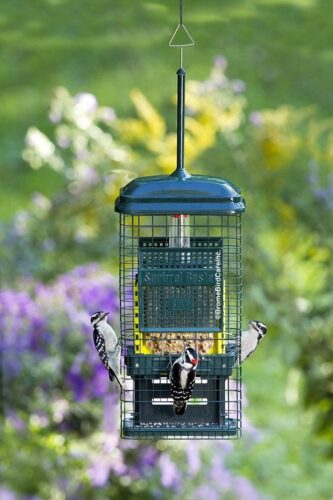 If you are fond of watching woodpeckers, nuthatches, chickadees, jays, starlings, Wrens, creepers, kinglets, and even cardinals, and some warblers then suet bird feeder will be a boon for you.
Suet generally contains beef fat and it is high energy food for the birds, especially in the winter season. This bird feeder attracts the bigger birds and the suet trays slide downwards as the suet is eaten, which keeps the cakes available to birds.
Very small birds can enter the feeder and eat the crumbs that are lying at the bottom.
Pros:
Suitable for suet eating birds.
Lifetime guarantee on the product.
Easy to clean and assemble without using tools.
Suet is visible from a distance, so you can replace it as and when required.
Cons:
Needs to be tied at a specific distance from the ground and the trees.
The hook at the top causes the bird feeder to move and if the birds feel scared, they might not eat the suet.
It is the only bird feeder on our list where a portion of the company's earnings is donated to the bird habitat and conservation.
This bird feeder holds 1 pound of bird seeds and has four ports. The metal cage is so designed that it permits the entry of only small birds. Squirrels and big size birds cannot eat the seeds. You can add a squirrel baffle for additional protection.
Pros:
Less messy.
Does not require the assembly of too many parts.
Suitable for small birds.
It has a facility for the addition of additional squirrel baffles.
Cons:
Not suitable if you are fond of large birds.
It's nearly impossible to adequately clean without disassembling the cage from the feeder. To do this you need to unscrew four screws from the base and two from the perches, especially in monsoon season.
If you are fond of watching the small birds, this bird feeder will help you out. It is the only pole mountable feeder on our list and effectively keeps large birds and squirrels away.
Pros:
Easy to assemble and clean.
Pole mountable.
Keeps large birds and squirrels away.
Uses safe and durable material
It has a huge capacity to hold 1.2 gallons of seeds.
Cons:
Squirrels can jump on it and spill the seeds, so you need to keep it away from the trees and the walls. By doing this they won't be able to jump on the unit.
Some users have commented that very small birds can get stuck up inside so it is necessary to keep it filled up with seeds to prevent them from entering inside the unit.
Yet another product that is suitable for feeding suets to the birds of different sizes ranging from doves, woodpeckers to sparrows, and chickadees.
Pros:
Sturdy product and easy to clean.
It has an in-built hopper for easy filling.
The feeder can be easily assembled or disassembled for easy cleaning.
It has a stylish design.
Cons:
You need to dangle it from a tree branch or a pole. A separate accessory is not provided for that.
Not suitable for feeding seeds, suitable only for feeding suets.
If you want a combination of bird feeder with a showpiece that suits your garden, then we bet, you won't find a better bird feeder than this.
It is eco-friendly powered with solar energy and allows birds to eat seeds their way from all 360 degrees. It is easy to refill from the top.
Pros:
It is eco-friendly and has solar panels for lighting at night.
Easy to refill the seeds.
Allows birds to eat seeds from 360 degrees.
The product offers a lifetime warranty.
It uses an IP65 waterproof design that makes it viable to use even during the rainy season.
It is 100% handmade.
Cons:
You need to tie it at a proper place to attract the birds.
Solar panels need replacement after some time.
Our Winner:
Coming to the end of the review now. We listed different products that suited small birds, medium-sized showpiece birds, and large birds. Some of them are best for design and the others are way ahead in technology. Still, some are great for decor.
But because you wish to buy a bird feeder that will not allow the squirrels to feed, we recommend you to use Droll Yankees Flipper Squirrel-Proof Bird Feeder.
This is because of the wide acceptability among the users, the ease of cleaning, and the responsiveness of the company to handle the complaints.
In case, you are still not clear about which product to buy here is the buying guide for you that will probably assist you in making the decision.
Buying Guide
Why do you need a squirrel-proof bird feeder?
In the beginning, no one minds if squirrels eat the seeds kept for feeding the birds but when it becomes a routine and you see that the feeder is always emptied by the squirrels rather than the birds then you realize the need for a squirrel-proof bird feeder.
As a matter of fact, squirrels eat about one pound of food per week and also love to hide it in secret places. They keep it as a surplus food to be eaten in winter.
Their species are categorized as 'rodents' so their front teeth keep growing for a lifetime. That is why they keep on gnawing. This makes it necessary to select a proper bird feeder that cannot be easily damaged by these 'little devils'.
Types of squirrel-proof feeders
Pole-mounted feeders: These feeders are installed on a pole instead of hanging them somewhere. Many varieties of pole feeders are available. Some of them even serve as a garden lamp. Squirrels can jump from 20 feet on the selected object, so care should be taken to affix them away from trees and walls. The pole height should be a minimum of 6 feet high.
Caged Feeders: These cage feeders are made with metals. They are generally chew-resistant and rust-free. The design of the feeder keeps squirrels and large birds away.
Weight Active Feeders: Some of the feeders that we listed above are weight active. They have a mechanism that closes the seed ports as soon as the squirrel lands on it. They often confuse the squirrels and after some time the squirrels give up.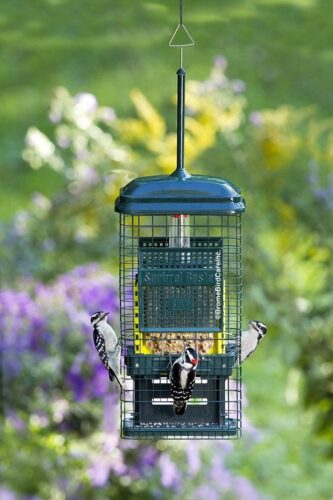 Decorative bird feeders: Apart from protecting the bird seeds from squirrels, such feeders decorate your garden.
Tube feeders: The seeds are filled inside the transparent tube and the ports under it allow the birds to eat the seeds. Some tubes have mechanisms to flung the squirrels in the air which is triggered by their weight.
Which type of squirrel-proof bird feeder should you select?
Depending on the type, weight, and size of the birds that you want to attract you can choose a bird feeder. Some feeders are not suitable for big-sized birds, so keep this fact in mind when you purchase.
Do squirrel-proof feeders work?
In the first place, we wouldn't have written about it in so much detail if they failed to work. We have been
reviewing different products
and it is not right on our part to suggest something that does not work.
Squirrel-proof feeders do work, but as said earlier, they have different mechanisms. Depending on the birds that visit your garden you can choose a suitable feeder.
Where to mount the bird feeder?
Your job does not end just by selecting the perfect bird feeder. You need to find a perfect place for it. Squirrels can jump 12 feet away on an object so make it a point to keep the feeder away from trees and walls.
You may add the extra squirrel baffles available in the market for extra protection.
What different seeds can be kept in the bird feeder?
Depending on what seeds the birds visiting your garden prefer to eat, you can choose. In general, you can add sunflower seeds.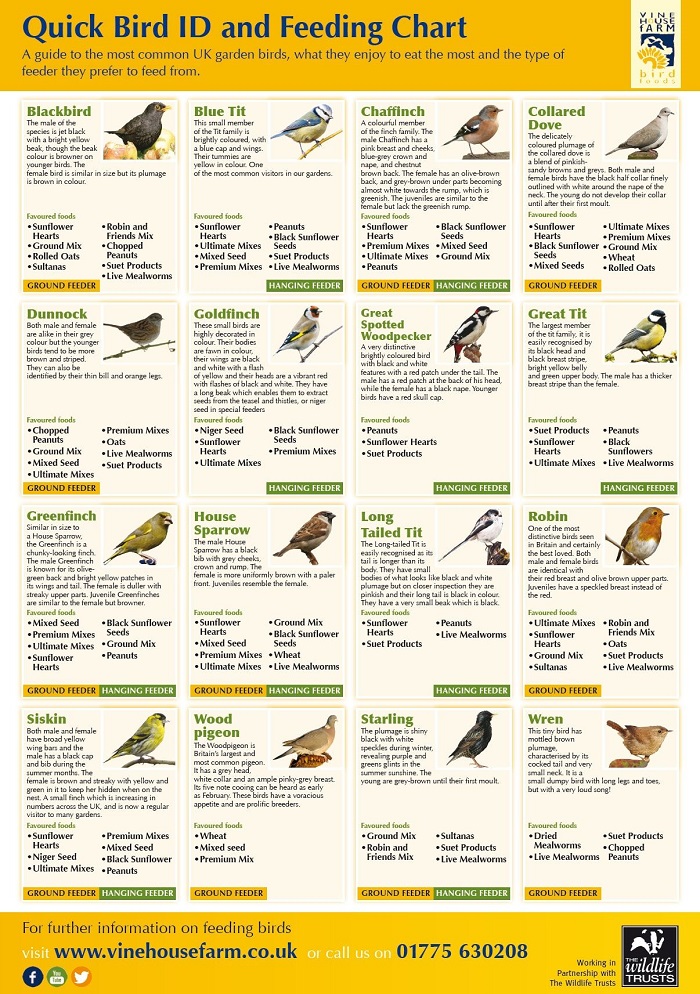 How to take care of the bird feeder?
You need to empty it periodically and wash it with plain water using some detergent. This prevents fungal and bacterial growth.
Before purchasing the bird feeder, note how easy it is to dis-assemble or assemble it for cleaning. If it requires you to be ready with the tools every time then it will prove to be a tedious task for you.
How to choose the right squirrel-proof feeder?
You have been patiently reading our review, so it is our duty not to leave you halfway. Here is a quick list of the points that you need to consider before you purchase the squirrel-proof bird feeder.
Ease of use – Rather than being just attractive, the feeder must be easy to use, refill, and clean.
Weatherproof – You need to choose the feeder that can withstand all weather conditions and different temperatures. Plastic feeders often crack, so they should be UV resistant.
Durability – You need to check out the after-sales service offered by the vendor and the material used before you shortlist the one. Various types of materials like polycarbonate, Roxy Resin, or metals are available.
Capacity to hold seeds – Some bird feeders are small and hold just 1 to 2 pounds whereas the bigger ones allow feeding 5 pounds. Frequent inputting of seeds will increase your workload. So choose wisely.
We hope our review helps you in deciding the best squirrel-proof bird feeder for you. Do let us know if you have any concerns or suggestions, we will be happy to hear from you.
X
You might want to hear this:
Edy said…
"Squirrels totally avoid it. One or two tried it out, got body slammed to the ground, told all their friends about it and now no one DARES! "CRAZY" but true!"