Our Top Picks
Squirrels are cuddly and cute creatures but they annoy us by stealing and dropping over the seeds that are meant for birds to be eaten.
Squirrel-proof bird feeders are the simple yet creative devices that can help you feed the birds keeping squirrels away.
This review will help you to choose the best bird feeder and also guide you to note the special points while purchasing the bird feeder.
'Brome Stores' bird feeder is the top choice of the bird lovers due to the patented squirrel buster technology in its products.
It attracts a wide variety of small birds that include American GoldFinches, Chickadees, Hairy Woodpeckers, Cardinals, etc. The bird feeder holds up to 1.4 quarts of birdseed, whether it's Black Oil sunflower seed (good all-round birdseed) or other seed blends specific to your area.
Droll Yankee squirrel bird proof feeder is made in the USA and engineered for perfection after much research. It has a powerful yet simplistic design to keep the squirrels away.
It has a large capacity to hold 5 pounds of birdseed. The motorized perch ring spins when it is triggered by the weight of the squirrel and flips them off.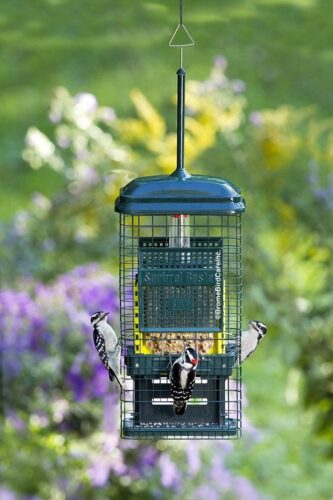 If you are fond of watching woodpeckers, nuthatches, chickadees, jays, starlings, Wrens, creepers, kinglets, and even cardinals, and some warblers then suet bird feeder will be a boon for you.
Suet generally contains beef fat and it is high energy food for the birds, especially in the winter season. This bird feeder attracts the bigger birds and the suet trays slide downwards as the suet is eaten, which keeps the cakes available to birds.
Very small birds can enter the feeder and eat the crumbs that are lying at the bottom.
It is the only bird feeder on our list where a portion of the company's earnings is donated to the bird habitat and conservation.
This bird feeder holds 1 pound of bird seeds and has four ports. The metal cage is so designed that it permits the entry of only small birds. Squirrels and big size birds cannot eat the seeds. You can add a squirrel baffle for additional protection.
If you are fond of watching the small birds, this bird feeder will help you out. It is the only pole mountable feeder on our list and effectively keeps large birds and squirrels away.
Yet another product that is suitable for feeding suets to the birds of different sizes ranging from doves, woodpeckers to sparrows, and chickadees.
If you want a combination of bird feeder with a showpiece that suits your garden, then we bet, you won't find a better bird feeder than this.
It is eco-friendly powered with solar energy and allows birds to eat seeds their way from all 360 degrees. It is easy to refill from the top.
Our Winner:
Coming to the end of the review now. We listed different products that suited small birds, medium-sized showpiece birds, and large birds. Some of them are best for design and the others are way ahead in technology. Still, some are great for decor.
But because you wish to buy a bird feeder that will not allow the squirrels to feed, we recommend you to use Droll Yankees Flipper Squirrel-Proof Bird Feeder.
This is because of the wide acceptability among the users, the ease of cleaning, and the responsiveness of the company to handle the complaints.
In case, you are still not clear about which product to buy here is the buying guide for you that will probably assist you in making the decision.
Buying Guide
Why do you need a squirrel-proof bird feeder?
Types of squirrel-proof feeders
Which type of squirrel-proof bird feeder should you select?
Do squirrel-proof feeders work?
Where to mount the bird feeder?
What different seeds can be kept in the bird feeder?
How to take care of the bird feeder?
How to choose the right squirrel-proof feeder?
We hope our review helps you in deciding the best squirrel-proof bird feeder for you. Do let us know if you have any concerns or suggestions, we will be happy to hear from you.