Check out the Best Smart Kitchen Faucet for your kitchen sink.
Most Universal- Moen Nio Kitchen Faucet
I am very happy with this purchase. It is beautiful and functional
Most Trendy- Delta Faucet Kitchen Sink Faucet
Good high-quality faucet. We are picky people and are happy with this.
Most Voguish- Kraus Oletto Kitchen Sink Faucet
We installed this faucet almost a year ago now and it has worked perfectly this far. The touch-up feature is wildly convenient.
Most Advanced- Gimili Kitchen Faucet
Easy to install. Works great. Great looking. Really nice addition to my kitchen.
Most Affordable- Welsan Automatic Kitchen Faucet
I LOVE my new faucet! It feels expensive, the details are pretty, and the sensor is very sensitive.
What's a kitchen sink without a proper faucet? A smart kitchen faucet performs the tasks with technical advancement. That too, without creating any mess.
The smart faucets are in no way ordinary. The design is multi-function and provides the best experience. Smart faucets keep you healthy as you avoid germs and bacteria by not touching them. Maintain your hygiene and conserve water with a smart kitchen faucet.
Item 1- Moen Nio Kitchen Faucet
Moen faucets are easy to use. The voice activation helps you to fill up water without touching the faucet. The wave sensor at the front makes it ergonomic. This allows you to move your hand over it in a simple manner.
You can use the Moen app to add the tasks. Or else, you can customize the settings according to the need. Voice recognition works with smartphones, smart speakers,s or wireless internet.
Through the installation manual, it is convenient to set up the faucet.
Pros-
You can customize presets and temperature
Get a personalized experience with Moen App
Moen App works with zero effort on iOS and android devices
The voice control feature is available
Cons-
The faucet does not stay connected to the network for more than 48 hours
The Moen requires you to sign up to use the app
Item 2- Delta Faucet Kitchen Sink Faucet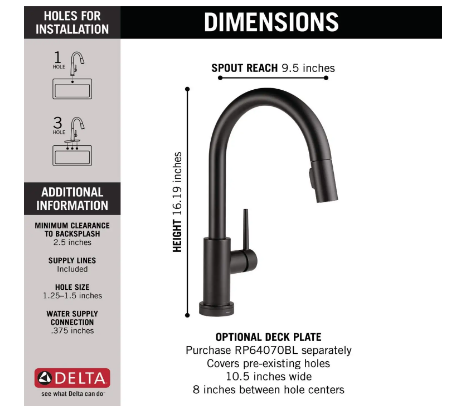 The Delta Faucet is quite unique. It offers you to touch anywhere on the faucet to ON/OFF it. This is effortless as you need not focus your hand/fingers on a specific point. You can also use your wrist or forearm for this function.
The TempSense LED indicator shows different colors when the water temperature changes. This faucet is super cool and works with people of any age group. One of the most wonderful features is that you can use it by operating through batteries or an AC adapter.
Pros-
Touch operation is perfect
The voice IQ function is fast
The material used is Zinc which lasts for a longer time
The diamond seal technology prevents water leakage
Cons-
The handle is not sturdy
Getting very hot water is difficult- reported some buyers
The sprayer splashes water here & there
Magnet does not hold the sprayer well
Item 3- Kraus Oletto Kitchen Sink Faucet
Have you checked our review of the Kraus Kitchen sink? If you want all sink items of the same brand, Kraus Kitchen faucet and sink go hand in hand. The colors of the faucet are elegant. The colors include Chrome and Brushed gold.
The LED light indicator turns on white with active touch mode. If the batteries are running low- it indicates a red light.
Pros-
The material is fingerprint resistant so looks clean all the time
The faucet keeps the batteries long-lasting
The compact size allows space for other items
The design and colors give a modular look to the kitchen
Cons-
Does not have any adapter connections so works on batteries only
The swivel may break soon as it is plastic-material
The Cold water line is small so you might need to buy a longer one
Item 4- Gimili Kitchen Faucet
Wave your hand and let the water flow. It is that simple to use this smart kitchen faucet. You can choose between aerated or powerful spray depending on your work.
The design of the faucet is sleek and beautiful. For all the aesthetics, this smart kitchen faucet is all you need. But, advantages are always followed by some disadvantages.
Read the pros and cons to invest your hard-earned money in the right product.
Pros-
Matte Finish material is easy to clean
Gimili provides a 2-year warranty on the faucet
It has a 5-layer Nano & PVD for oil-proof and anti-dust qualities
It stops operating on its own in 3 minutes if there is no action from the human end
Cons-
The spout does not rotate 360 degrees
The length of the hose is short
Item 5- Welsan Automatic Kitchen Faucet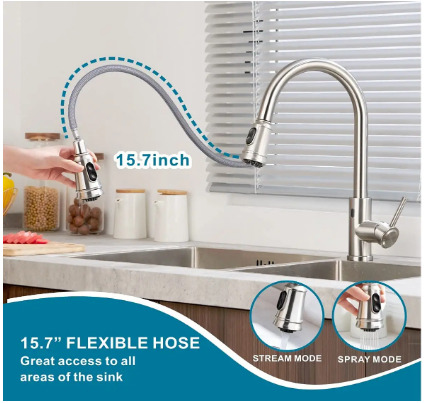 Want an advanced faucet without hurting your pocket? Welsan kitchen faucet is for your rescue. Even with a distance of 2 inches from the sensor, you can turn the water flow on.
The faucet material is lead-free. This makes the faucet corrosion-resistant. To wash dishes- switch to spray mode. To wash fruits and vegetables switch to stream mode.
You can adjust the settings to sensor mode and manual mode. This feature is great for those who have kids at home. Imagine your kids enjoying playing with sensors. To prevent a scenario, you can put the faucet in manual mode.
Pros-
It has a 'low battery indicator
It comes with various spraying modes: spray/stream
You get a long hose of 15.7 inches
Cons-
The touch less feature does not have sensory accuracy
Users have faced problems with hot and cold water connections
Our Suggestion
We are here to help you out with the best product. We have analyzed many kitchen faucets. We can say that Moen Nio Kitchen Faucet is the best so far. For the price and features, it is an amazing option to consider.
We understand that some of you look for affordable options. In this situation, our suggestion would be to buy a Welsan Automatic Kitchen Faucet. Even if the design of this one is regular, it performs the task with ease.
Buyer's Guide
Sensor Accuracy
When we talk about smart kitchen faucets, the sensor is the main attribute. If the sensors are not strong enough to sense, there is no use. The sensor activation has to be real quick.

No one wants to keep waving their hand many times in front of a faucet. Weak sensory power is a waste of time and money. Save yourself from such mishaps. Buy a smart kitchen faucet with a strong sensor accuracy.
Voice Control Feature
The virtual assistant should hear you in seconds. Let us all accept that technology has its own drawbacks sometimes.
Just like you ask Alexa to turn on the air conditioner, you can ask her to fill up a glass of water. Isn't it interesting? Why work hard when you can work smart?
Buy a smart kitchen faucet with a strong voice control connection. Remember a tip- go for faucets that are compatible with various voice control devices. Never buy one that has either a Google assistant or only Alexa.
Type of Power source
The two types of power sources for any smart kitchen faucet are-
Battery source
Electrical outlet source
Both the power sources have their own strengths and weaknesses. Having a battery source allows you to work even when there is a power cut. This is a disadvantage with an electrical outlet.
Batteries allow you to save electricity. But for this, you need to keep a battery backup with you always.
For an electrical connection, you need to have power access below the sink. Now, depending on what suits your comfort and kitchen, you can choose.
Faucet Style
Different styles and colors are available. The foremost point here is to pick what suits your kitchen décor. Options: Chrome, Stainless Steel, Brushed Nickel.
The material also depends on a scratch-resistant material or a stylish matte one.
Though most of the faucets have a deck mount, some are wall mounted and sink mounted.
For a contemporary look, deck-mounted kitchen faucets are generally bought.
Wall Mounted kitchen faucet gives extra counter space.
You will also have to check the number of holes in your sink before fixing a new faucet.
To explain,
A single mount hole requires one faucet for water flow. It includes pressure and temperature control in it.
If two mounting holes are present, you can add a soap dispenser or spray head to it. In the same way, there are three and four mounting holes as well.
Refer to the image added below-
IMG source- logolynx.com
Check the length of the Hose/spray pipe
The short pipe does not let you clean the sink well. Some pipes do not even rotate. If you read a customer's review below, you will get the point.
Conclusion
This is all about the top smart kitchen faucets. Here's a summary- to get an exclusive experience, invest in Moen Nio Kitchen Faucet. For an outstanding look, buy Kraus Oletto Kitchen Sink Faucet.
Smart faucets come in many various options to choose from. If you feel confused, you can follow our Buyer's guide. It will help you select the best kitchen faucet.
Other product guides are available here.