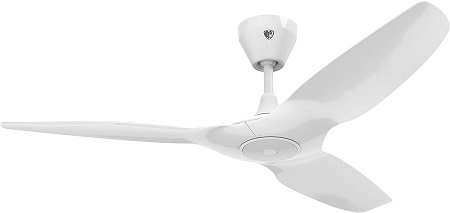 A stylish fan with a hilarious name that will work in any room, this fan has 7 speeds and sleep mode, eco mode, as well as a timer. There is an included WIFI module that allows control with a free Haiku smartphone app. It's compatible with iPhone and Android.
It's recommended for indoor spaces 15-ft x 15-ft (225 sq ft) with flat or sloped ceilings up to 33-degree pitch 8-ft to 11-ft tall. This fan measures 52 inches.
Pros:
A Whoosh Mode that simulates a natural breeze sensation
Comes with everything needed for proper installation
Remote control included
This fan has voice control and works with Alexa and Google Assist
Cons:
Installation may be a bit difficult due to all of the connections
Some consumers didn't like it was mostly plastic
Some might find it noisier than they'd like
This is a 3-blade fan with an LED light kit. It is damp-proof making it the perfect option for any outdoor space. It's a low profile ceiling fan with a 10-speed silent motor. It's powerful and energy-efficient, costing 75% less than other ceiling fans with AC motors. You'll be able to set-up automation/schedule/timer to control fan speed, light, and brightness. Dimensions of this smart ceiling fan are 60 x 60 x 13.3 inches.
Pros:
Two-way rotation
Voice control compatible with Alexa, Google Assistant, and Siri
Light is dimmable
Excellent customer service
Cons:
Be warned the blades are plastic
Instructions could be better written
Warranty is shorter than most other manufacturers
This is a great choice for a bedroom. It's factory-tested and balanced to be sure it'll never wobble and it has a 16W LED Integrated light kit. Other features include RC600 Remote Control and a 6″ downrod. Optional WC600 Wall Control can be purchased separately. The fan has a flat white finish with flat white blades. In addition, it has 54″ 3 blade sweep, 13″ ceiling to lowest point with 6″ included downrod.
Pros:
Free app download that is compatible with iPhone and Android
Wil pair with Google Home, Amazon Alexa, Nest and Ecobee
Other colors are available
Easy installation
Cons:
Remote might be awkward for some; easy to hit the wrong buttons
Be warned the blades are plastic and not actual wood as depicted
Poorly written instructions
Hunter has been in business for over 130 years so you know you are getting quality and dependability. While this fan comes in a variety of finishes, ReviewRoller feels the matte nickel finish is quite elegant and would be a nice addition to a formal room. It's a contemporary design that comes with a dimmable LED light covered by cased white glass and the dimensions are 54 x 54 x 11.8 inches.
Pros:
Compatible with Alexa, Apple HomeKit and Google Assistant
The motor is nice and quiet
Durable and lightweight
Installation is easy
Cons:
There may be issues with networking and HomeKit instability
Seems to work best with an iPhone; there are Android problems
The instruction manual conflicts with tech support
Keep your office space or any room nice and cool with this fan from reiga. Light kits as well as additional colors are available. It has a downrod mounting design, built-in advanced suspension system. It also features two-way rotation, remote control, and a 1/3/6 timing function. Measures 65 inches.
Pros:
Downloadable app compatible with iPhone and Android
Can be voice controlled with Alexa
Good customer service
The motor is quiet even at high speeds
Cons:
Mounting hardware could be better
Installation is a bit difficult due to poor instructions
A bit difficult to link to WiFi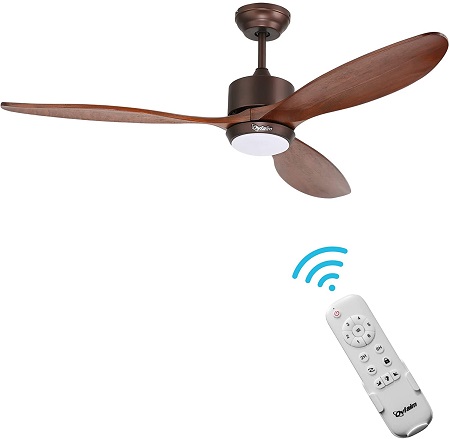 This Ovlaim smart ceiling fan uses a powerful but energy-efficient motor. It comes with a dimmable LED light kit and remote. It features 6 speeds and two-way rotation.It also comes with 10" and 5" downrods to easier customize the fan. It's also available in 2 sizes (60 inch and 53 inch) and 3 finishes.
Pros:
Voice assist compatible with Alexa
Blades are high-quality real wood
Great customer service
Very well crafted and durable
Cons:
Mourning hardware needs improvement
Remote is a little fussy
Installation would be easier with better instructions
A dimmable light is sometimes a necessity in a child's room and this one is a great choice. It features 10 degree 3-blade pitch which optimizes air movement and provides powerful airflow. It has a 10-speed DC motor and an integrated LED light kit that produces warm, soft white as well as bright cool white for your comfort. Fan size is 56 inches.
Pros:
Voice control with Alexa, Google Assistant, and Siri
Comes in 2 finishes
Carro app is easy to use and install
Instructions are straight-forward and easy to follow
Cons:
It's a little difficult to pair with Alexa
It can't be flush mounted; a downrod is a must
The remote control could be better quality
Buyer's Guide
Because it matters to us that you get the best bang for your buck, ReviewRoller has put together this Buyer's Guide so you'll be able to make an informed choice. Here you'll find the most frequently asked questions about buying the best smart ceiling fan with carefully researched answers.
What should I consider when buying a smart ceiling fan?
The things you should consider for a smart fan aren't much different than when buying a regular ceiling fan. The only major difference is making sure your phone is compatible with the product app. In addition, think about the following:
Room size: Bigger rooms need bigger fans
Location: If you're purchasing a smart ceiling fan for an outdoor space, garage, or bathroom make sure the fan you get will work in these areas
Compliment your decor: Ceiling fans are actually an important decor element and should match the room in which they'll be installed
Warranty: You want a good warranty; Read the fine print and make sure you register your product with the manufacturer
Installation: Installing a ceiling fan is really quite simple but stay safe! Turn off your breaker and read carefully all instructions
What size fan should I get?
There are basic guidelines to follow when choosing the size of your ceiling fan. Energy Star recommends the following:
| ROOM DIMENSIONS | RECOMMENDED FAN SIZE (Inches) |
| --- | --- |
| Up to 75 Feet | 29 – 36″ |
| 76 – 144 Feet | 36 – 42″ |
| 144 – 225 Feet | 44″ |
| 225 – 400 Feet | 50 – 54″ |
I'm not where to install my smart ceiling fan. Any tips for placement?
Fans should not be installed in rooms with ceilings less than 7 feet high. You need to mount fans in the middle of the room, at least 7-8 feet from the floor, and 18 inches from the walls. Keep in mind above 8 feet above the floor allows for optimal airflow.
Are there really any benefits to using a smart ceiling fan?
Absolutely! Not only do they offer a chance to save significant money on your power bill but you can enjoy the following advantages as well:
Security: A programmable ceiling fan with light means you can set a timer; When you're not home, lights will be on warding off potential burglars!
Convenience: Smart homes are all about convenience, right? What's more convenient than being able to turn off your fan while in bed or hanging out on the sofa watching TV?
Are smart ceiling fans difficult to maintain?
Not at all! Your smart ceiling fan is an appliance and as with any appliance in your home, you want to clean it regularly for the best performance, to avoid hazards, and for the longest lifespan. Here are some great tips to follow:
YEARLY DEEP CLEANING
1. Clean blades with a brush

2. Use a cloth dampened with soapy water to remove stickiness/stains (Make sure the fans dries before using it again)

3. Vacuum motor to remove dust and debris

TIGHTEN SCREWS
Run the fan and listen for any knocking or grinding and check blade attachments; tighten screws as necessary.
LUBRICATE FAN
If the fan requires lubrication, use an appropriate oil to encourage smoother movement
CHECK MOVEMENT
If the fan appears wobbly the balance needs to be adjusted. There are kits available for this.
Our Winner
For the best smart ceiling fan, ReviewRoller has chosen the Big Ass Fans Haiku L Smart Ceiling Fan, 52″, White. Yes, the name is a bit bizarre but the overall quality and dependability of this fan exceed all others. We appreciate the ease of use and the fact it'll fit into any room. Is it a bit pricey? Sure but we feel strongly that you get what you pay for.
Conclusion
ReviewRoller hopes we've made choosing the best smart ceiling fan for your home a "breeze." (You see what we did there?) Be sure to take a look at the Big Ass Fans Haiku L Smart Ceiling Fan, 52″, White but no matter what fan you choose, we feel this is an excellent investment for your home and family.
X
You might want to hear this:
JPP said…
"It is so quiet and compact. High settings is like a windy day worth of air flow. I was able to keep my AC three degrees higher! "