Our Top Picks
Bidet toilet seats use jets of water to clean the body after it uses the toilet. They're praised by many for being more hygienic than regular toilet seats.
It's very rare in some countries, like the United States, but it's so treasured in others that some countries even require bathrooms to have a bidet toilet seat.
So let's find out what the hype is about with a look at the best bidet toilet seats around:
SmartBidet's SB-1000 bidet toilet seat has earned a top spot on this list because it's got the best combination of quality, features, and price. That's it!
Note that though we're generally looking at the round model, you can get the same version but as an elongated seat, for the same price.
Pros:
Very affordable
Choice of this model in round or elongated shape
Self-cleaning nozzle that can oscillate, plus 5 water pressure levels, 3 levels of water temperature, and 5 nozzle positions
Feminine wash feature
Skin sensor-activated heated seat
Built-in warm dryer (which has 5 levels of heated air, including cool air)
Handy remote control which can also be mounted on the wall within arms reach
Highly rated: 4.6/5 with over 1,700 ratings to back it up
Cons:
Consistent complaints that high-powered stream setting isn't very strong, especially over time
Consistent complaints of some features not working after a year or so
Like SmartBidet's bidet toilet seat, Lotus' ATS-500 bidet toilet seat represents a good combination of features, performance, and price:
It's one of the highest-rated options here, and is also one of the more affordable. But some consistent complaints, despite being from a tiny minority of customers, bring it down just a little bit.
Pros:
Price can vary but generally affordable
Easy menu settings built-into side of toilet
Fits both round and elongated toilets
3 heated seat and heated water settings
5 water pressure settings, and 5 oscillation and nozzle position settings
Energy saving mode
Feminine and child wash modes
Air dryer with 5 settings/levels
2-year warranty
Highly rated: 4.6/5 with hundreds of reviews backing it up
Cons:
Often runs out of stock
Consistent complaints that it stops working after a few months of use
Consistent complaints that it has trouble fitting some toilet bowls
TOTO may just be the most reputable name in the bidet toilet seat game, and like Bio Bidet (which is next), it's associated with specifically high-end bidet toilet seat manufacturing.
It's very similar to Bio Bidet's seat, so it's nearly tied for 3rd place. However, it offers some more advanced features in addition to being well-received, and a great discount for Prime members.
The main things holding this bidet toilet seat back: price, and difficulty in installation for American toilets.
Pros:
Excellent price for quality if you get a Prime discount
Air-deodorizer to neutralize bad smells
Very simple remote, which also allows users to set preferences; it can save the preferences of up to 2 users
PREMIST feature mists the toilet bowl before use to prevent waste from sticking to it
Self-cleaning wand/nozzle
Adjustable water heat and pressure settings
Adjustable seat heating and adjustable air-drying
4.5/5 with over a thousand ratings backing it up
Cons:
Without a Prime discount, is on the pricey side, and even with the discount, still isn't a budget option
Consistent complaints that installation in U.S. toilets is very difficult, and specifically that instructions neglect a key part of U.S. toilets
Bio Bidet is generally known as a premium bidet toilet seat manufacturer. So it should come as no surprise that it's BB2000 model bidet toilet seat is nearly tied for third spot. Some minor things knock it down to 4th place, however.
The short version: this bidet toilet seat is super high quality and is a good investment, but its price may hold some people back.
Pros:
Elongated or round seat option
Comes with easy to use wireless remote
3-in-1 stainless steel nozzle with hydro-flush technology that self-cleans the nozzle from the inside-out
Adjustable seat and water heat
Oscillating wide clean and massage technology that infuses bubbles into the stream
Night light mode puts blue glow over menu panel
Highly rated: 4.5/5 with over 3,700 reviews to back it up, and an Amazon's Choice product
Cons:
On the pricey side
Some consistent complaints that defects show after a few years or features stop working; however, these are all 2+ years old
Some consistent complaints that performance is too weak given the price point
Alpha Bidet's GX bidet toilet seat stands a bit apart from the options above in a couple ways:
It has less features, but is also a bit more affordable. The gist for this bidet toilet seat is that it's a no-frills, performance focused option.
So if your priorities are simplicity and price, this is one of the best combinations.
Pros:
Generally affordable
Self-cleaning stainless steel nozzle
Sizing options so you can buy the correct size for your toilet
High-powered spray can emit over 1L per minute of warm water
Other common options: heated seat, oscillating spray, child wash mode
Strong air dryer
Soft white LED night light (which can make seeing at night easier than blue light)
Well-received, with a 4.5/5 rating backed up by hundreds of reviews
Cons:
More limited in features and preferences than other options here
Consistent complaints that it doesn't ship with everything needed for installation, though there are not many of these
Some complaints of breakage or features that stop working after a couple months, but these are in a minority and inconsistent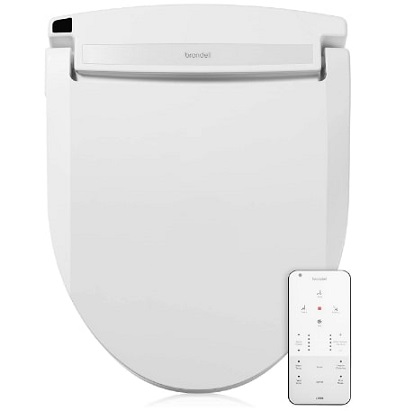 Brondell is like Bio Bidet and TOTO in that it's known as a reputable bidet toilet seat maker. Frankly, it's pretty close to the others before it, but it comes at a more intermediate price.
So why is it held back? Well, there are fewer reviews—which doesn't make it bad, but a tad riskier—and some complaints worth noting. Overall, though, it's still a great bidet toilet seat.
Pros:
Intermediate pricing that's pretty good for what's offered
Comes with easy to use remote
Stainless steel nozzle that self-cleans
5 adjustable nozzle positions, and adjustable seat temperature
5 adjustable water temperature settings and 5 water pressure settings
User preferences for the above adjustments can be saved
Option for pulsing/oscillating spray
Warm air-dryer
Blue nightlight
Highly rated: 4.5/5 stars with hundreds of ratings to back it up
Cons:
Still might be a bit pricey for people who are prioritizing price
Some consistent complaints that saved user preferences are weaker/could be expanded
Some complaints that heated temperatures don't last after limited use
What sets Saniwise's bidet toilet seat apart from the rest is primarily its price. It's the most affordable option here by a considerable margin.
If your bottom line is quality or features above all else, this might not be the best. But if you're paying close attention to how much you spend, this bidet toilet seat is one of the best compromises between price and quality.
Pros:
Very affordable; the cheapest option here
Feminine cleaning, rear cleaning, and different spray modes for the elderly and children
Adjustable water pressure
Single lever control makes it very easy to operate
Consistent praise for easy installation
Generally well-received: 4.3/5 stars with nearly 500 reviews backing it up.
Cons:
Does not fit one-piece French Curve Models or round toilets
Consistent complaints that the seat slides back
No option for heated water in stream
Consistent complaints of leakage
Limited features and adjustable settings
Our Winner: The Best Affordable Bidet Toilet Seats…
Ultimately, our winner is SmartBidet SB-1000 Electric Bidet Seat for Round Toilets. SmartBidet's bidet toilet seat is an excellent combination of performance, features, and price.
But it's a close race! SmartBidet is the best OVERALL option, but it isn't necessarily the best for you specifically:
Lotus Hygiene Systems ATS-500 Advanced Smart Toilet Seat Bidet is a close second, and if you want to go all-in on features, the best might be TOTO SW2044#01 C200 Electronic Bidet Toilet.
Don't buy uninformed! Check out our guide below for advice on choosing the right bidet toilet seat for you:
Buyer's Guide: How Do I Buy the Best Affordable Bidet Toilet Seats?
How to bidet toilet seats work?
When you buy a bidet toilet seat, you'll follow installation instructions and attach it to your toilet. These seats will typically either be powered by replaceable batteries, or by power cords that connect to outlets in your bathroom.
Once equipped, you can mostly go about your bathroom business normally. The key difference is that instead of wiping yourself with toilet paper after you finish, a nozzle connected to the seat will emit a stream that cleans your bottom.
Most bidet seats will let you adjust the water pressure, the temperature of the water, and even the temperature of the seat. Plus, the position of the nozzle can usually at least be moved forward to wash lady parts.
Afterwards, you can use the included air-dryer to dry off. And that's it! Sounds pretty simple right?
It is. And, it's a lot more hygienic than toilet paper, more eco-friendly, and usually is more cost-effective over time.
One important distinction to understand is that bidet toilet seats are not actually the same as bidet toilets.
Why?
Well, it's in the name: bidet toilets have the bidet function built into the toilet itself.
In contrast, bidet toilet seats have the bidet attached to the seat, and you install the seat onto your existing toilet. That's why the prices CAN be as low as $100 to $200, because it's not a whole toilet.
As you can probably imagine, bidet toilets are a lot more common in countries where bidets are the norm. We're looking at bidet toilet seats because they're the go-to option for people who don't live in those countries:
It lets you experience the hygiene of a bidet toilet at a fraction of the cost and time-spend.
In fact, bidet toilet seats are so cost-effective that even in countries where bidet use is common, bidet toilet seats are as popular or more popular than bidet toilets.
Which features are most important?
If you look at even a less-advanced bidet toilet seat, you'll probably notice that there are a ton of features. It makes it seem like any bidet toilet seat you buy will have more than what you need.
That's…somewhat true. The average bidet toilet seat, above a certain price point ($200+) will have enough features to satisfy the majority of customers.
However, there are a lot of features that seem like simple luxury at first, but feel essential once experienced. While what qualifies as important or essential is subjective, some things are generally considered more important than others.
These are some features that are most essential:
Self-cleaning spray nozzle
Adjustable nozzle position
Rear wash
Front wash (sometimes called a feminine wash mode)
Air dryer
Note that all of the seats on this list have those features, even if they're not named in the pros and cons.
Next, there are some features that aren't strictly essential, but are basic to include and frequently considered as a negative when they aren't included:
Stainless steel nozzles
Water pressure adjustments
Heated stream option
Heated seat option
Stainless steel nozzles are common, but not ubiquitous. They're not essential, but they are generally more hygienic and make self-cleaning more reliable.
Water pressure adjustments are nearly ubiquitous, and some would argue it's basically a staple of modern bidets.
Heated water and seats are also pretty common, but not as much as adjustable water pressure. Usually all of these options will come with varying levels, but the key is that there's at least an option.
Finally, here are the features that are more firmly towards the side of luxury. Words.
Oscillating and/or pulse spray
Deodorizer to reduce smell
Nightlights
The ability to save user preferences
Adjustable spray width
Higher degree of adjustments
Spray width is exactly what it sounds like—it refers to the width of the stream itself.
As for oscillating sprays—that's just when the nozzle moves back and forth, covering a wider area of the body. Similarly, a pulse or pulsating mode is when the jet intensity goes back and forth, and it works as more of a massage feature.
But depending on your personal situation, some of the items on that last list could be more important than mere luxury.
The best example of this would be if you or someone in your home has special needs. For example, older residents with dementia may need highly simplified and more automatic functions, or saved user preferences.
Or if someone has poor vision, night-lights could be a lot more useful, and the ability to quickly find one button on a remote that activates saved preferences would be as well.
Warning: find a seat that fits!
Remember, you're buying a seat for your toilet. That means it has to fit your toilet in the first place!
Most options you're looking at CAN fit your toilet, even if you live in the U.S., but you have to be careful in selecting.
A seat that doesn't fit would present basic issues in regular use. At best, it might just slide around a bit, or be uncomfortable.
But at worse, it may break, or even make it more difficult for your waste to enter the toilet bowl properly. No one wants that.
And even aside from the seat sizing itself, you'll want to take into account how close your toilet is to the walls in your bathroom, and whether that would impede the placement of a connecting water hose or built-in side menu of buttons.
Luckily, many makers let you choose different shapes and sizes for the model you want. Even if you can't get the specific model you want, you can usually get one with similar features and the right size specifications from another maker.
Take a good look at what the manufacturer says about the shapes and sizes available, and any qualifications they say.
For example, the description of the Saniwise model mentioned earlier is very clear in saying this:
So the bottom line is to not rush the basics of physical size. But like I said, you'll have plenty of options. Don't sweat it!
Conclusion
Let's recap: our winner is the SmartBidet SB-1000 Electric Bidet Seat for Round Toilets. However, it's a close call, and you should pay close attention to your own needs and preferences.
This list will look different depending on what you prioritize, but all the options here present their own great strengths. So don't be afraid to be picky…and then pick!
X
You might want to hear this:
R. Powers..
"This is a fantastic product which we happened into while in Hawaii. While much of the rest of the world has progressed into the 21ist century regarding derrière cleaning the US seems stuck in the 19th. Wake up US and start enjoying your morning ritual."