The best smart air fryers as recommended by Our Cooking Experts are here.
Everyone's favorite- Ecozy Air Fryer
The product works great and is really fast and compared with other units I had experienced it's quite silent.
Most lavish- Dreamiracle Digital Airfryer
This air fryer is the best…I have used it many times and it is better than any I have had so far…
Extremely attractive- COSORI Pro Smart Air Fryer with 11-in-1 Cooking Presets
It is incredibly easy to use and adjust settings.
Best smart features- Proscenic T21 Air Fryer With Alexa WIFI App control
Prosenic has made a great fryer. It is much easier to clean than my first fryer.
Most decently priced- Blazant LED touch-screen Air Fryer
It was my first air fryer and I really love how my food comes out.
A smart Air Fryer allows you to multitask. While your food gets ready, you can finish many chores. The one-time investment in a smart air fryer is all you need in this modern world.
Item 1- Ecozy Air Fryer
Are you interested in cooking delicious, crispy, and rapid items like French fries at home? This smart Air Fryer with more than 11 presets cooks 30 percent faster than traditional ovens.
The ceramic-coated baskets let you clean the fryer easily. The non-stick cooking trays are dishwasher-safe.
Pros-
It has a see-through window to track cooking
Ecozy app provides more than 100 recipes to try
You can check your cooking history through the app
You can schedule your cooking up to 6 hours ahead with a smartphone connection
Cons-
Some buyers did not use the app as it asked to Sign up for a new account
The rectangle shape of the basket is a bit tricky while inserting said the customers
The absence of interior light makes it hard to see the food while cooking
Item 2- Dreamiracle Digital Airfryer
Hosting a party at your house? Dreamiracle Digital Air fryer is all you need to cook mouth-watering food items. You can select the pre-programmed function and cook delicious meals.
You can cook drumsticks, french fries, and even chicken.
An easily detachable basket, a handle, and an air circulation tube serve advantages. Below are some of the points that you should know before buying this particular air fryer.
Pros-
It provides a wide temperature range- 122 degrees Fahrenheit- 392 degrees Fahrenheit
Comes with a cooking timer of 1-60 minutes
A powerful 5-circle heating tube for 360 degree hot air circulation
Fingerprint resistance keeps the device surface smudge-free
Cons-
The design of the basket may make it a little difficult to clean
The basket collects oil in the bottom
For some buyers, the heating temperature was not adequate
No WiFi connection available
Item 3- COSORI Pro Smart Air Fryer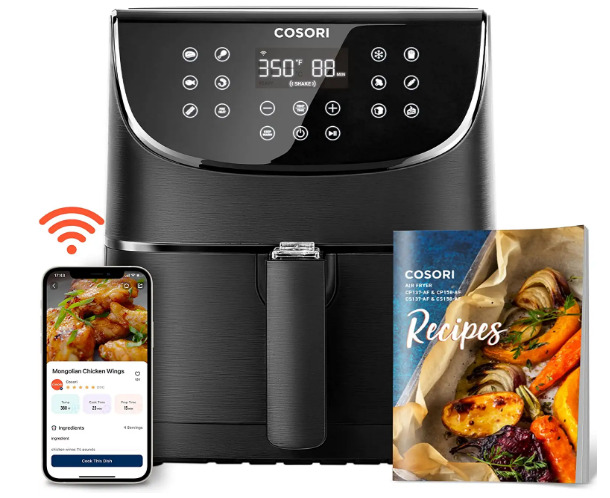 We all are fans of voice-recognition devices. Ever heard of a voice-control air fryer? That's what makes this one a smarted air fryer. Your smartphone can control the programmable and convenient fryer.
Apart from the online recipes, you receive a recipe book along with this air fryer. Anyone can cook these easy recipes. Various recipes + family time = more fun.
Pros-
You can use this one with Alexa or Google Assistant
The square basket is hassle-free to remove and insert
800+ online recipes are available on the Vesync app
Many colors and variations to choose from
Cons-
Few users found it difficult to use the press buttons
Buyers experienced the peeling off of Teflon coating
You might have to stir/flip the food in some presets as auto-stir is not available
Item 4- Proscenic T21 Air Fryer with WIFI App control
Cooked food but no time to eat? Relax. The Proscenic air fryer will keep the food warm for you; too at your desired temperature.
The air fryer allows you to perform a combination of functions all at once. For example- you can schedule, set the menu, and preheat your food.
If you want to perform any two functions in one go, you can choose as per your preference.
Pros-
Keeps the food warm for a long time with its 'keep warm' selection button
It is voice-control/voice-device friendly
The Proscenic app allows you to customize your recipes and upload them on the app
You can cook food for up to 7 people in one go
Cons-
The air fryer works with only 110V
Some users felt the noise of the air fryer was loud while cooking
Wifi/smartphone/network does not support 5G
Item 5- Blazant LED touch-screen Air Fryer
If you want to buy an air fryer without hurting your pockets- get this one. With all the latest technological features, the air fryer comes with a 'pause' option too.
The food stays warm for up to 1 hour in the 'keep warm' mode. The size is good enough to cook more food but consumes less space in the kitchen. With reasonable prices come defects as well. Go through the pros and cons of the product before you end up buying one for yourself.
Pros-
A smart shake/flip option is available
You can mute/unmute the buzzer button
A magnetic cooking sheet that sticks to your refrigerator
Dehydrate/defrost setting comes in handy
Cons-
Customers were not able to change fan settings
The material rusts easily
Takes a lot of time to clean
You cannot remove the basket
A perfect Smart Air Fryer for you-
If you go through all the specifications mentioned above, we recommend Ecozy Air Fryer. For the price, this is the best smart air fryer that you can get for your cooking delicacies.
But if your budget is too tight, we recommend buying Blazant LED touch-screen, Air Fryer.
Buyer's Guide
Preset Features
While considering a smart or a digital air fryer you need to focus on the presets it offers.
Here are some of the preset options that you get in a smart air fryer: preheat, reheat, defrost, dehydrate, timer, wifi connection, temperature, and a few more including the type of food.
Not all smart air fryers have a wifi/ voice-control feature. In some fryers, you cannot reheat or defrost the food.
This is why you must buy an air fryer that comes with plentiful preset options.
Another point is that the letters on the preset button have to be visible. Users have faced an issue while reading the preset option keys.
Now, these preset buttons come in two types- press button and touch button. Press buttons sometimes create trouble and do not get pressed. Make sure that such buttons are not too hard to press.
For the touch buttons- you must confirm that the touch is simple and you do not need to long-press/touch.
Type of Basket
Different types of baskets that come with various air fryers are circular, square, and rectangular baskets. These are the common shapes. But the problems associated with such shapes are unconventional.
The review in the image shares a genuine issue.
But if your aim is to buy an air fryer with more space, the rectangle shape fits perfectly. The circular baskets are easy to clean.
So, please note that these shapes have their own advantages and disadvantages. Depending on all the aspects, buy an air fryer with your desired basket shape.
Another aspect of baskets is to look for detachable ones. There are air fryers that have non-removable baskets. Cleaning such baskets is exhausting.
Detachable baskets are easy to clean and dry. As they are dishwasher-friendly, you can get rid of oil and leftover food in no time.
Temperature
Even if you love French fries, you would use an air fryer to cook a variety of dishes. Cooking each item requires a different temperature. Hence, you should invest in a smart air fryer that allows a good temperature range.
The degree of temperature differs in terms of Celsius and Fahrenheit. It depends on the manufacturing company. Pick an air fryer with a temperature unit that you are familiar with.
Smart-device control
With the emerging technology, many tech-advanced air fryers are now present in the market. If you buy a smart air fryer; you can control it using a smartphone, and it will have many perks.
You can control all the required modes of an air fryer with just one tap on your smartphone or smartwatch.
Indulge in these smart technologies to make your life easier.
Conclusion
After going through various smart Air Fryers available, our Experts are of the view that Ecozy Air Fryer is the best. All the technical features and design of this smart air fryer are wonderful for the pricing.
If your needs are different, you may check the other smart air fryers. To read more such product reviews you can connect to our official website.