Our Top Picks
Retractable Awnings give protection from sun, rain, wind, snow, hail, and more. These awnings provide multipurpose applications like patios, gardens, entrance passages, restaurants/cafes, etc.
If you enjoy being outdoors, retractable awnings are the best addition to your home. We've done the research for you below to make your decision easier!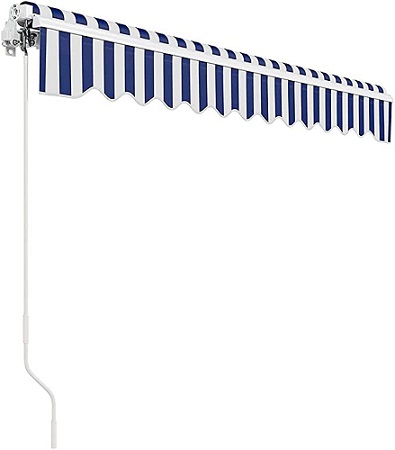 This awning's aluminum frame has been coated and given an oxidized surface treatment. It is meant to resist the weather. It safeguards the awning from rust while making it durable and corrosion-resistant.
The material is of polyester fabric with a PU surface treatment. That means it is waterproof and UV resistant (30 UV +).
The crank arm's construction includes double springs and steel wires. It is built of high-strength thin steel and has a sturdy elasticity. This increases the crank arm's ability to expand and contract effectively.
Pros:
Provides 1 awning dust cover
Easy to stretch
30-70 degrees can be adjusted freely
Lightweight and durable materials
Easily controlled by the manual handle crank
This awning fabric is made of Oxford cloth. Oxford fabrics are robust and durable and can guard you against UV rays and water damage. It comes with a high-quality aluminum frame that holds up well.
The telescopic manual retractable awning will add elegance to your home. It is secure for long-term daily use. But only concrete walls are compatible with this product. So it can be used for shading windows, balcony doors, terraces and gardens.
Pros:
The awning extends and retracts smoothly and quietly
Comes in four sizes
Sturdy and durable
Easy to install
Waterproof and UV resistant
Easy to assemble and maintain
Cons:
Not suitable for extreme weather
One color option
Compatible for only concrete walls
ALEKO's retractable awning stands out for its automatic electric motor. It has a manual crank for sliding open. They are compatible with reinforced concrete, wood, and solid brick walls. These awnings are perfect for homes and businesses.
With the optional wind and light sensor, the awning performs flawlessly. As a result, the awning opens with the sun and closes with clouds or storms. The inaccurate instruction manual appeared to be a common complaint among consumers. But, thankfully they offer installation customer assistance. Customers who have used it seem extremely satisfied with it.
Pros:
Comes in five size options
Wide Variety of Colors
Lightweight, Strong and Sturdy
Water Resistant and Rust-free
Treated with UV Protectant
Motorized awnings are easy to use
Cons:
The Instruction Manual is not accurate.
HongK retractable manual awning has a premium and rust-resistant aluminum frame. These frames are good for long-term use. Its beige-white color, which is neutral, will help complement any decor. It can withstand some scales of wind as it is lightweight. Yet, the best thing is it can be folded up like a roll when not in use.
Its polyester canopy shading comes with adjustable angles. The range is between 40-100 degrees. It can be best used for cafes and restaurants and is suitable for most houses as well as it is budget-friendly.
Pros:
Easy and smooth to open or close with the hand crank
Good value for money/
Long term use
Sturdy and durable
Cons:
Needs professional installation
Not good for storms
Our Winner:
We evaluated all the above retractable awnings based on a few key factors. This includes their features, online reviews, aesthetics, and value for money. Based on that our winner is "ALEKO Automatic Retractable Awning".
The retractable awning from ALEKO requires less effort on your part. Because it has automatic features. It is elegant and can be used for multipurpose. You can find all the features that a person would need in a retractable awning.
Buyer's Guide for Best Retractable Awnings:
Frequently Asked Questions:
1. Why Do I Need a Retractable Awning?
Do you have an outdoor space that you would love to use often? But the intense sunlight or rain makes it difficult for you to do so. A retractable awning is the best option for you in that case.
With a retractable awning, neither rain nor sunlight can derail your plans. Relax after a long day at work or host dinner at home for guests, retractable awnings are the best to have outdoors.
If you put it on your windows, it will protect you from excessive heat. The awning will prevent heat from coming in through the windows of your house. Besides this, you can also use it to enhance the appearance of your outside space.
They are also utilized for restaurants, cafes, shops, and other business spaces. A retractable awning in these places provides elegance. Furthermore, it offers your restaurant space to expand. So that more tables and chairs may be added.
People prefer to dine and hang out outside while admiring the scenery. Thus, a retractable awning is a fantastic feature for increasing your business.
2. What a Retractable Awning Should Have?
Water- and UV-resistant Fabric:
Exposure to UV rays is harmful to both your skin and your health. Additionally, it could lead to eye problems and premature skin aging. As a result, the fabric of the retractable awning needs to be water- and UV-resistant.
The most common fabric used for awnings is polyester material coated with PVC. This is suitable for humid environments and can survive extreme weather conditions. Oxford cloth is a very popular fabric and is known for its thicker quality. This fabric is durable and wrinkle-resistant.
Durable Aluminum Coated Frame:
Aluminum frames are known to be rust and corrosion free. To endure modest winds and rain, retractable awnings need to be strong enough. At the same, it needs to be lightweight enough to be put on the exterior of your home with ease.
Other materials, such as stainless steel and acrylic, are the two other types of frames. They are strong and lightweight, but they rust easily, necessitating powder coating.
3. Is It Easy To Install Retractable Awnings?
No specific skills need to install a retractable awning. Within an hour or two, the awning can be installed. They can be mounted on the concrete walls, wood, and solid bricks to shade an outdoor space.
Furthermore, proper instruction manuals need to be followed for the installation. Check if you are having trouble installing a retractable awning. Customers frequently report, which means the instruction manual is most likely inaccurate. You can DIY at home with simple instructions available online.
4. How can I install a retractable awning on my house?
Awnings can be installed on the rooftop or roofline. They are mounted to rafters or wall studs using safe brackets.
5. What are the retracting mechanisms available for awnings?
There are two types of awning mechanisms which include motorized and manual. The manual awning needs to be physically retracted and extended. Whereas motorized awnings will have automated features and don't need physical involvement.
Do Retractable Awnings Hold Up in Strong Winds?
The majority of retractable awnings are not designed for use in severe storms. So, during storms and strong gusts, always remember to retract. The retractable awnings shouldn't be exposed to continuous wind gusts. The exposure to more than 20 mph should be your check.
Some motorized awnings are equipped with automatic mechanisms. This allows them to retract before a storm. It operates automatically and doesn't need your involvement, which makes your life simpler.
7. What should be the mounting height for my retractable awning?
Mounting the retractable awning at a height of 8 feet is recommended. Make it 10 inches higher if you must fix it above the door, though.
8. Does a retractable awning need any kind of maintenance?
Absolutely no maintenance is required at all. If you notice that the awning is dusty, you can wash it once in a while.
9. How do I choose the right size for a retractable awning?
The ideal size will depend on the kind of place you select for the awning installation. It's crucial to take correct measurements of your outdoor space. These awnings are available in different sizes. Whether you're placing it on the patio or a window, you don't want to buy the incorrect size.
Conclusion:
Retractable awnings are a great addition to your outdoor space. They provide them with the shade they need.
There are many different shades available. If you want your awning to dissipate heat, we advise going with a lighter shade. It's important to make sure the item is both the ideal size for your outside space and the best fit for you.
Visit our website to read more reviews on products you might be interested in.