Saving your time, here is a list of our top 7 Reading Chairs:
Only a bibliophile knows the true joy of having a comfortable reading chair. The grasping book content paired with the right posture and comfort makes reading a memorable experience. But what to do when you have so many options available?
You cannot buy every chair and test it. Right! That's why we curated a list of the top 7 reading chairs based on personal experience. Have a read and then choose the one that best suits your needs. 7 Best Reading Chairs Of 2023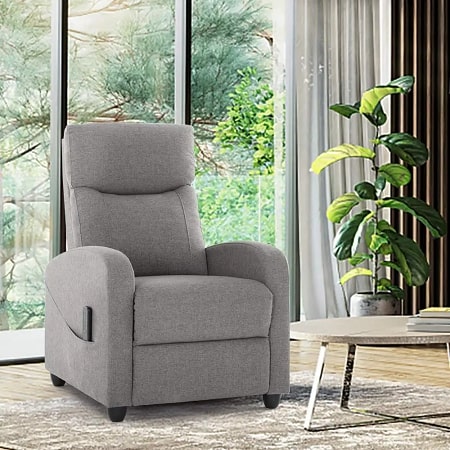 If you are looking for a compact yet comfortable recliner chair, this one deserves your attention. The extra plush fabric adds a decent look to it. Moreover, you can adjust it from 90 degrees to 160 degrees. The sofa fabric is waterproof. That makes it super-easy to clean. Also, you can easily assemble it yourself.
It is super comfortable and goes easy on your pocket too.
Pros:
Ergonomic design
The compact design makes it fit for small apartments
High-quality fabric
Durable
Water-proof
Cons:
Can handle only 275lbs
Not fit for large people
A bit overpriced for this size range
Nothing matches the craftsmanship that imbibes both mid-century and modern design. The solid walnut wood legs paired with a slightly curved backrest and comfortable armrests make it the perfect reading chair. The elastic foam and tufted waffle stitch make it even plusher.
Moreover, its wide seating area is perfect even for plus-sized people. While it may seem a little expensive, it is value for money.
Pros:
Aesthetic design
The slanted backrest makes it more comfortable
Elastic foam that lasts longer
Solid wood legs for durability
Tufted waffle stitch makes the cushion sturdy
Cons:
Expensive
Can handle just 250 pounds
Having a constant backache while reading is an instant turn-off. So, here is the best chair that offers comfort while maintaining the right posture. With a slightly tilted backrest, this chair gives constant support to your spinal cord.
Lay down your hands on the upholstered armrests and enjoy your latest pick. The comfortable fabric and ergonomic design make this chair an instant hit. Plus, it is super affordable!
Pros:
Affordable
Ergonomic design
The high-quality fabric used
Pine wood legs for durability
Waterproof fabric for easier cleaning
Cons:
The chair is blue colored and not gray as advertised
Improper finishing
No reclining facility
You may need an ottoman for longer reading periods
Many users complained of bad customer service
What can be more enticing than a mid-century design-inspired reading chair? That will compliment your bookshelf. The wide-spread birch wood legs and inclined backrest make it even more comfortable. Its aesthetic design uplifts your room's décor as well.
Go for this chair if you are looking for durable yet stylish furniture.
Pros:
Easy to assemble
Comfortable
Elastic foam lasts long
Reasonably priced
Aesthetic look
Cons:
Lack of a lumbar pillow makes longer sitting painful
The padding in hand-rests is not up to the mark
Some users have complained that seats come off after repeated use
Sometimes all you need is an Instagram-worthy spot in your reading corner. This chair is designed for that! A modern-accent look will go perfectly with your well-stocked bookshelf. This cheap chair leaves enough room for you to buy even more books. Now let us talk about the sitting specifications.
On that front, it does not look that promising. It is okay-ish for shorter reading durations but users have complained that it is pretty hard to sit at a stretch. While birch-wood legs look beautiful, the fabric used is polyester. It is safe to assume that after you sit long, sweating will make your legs itch.
Size is also on the smaller side. So, plus-sized people may not find it enticing to sit.
Pros:
Lightweight
Easy to assemble
Beautiful look
Upholstered fabric
Cons:
The sitting cushion is hard
The chair is so light-weight that it moves when you even adjust your body
You cannot adjust the inclination of the back-rest or arm-rest and it can be painful for taller people
Do you want to add an oomph factor to your reading nook? Well, this is the chair that fills that void. The deep charcoal color and beautiful aesthetic design add an instant modern look to your spot.
Pros:
Easy to assemble
Multiple color options
Inclined back-rest
Beautiful design
Upholstered
Cons:
Hard cushion
No lumbar support
Inclined legs leave a mark on the floor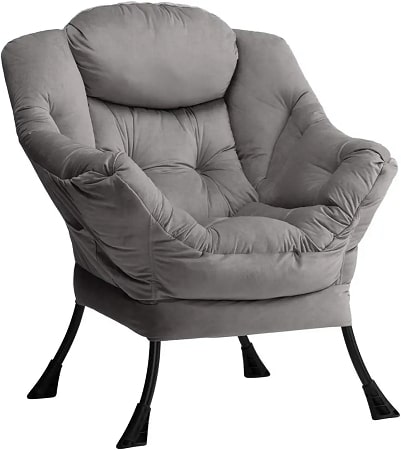 If you are into lazy reading, just go for this plush chair. The strong steel frame can handle up to 500 lbs. plus, it has a pocket where you can keep your book, magazines, phone, and so on. This is a total value for money.
Pros:
Sturdy steel frame
Sofa foam for extra comfort
The plastic cover over the legs prevents slipping
Can handle up to 500lbs
Quick and easy assembly
Cons:
Many users have complained that the stitched come out and all the stuffing falls off only after a few use
The front leg seems to be weak as many users have complained of it.
The Winner:
Taking into account the various factors including price, the smug recliner chair comes out to be the ultimate winner. It is comfortable, reclines well and is within the budget.
Buyer's Guide: What to Look For In a Reading Chair?
Reading is a pious affair for those who love to do it. It is not at all what you see in pictures or videos. People slouch, lie down or put their legs on the armrest while reading. Seldom will you find someone who reads attentively at a stretch.
So, when you search for a reading chair, you need to keep these practical aspects into consideration. Let us see what you must take into account before buying a reading chair:
Height and adjustability: People have different heights and body shapes. No chair fits all. So, always take into consideration your height, weight, body frame, and chair specifications. If you are tall, you better opt for reclining chair or a long chair with an inclined back.A chair with an adjustable back and armrests is the best fit. You should refer to reputed medical journals where you can get genuine advice about the effects of having a good reading chair.
Chair design: You should opt for a chair that aligns your body posture correctly. It ensures that you don't have a backache or any other posture-related issues later on.
Chair quality: Opt for a chair that uses quality upholstery, good wood, and has a strong build. Many chairs look plush but are merely foams stapled onto MDF boards. Never go for such chairs.
Conclusion
Having a reading chair is a necessity as well as luxury where you need not compromise. A good reading chair needs to properly support your spine and buttocks and should not strain your body during long reading sessions.
X
You might want to hear this:
Natalie said…
"This is a well made, very nice chair. It's sturdy and comfortable. It's not the kind of chair you sink into and fall asleep, but it's an attractive chair that is comfortable to sit in."