Get rid of grimy surfaces using the Best Pressure Washers. Save your time and energy with the easy cleaning tool.
Best overall- Craftsmen Pressure Washer
The pressure washer is nice and quiet which I like. Easy to assemble and great
Most Convenient– Wholesun Pressure Washer
Nice size and organized package for light use, as it says.
Most Compact- Paxcess Pressure Washer
Best investment for me. Cleaned the driveway, cleaned my patio and my car
Best Budget- Teande Pressure Washer
Lightweight, powerful, and easy to operate. Can't go wrong.
Best Under $100- Fancyall Pressure Washer
Very easy to assemble and nice design. Not too bulky and not too small. The pressure is exactly what I thought it would be!
A Pressure Washer is useful in cleaning filthy areas. The pressure washer uses an electric or gas motor to force high-pressure water. This water comes out from a concentrating nozzle.
This forceful water puts pressure on the accumulated grime on the floor, patios, or even cars. Check out the Best 5 Electric Pressure Washers to clean dirty surfaces.
The Craftsmen's Pressure Water tops our list for so many reasons. It is easy to assemble, and manage, and lasts longer. This Pressure Washer helps you clean the filthy areas without any challenge.
You can clean up to the 2nd floor from the ground. This is possible with its 25 feet long hose. This hose is kink-resistant. The maximum pressure it exerts is around 2400 Pound per Square Inch.
It also lets you carry the hose on the Pressure Washer's onboard storage. The storage has enough space for nozzles, cords, and cleaning liquids.
Benefits
It is not loud as other electric or gas Pressure Washers
The pressure it exerts is strong
It is compatible with cleaning patio furniture
Drawbacks
Too heavy weight for an electric Pressure Washer
According to the customers, the hose quality is not up to the mark
For hard-to-clean surfaces, this one is perfect. It exerts a maximum pressure of 3000 Pound per Square Inch. If you live in a 2-story building and want to get rid of the mosses, you need this Pressure Washer.
A safety feature is always a blessing. The feature is the 'Automatic Complete Total Stop System'. The TSS turns OFF the pump motor when you are not using the trigger gun.
Benefits
The ergonomic handle makes it easy to move the Pressure Washer
The company provides a 2-year warranty. 30-day no-risk return (not available with other brands) is available
You get to choose from three different colors- Red, Green, and Blue
It supports a dual water supply – from a pool, bucket, or even a faucet
Drawbacks
The house is only 20 feet long.
Onboard Storage for extra nozzles is not available
Users are not happy with the hose adapter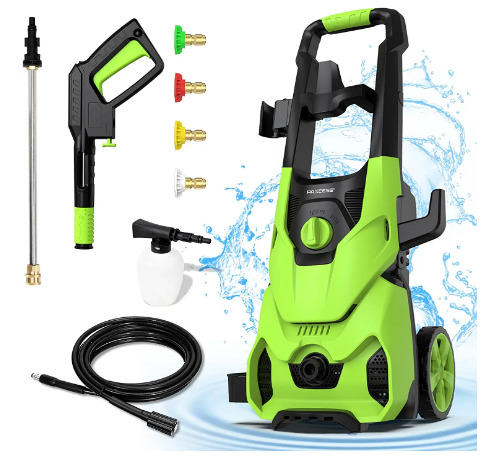 Who does not enjoy using a compact device? This one is great for those who avoid using bulky cleaning tools. Paxcess gives you comfort while you get rid of the rid. You ask how? It is because of its sleek and flimsy design.
Benefits
The hose length is 26 feet. This is longer than many other hoses that come with the Pressure Washer
The maximum flow rate is 2.5 Gallons per Minute which you may miss in other Pressure Washers
The electric cord has a GFCI circuit breaker. Through this, you can connect the cord to any exterior outlet
The package involves a professional leak-proof connector
Drawbacks
Buyers say the hose is not flexible and hence hard to put it back in the reel
The Pressure Washer material is plastic and thus it cannot perform heavy-duty cleaning
The wheels are stiff and do not turn well
Getting rid of concrete dirt is not an easy task. But Teande Pressure Washer gives you a chance to experience effortless cleaning. With the 1800 Watt power motor, you can get rid of the stubborn stains of rust from steel, or oil stains.
The disgusting part is to clean the tires that get dirty with mud. Save money by not giving your car to professional car washers. Because this pressure washer is capable of removing all the mud away.
Benefits
The power cord is 35 feet long
The upgraded motor has a noise-cancellation design. The sound it produces is between 30 dB-60 dB
The extension spray wand allows you to clean deep corners
Drawbacks
The utmost pressure it exerts is only 1350 Pound per Square Inch. So, you can use it for simple to medium cleaning only
The house is too small. It is only 16.5 feet long. Many hoses measure 20 feet or more
Changing the nozzles every time for water pressure is boring. To ease the task of nozzle-changing, Fancyall Pressure Washer brings an all-in-one nozzle. You can simply twist to adjust the water pressure.
This Pressure Washer manages to clean all stubborn stains. It removes grease and grime. Interesting feature – the detergent tank releases the right amount to avoid wastage.
Benefits
You need not change nozzles to change the water pressure. It has a single all-in-one nozzle
The Pressure Washer is the most affordable – under $100 only
You can choose between a standard and an upgraded version
Drawbacks
The maximum pressure it supports is 1950 Pound per Square Inch. Hence, this is great for medium-level cleaning tasks
The hose length is 20 feet which means it is not too long
The warranty period is only 12 months
The hose is stiff
The Best Pressure Washer
Out of all the five Pressure Washers, Craftsmen Pressure Washer is our favorite. If you want a powerful electric Pressure Washer, you should invest in this one.
You get to choose from 4 variations – one option is to buy only a washer. The other three variants include wash soap, washer cleaner, etc. along with the washer.
Best Pressure Washers Buying Guide
Length of the Hose
A hose is a rubber or plastic tube through which the water flows. The hose connects to the main body of the pressure washer.
Determining the length of the hose is essential. A shorter hose cannot reach more distance like the 2nd floor. Even for cleaning deep corners, it is better to have a longer hose.
The length of the hose varies from 16 to 26 feet. Paxcess Pressure Washer provides the longest hose of length 26 feet.
The hose has to be sturdy enough so you can roll it back to the reel after each use. A stiff hose does not fold/roll and thus, you cannot put it back on the reel.
Onboard Storage
Many pressure washers let you have onboard storage. The onboard storage is nothing but the space to keep your extra material. The material may include detergent, extra nozzles, wiping cloth, or any such item.
Now you can carry the cleaning items on a portable pressure washer. Craftsmen Pressure Washer has spacious onboard storage.
Won't it be easy for you to carry cleaning items on the pressure washer itself? Such purchases not only make your work easy but let you enjoy the cleaning process as well.
Imagine carrying things in your hands and also moving a pressure washer. Discomfort max, right?
Warranty Limit
The warranty offers you a sense of satisfaction. If you receive a defective part, you can claim the warranty and replace it. Customers end up receiving defective nozzles or most commonly a hose.
Most companies do not provide a warranty. Some of the companies offer a warranty period of fewer than 12 months. customers face problems with a replacement once the warranty period expires.
Very few brands like Wholesun Pressure Washer, assure a warranty of 2 years. They avail of a 30-days no-risk return. The return is valid if you are not happy with the way your pressure washer works.
Nozzle Adjustment
The pressure washers, in general, have four nozzles. Depending on how much flow you want, you have to change the nozzle. This may not be convenient when you want to change water pressure constantly.
To ease the process, you can use an all-in-one nozzle adjustment solution. One twist and you can change the water pressure. Fancyall Pressure washer has an all-in-one nozzle.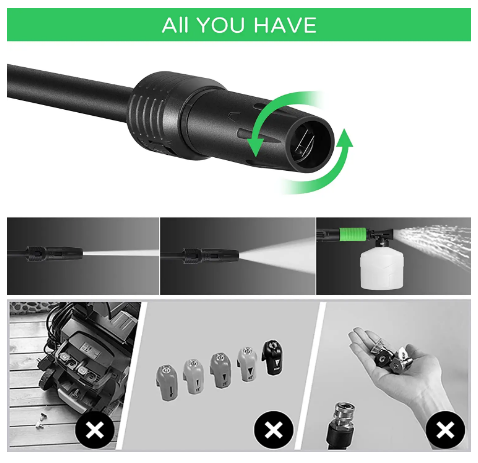 Power Cord Length and Connection
A power cord or electric cord makes sure you can connect to a power supply. Shorted cords can hamper your cleaning. Thus, buy pressure washers with length power cords. One suggestion is Teande Pressure Washer. It has a power cord of 35 feet.
On the power cord, look for a GFCI circuit. GFCI is a 'Ground-Fault Circuit Interrupter'. Having a GFCI allows you to connect the cord to all the exterior outlets.
Conclusion
A pressure washer enhances your cleaning methods. You can choose any of the pressure washers from the list above. Of course, there is more to everyone's needs. You can go through other pressure washers available online.
But, don't forget to read the buying guide. It will make your purchasing easier.
If you want to read buying guides for many such household/office products, click here.