A Natural Gas Grill is an easy option for many people. You need not worry about charcoal or electricity. These are also environment-friendly. If you are looking for such grills, here are the 5 Best Natural Gas Grills.
A Natural Gas Grill is cost-effective and safe in comparison to other grills. The use of hydrocarbons makes it popular among users. Either for your home or for camping, these are amazing.
We have a list of such grills that come with various features. You will also find a Buying Guide in this article. It will give you better clarity on buying the best one.
If you have been looking for a premium quality grill, this is it. It has 2 burners and it is perfect for the family. It has 445 sq. inches of total space for cooking. The overall material is stainless steel.
The tube burners are also of steel and they provide 24,000 BTU. For heat retention and even transfer, cast-iron grates are available. The side tables offer extra space for food preparation or tool-keeping.
What We Like
You get to choose from 2 styles and 2 colors
A 10-foot natural gas hose is available in the package
Side tables are foldable
It has 4 wheels and hence it assures mobility
The grill has an upper covering
What We Don't Like
As per some users, this grill is not durable
Assembling this grill is time-consuming
For some customers, the heat was low
This one has a GS4 grilling system. The ignition, grates, and burners are of better design and quality. The cast-iron grates have an enamel of porcelain. It has 3 burners and the overall space is 529 sq. inches.
The 2 large wheels on one side assure portability. This grill comes with a warming rack that keeps the food warm for a longer time. This one has a lid. It assures protection to the grill. Also, the lid comes in handy while grilling.
What We Like
2 styles and 3 patterns are available
The brand claims a 10-year guarantee and 2-year warranty on this product
A 10-foot hose pipe comes in the package
It has 6 tool hooks on the grill
The grill comes with an inbuilt lid thermometer
What We Don't Like
This grill uses brass material which has lead
Assembling this grill is time-consuming
Some consumers have unsatisfactory views on the quality of this grill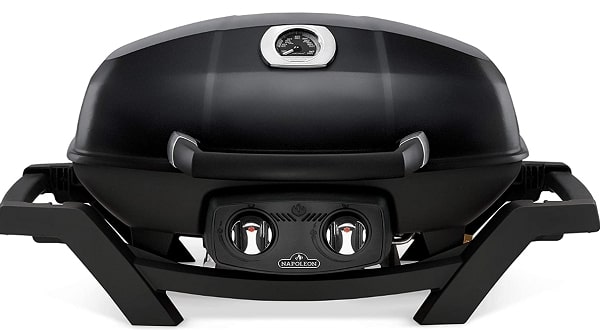 If you are searching for a smaller Natural Gas Grill, Napoleon has it for you. This mini size allows you to carry the grill in your RV or at a picnic. It comes with 2 burners that produce 12,000 BTU. The total area available for cooking is 285 sq. inches.
The lid of this grill has cast aluminum for protection from the weather. Jet-fire ignition is just another amazing feature. The cast-iron grates with porcelain provide even heat in the grill.
What We Like
It comes ready to use and you need not assemble it
This grill has an Accu-Probe temperature gauge
The company assures a 10-year limited warranty
Customers praise the quality of this Natural Gas Grill
What We Don't Like
The feet of this grill is not too sturdy
The handles of this grill may get hot as well
If you want to buy an attractive grill, get this one by Blaze Outdoor. It is bigger in size and yet consumes less space. It has 5 burners. The shape of the rods in this grill is a triangle and the brand has a patent for the design.
To cook multiple items at once, you get a heat separator with this grill. Through this feature, you can actually use various techniques to cook food. Apart from this, the steel flame tamers vaporize the drip. These also spread the heat evenly.
What We Like
The brand provides a lifetime warranty on this grill
This grill comes with rear Infrared burners plus grill lights
The 5 burners in total produce 70,000 BTU
What We Don't Like
Some buyers say the knobs are too hard
Reliability was an issue for some users
This affordable grill by Broil King comes in a classic black color. The total cooking space of this grill is 520 sq. inch. The cook box uses thermal cast aluminum. And the lid uses stainless steel as the main material.
This one has a premium Rotisserie kit. The rear burner has a 12,000 BTU ignition. This Natural Gas Grill comes with 5 knobs. Thus, you get easy ignition control. The grill has a dual tube for the proper gas flow to the burners.
What We Like
It has a side burner that produces 10,000 BTU
This grill has a mini rack in the bottom
It has crack-proof wheels of resin material
A 10-year warranty on burners and a 2-year warranty on paint is available
What We Don't Like
This Grill package does not include a hose
Some customers are not too happy with the sturdiness of this one
The Best Natural Gas Grill
Dyna-Glo Natural Gas Grill is one of a kind. Different colors and patterns are available. Also, the hose comes in the package.
For a stylish yet affordable option, we have Broil King Natural Gas Grill. The warranty is something you cannot miss and this brand offers it. A side burner is an additional benefit.
Buying Guide
1. Assembly
Many customers try to avoid this step. Depending on the size of your Gas Grill, you might need to assemble it. Sometimes the parts are either missing or do not fit in the size.
Sometimes the assembly takes a lot of time. It becomes tedious to put together all the parts.
So, we suggest you check the assembly instructions before finalizing the Grill. The instructions mention what kind of assembly the grill needs.
Accordingly, buy the grill that you think is easy to put together. Also, focus on detachable parts. It will be easier for you while cleaning the grill.
2. Quality
Such products last for 8-10 years. But for this type of durability, the quality should be top-notch. Stainless steel as a main material speaks for itself. It is durable and sturdy. Aluminum is another material that is common in Grill manufacturing.
You should pay attention to the quality of the paint (if any) on the grill. It may come off in a few months or years. Burners fall under warranty yet it is better to check them beforehand.
3. Anti-Rust Property
To protect the Natural Gas Grill from weather or rust, you need to cover it. For this purpose, get a grill that has wheels. You can move it from the patio to the indoors in no time.
What about while cleaning then? Well, the question is valid. Thus, it is always safe to buy a grill that comes with an anti-rust coating.
Using water to clean the grill is obvious. But after some time, your grill may start rusting. Hence, either buy the one that has anti-rust material or a coating.
4. The handle
Customers often buy grills that come with a lid. The lid acts as a protectant for the burners. It also helps in cooking various delicacies.
With the lid comes the handle. This handle may end up getting hot while you use the grill. It then affects the overall performance and vibe of grilling. Therefore, ask the seller about this point before buying the grill.
Another tip is to check the material of the handle. If the handle is thicker than the rest of the grill then it is safe. If it is thin, you might need to check another option.
5. The temperature
There is always a comparison between different types of grills. The main agenda of the discussion is the temperature. Some say Charcoal Gas Grills have a better temperature; some say the same for Natural Gas Grills.
To be precise, it also depends on the manufacturing company. A Natural Gas Grill produces a temperature that is high enough to cook meat.
The main feature is temperature adjustment. Always check for the maximum and minimum ignition available on the grill. The total ignition depends on the number of burners available.
Conclusion
Do you prefer a Charcoal Gas Grill or a Natural Gas Grill? If the latter is your choice, then we hope this article gives you buying clarity. Natural Gas Grills do not cause any harm to nature and thus, are in demand.
We have many other Gas Grill options on our website. You may compare and choose what is best for you.
X
You might want to hear this:
punkybear said…
"Best grill by far! Love how it's natural gas! Cooked on it now over 100 times since Christmas. Food cooked on it comes out perfect every time. Gets hotter than charcoal and propane grills I've had in past by far. Love it!!!"