Getting rid of the unwanted branches and dense bushes is now easy with a Mini Chainsaw. Whether you want to trim the branches or cut the trees, all you need is this Mini Chainsaw.
These are portable, lightweight, and easy to handle. Here are the recommendations on the 5 Best Mini Chainsaws.
Best Overall- Hajack 6-inch Mini Chain saw
It is portable and powerful. It is small enough to get into tight spaces and big enough to cut larger branches.
Best Features- Seesii 6-inch Mini Chain saw
This is a nice little saw for light-duty trimming and medium-duty firewood cutting.
Most Compact- Saker 4-inch Mini Chain saw
This is an extremely useful item for a woman maintaining her own yard.
Best in Kit- Oyffo 6-inch Mini Chain saw
This little compact chainsaw is handy for small yard work and gardening tasks.
Most Cost-Effective- Aihand 6-inch Mini Chain saw
This mini chainsaw is easy to use and lightweight. I find it very handy to use cutting small branches and vines.
A Mini Chainsaw has metal teeth that run in a circular motion around the bar. The notches cut all types of wood easily.
These come in various types. Some run on gas while many run on an electric power supply. There are Mini Chain saws that operate through batteries as well.
Have you been looking for a powerful Mini Chainsaw? Try this one. It is efficient in cutting tree limbs of around 5 inches in diameter. With its deep quenching process, the chains give a smooth cut. It comes with 2 chains.
It is fast and takes up to 8 seconds only to cut a thick log of wood. It has an ergonomic design that allows a proper hold and grip on the saw. This Mini Chainsaw runs on 2 24V Lithium batteries. These run for a long time and charge instantly.
What We Like
For a longer run time, it has a pure copper motor
It has a double-handed safety switch for convenient use by right/left-handed people
The battery lasts for a long time
What We Don't Like
Some users say it is difficult to use this Mini Chainsaw continuously
The Mini Chainsaw by Seesii uses 2 Lithium batteries of 21V each. It takes 10 seconds approximately to cut a log of wood of 5 inches in diameter. For safety, it comes with low kickback and low vibration features.
So even if you are a beginner, you can use it without any worries. Once you charge the batteries fully, they will last for 50-60 minutes or 100 cuts. The copper motor assures 75dB low noise operation.
What We Like
It comes in 2 different sizes
The chain speed is 5 m/s
You get a complete kit in the package including hand gloves and other accessories
For lubrication, you can add the oil to the oil tank and then press the oiler button
What We Don't Like
You cannot see how much oil is remaining in the oil tank
According to some customers, this Mini Chain saw does not last too long
The Saker Mini Chain saw uses 2 20V Lithium batteries of 1500mAH. If you want a compact size out of all the Mini Chainsaws, this is for you. The total length of this Mini Chainsaw is only 4 inches.
But even then this Mini Chain saw ensures smooth and proper cutting of the trees and bushes. The strong dynamic system gives you clean and effective cleaning of your backyard. The steel chain is of high quality and is wear-resistant.
What We Like
It comes in 2 styles
It comes with a safety lock
It has a splash guard design to prevent splashing of the sawdust
You can use this Mini Chain saw for woodworking at home
It has an effective ventilation design to avoid burnouts
What We Don't Like
Some users say that adding the oil to the chain is hard as there is no reservoir
For some buyers, cutting the smaller bushes with this one was a task
The Mini Chainsaw by Oyffo has a powerful chain. The chain has a speed of 26000 RPM. The chain is adjustable and offers smooth and efficient operation. The Mini Chainsaw uses 2 Lithium ion batteries of 21V.
This chain saw has a rubber hand. This offers anti-slip properties. You also get hand gloves that assure a firm hold on the Mini Chainsaw. The thick motor wire improves cooling and prevents overheating.
What We Like
It has an LED light to enhance the nightwork
It has a baffle to avoid wood chip splashing
This one is lightweight and easy to carry
What We Don't Like
It does not work well for smaller bushes or branches as per the customers
Some users say that this one is not too fast
The gloves may not fit big hands
If you do not want to compromise on the size but want a cheaper option, here it is. For a 6-inch chain saw, this is one of the most affordable options out there. It has all the features that you would need to cut or trim the bushes or the branches.
It uses a 750W copper motor. The motor comes with overload and overheating protection. You get a chain and bar fixing to the knob for any adjustments in the Mini Chainsaw. This Mini Chainsaw runs on 2 Lithium 2000mAH batteries of 21V.
What We Like
It comes with double-sided safety locks
To prevent debris splashing, you get 100 degrees rotatable baffle
You get gloves and glasses along with other accessories
What We Don't Like
Some users are not happy with the overall quality
This one does not have an automatic oiler
The Best Mini Chainsaw
After comparison, we find Hajack 6-inch Mini Chainsaw the best. It is fast and uses a strong motor. It has an ergonomic design that is helpful for people who are lefty.
For an affordable yet good option, we suggest Aihand 6-inch Mini Chain saw. It comes with a safety lock and a rotating baffle.
Mini Chainsaw Buying Guide
Ergonomic Design
When it comes to the design, a Mini Chainsaw must be lightweight. It is only due to the low weight that one can handle the saw while cutting the branches. If you are a right-handed person, you may not face many difficulties.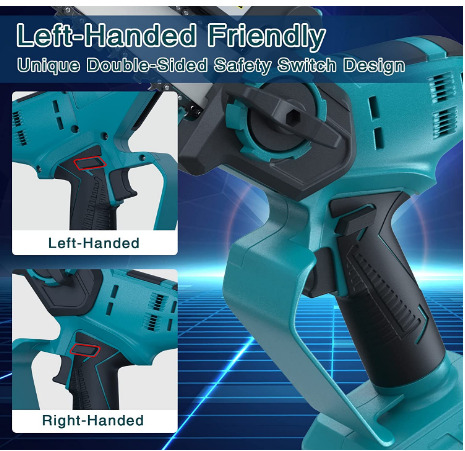 But for those who use the left hand, using a Mini Chainsaw must be challenging. The power switch or the safety switch may not come in handy to such people. That is why it is essential to choose a Mini Chain saw that works equally for all.
Choose the one that has a rubber grip. Even if you use hand gloves, go for a rubber grip. It gives a firm hold on the chainsaw and does not slip off from the hand.
The motor of the Mini Chainsaw
A motor is the deciding factor in the Mini Chainsaw. A powerful motor gives speed to the chain. A Mini Chain saw that uses a copper motor is always a better option. The copper motor prevents overheating and thus, is safe to use.
The copper motor assures smooth cutting and trimming of the bushes and the branches. If the motor is powerful, you can cut the trees in no time. This is possible without applying a lot of force or pressure.
Safety and Lock System
Safety features play an important role in such tools and machines. To avoid the wood chips or debris from splashing here and there, you get a baffle that helps in avoiding it.
The lock system is useful in case the Mini Chainsaw slips off from your hand.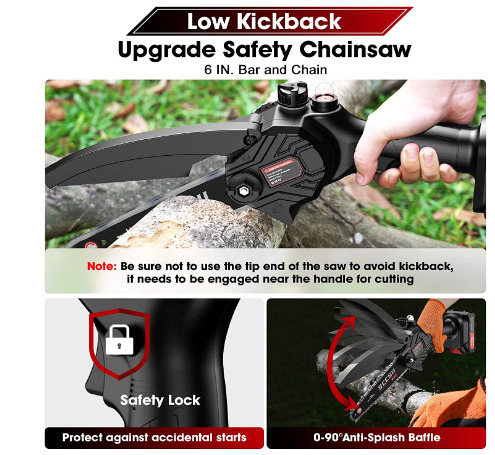 Also, the safety lock is useful while cutting heavy trees. The fast-running chain may not be in control and may cause accidents. To avoid such unfortunate incidents, get a Mini Chainsaw that has all the safety features.
The Overall Cutting
While many Mini Chainsaws are useful for cutting small bushes only, some help in tree cutting as well. If you have a small backyard then a Mini Chain saw that cuts smaller branches will be fine.
But we suggest for once and for all you a stronger Mini Chainsaw. Even if you ever want to cut a heavy log of wood, you can use it.
Not everyone wants to always cut the bushes only. Hence, a powerful motor and a sturdy Mini Chainsaw help in cutting or trimming the branches.
Conclusion
This was it for our 5 Best Mini Chainsaws. Don't forget to refer to our Buying Guide if you want to purchase any other brand in Mini Chainsaw.
If you want other gardening tools, check them out on our website. We have a wide range of reviews on gardening tools.