Your time is valuable! Considering this, we have provided a quick list of our top 7 inflatable hot tubs.
After a long, stressful day, relaxing in a hot tub is one of the best things you can do for yourself.
Whether you prefer to set it up at the campground or in the privacy of your own backyard, a high-quality inflatable hot tub gives you the flexibility to enjoy a soothing spa in almost any location.
The SaluSpa Vancouver AirJet Plus Inflatable Hot Tub is the affordable, go-anywhere spa that can comfortably fit up to 3-5 individuals and can be used in a variety of environments.
That's because it has lift handles, the spa can be relocated with great ease. It can be deflated into a small form, making it ideal for storage and transit.
What makes it unique is its digital control panel. You can adjust the water temperature up to 104 degrees Fahrenheit. You can also set the jet flow without coming out of the tub.
Pros:
Great for small space
Easy to assemble
Great spa at affordable rate
Strong and durable hard-sided spa
Cons:
Water warming is not so quick
Smaller in size than expected
Long time to heat up due to thin sides
It can increase your electricity bill
The inflatable hot tubs offered by SereneLife are incredibly simple to assemble and disassemble.
If you are a group of super 6, then this could be the best option for you to have an amazing spa experience.
It comes with a digital control panel that can be operated by a remote control, so sit back and relax!
Pros:
Easy to install
Good quality with thick construction
Water jets work nicely
Heats quickly
Cons:
LED Lights are not that efficient
6 persons are tough to fit in
Does not heat up to the desired level
The Aquaspa is equipped with a digitally controlled pump. It features a soft-touch control panel to accommodate the requirements of two to three persons.
It is simple to install even though the setup manual's instructions are not very clear.
So, if you're seeking a luxurious spa that is also reasonably priced, consider Aquaspa.
Pros:
Installation is quite easy
Comfortable padding
Easy to drain, clean, and refill
Affordable
Cons:
Pump creates trouble sometimes
Leakage can be an issue in long term
Some complaints regarding leakage and heater stopped working are there
After a long, challenging day, relaxing in a warm, bubbling hot tub is a delightful pleasure made possible by the Coleman SaluSpa. Your neck, shoulders, and back will be massaged by the bubbles the jets emit.
The fact that it requires little setup work, and no additional tools makes it a perfect choice.
The manual is difficult to understand, but setup is simpler. In conclusion, giving it a try is the best way to put an end to all your stress.
Pros:
Value for money
Set up is easy and quick
Easy to clean filters
Retains heat for a longer duration
Cons:
Complaints regarding pump problems
Pump failure in some cases
Electric shock from heater element
Filter change has to be done often
This inflatable hot tub in the shape of a square offers just enough room for two to three people to enjoy the warmth. 120 jets create a relaxing spot to enjoy with friends.
The portable hot tub's built-in air pump makes it simple to inflate and deflate the tub in a matter of minutes. You just have to click the 'Bubble' button. It heats water faster to 104 degrees. Its digital panel can also be adjusted for the filtration and heating system.
The leaks are a major drawback, but many people still choose this AirJet Spa.
Pros:
Stay hot for long time
Comfortable with value for money
Easy to assemble
Great design and good looks
Cons:
Complaints regarding pump failure
Unable to hold air for long time duration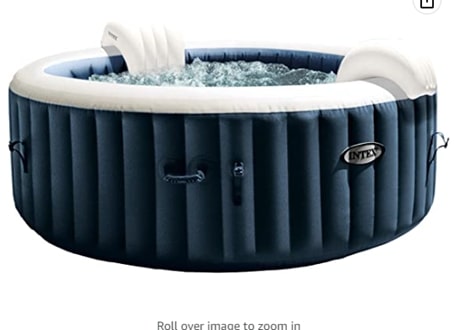 At the touch of a button, this 4-person inflatable spa allows you to relax.
Experience a cozy massage because of 140 relaxing high-powered jets and hot water that goes up to 104 degrees Fahrenheit.
Even though some consider this as a one-season product, people still purchase it. Are you the next?
Pros:
Well designed and easy to set up
Pump/ heater does not make noise
Temperature comes up quickly
Maintenance is easy
Cons:
Complaints regarding water leakage are there
It does not hold water in some cases
Complaints regarding improper pump functioning
The most flexible hot tub in the market can be named the OmniSpa – thanks to its 100 powerful jets. It is transportable, inexpensive, and simple to set up.
Installing this inflatable hot tub only takes a few minutes.
This hot tub is simple to move and assemble because of its high-grip lift handle, tool-free assembly, and an on-board air pump.
Pros:
Super easy to set up
Water stays warm for long
Takes minimum time to set up
Takes less space to fit in
Cons:
Heater stopped working in some cases
Temperature is not consistent
Complaints regarding defective pump
Our Winner:
We recommend the Coleman SaluSpa Inflatable Hot Tub as the best option.
It includes a power saving timer in addition to fantastic water jets that give you a relaxing massage. To conserve energy and money, this timer automates the spa's temperature up to 72 hours in advance.
The Intex 28429EP PureSpa Plus 77 Inch Diameter on the other hand, is the wiser alternative if you want to experience the power of 140 powerful, calming jets.
Buyer's Guide to pick the Best Inflatable Hot Tubs:
What should you consider while choosing inflatable hot tubs?
1. Brand matters!
When you are in the market to buy a new inflatable hot tub, you should consider the best brands. As a rule of thumb, when you are shopping for a new hot tub, you should stick with the brands that have a solid reputation such as:
Coleman
MSpa
SaluSpa
Intex
Spa-N-A-Box
Canadian Spa
2. Dimensions and Capacity
Read the dimensions and capacity properly and patiently to use your hot tub to relax and take a long hot bath.
Number of seats
2 seats
4 seats
6 seats
8 seats
Hot tub size
Diameter: < 115 cm
Diameter: >115 cm
Approx. 160 cm
Approx. 185 cm
3. Running cost
You should take into account an inflatable hot tub's operating costs, which are broken down into:
Water cost: There is a lot of water inside an inflatable hot tub! The largest models may carry about 300 gallons, while even the smallest model holds 184 gallons.
Energy cost: An inflatable hot tub would typically cost $20 to $30 a week if you use it 4-6 times per week for roughly 30 minutes each time.
Chemical cost: Untreated hot tub water can harm the hot tub and the people who use the spa, so buying the chemicals you need involves a minor investment and is something you can't really avoid.
4. Basic accessories and features
An insulated ground mat, a digital control panel, an insulated hot tub cover, a spare filter cartridge, a chemical float and a repair kit should all be included with inflatable hot tubs.
How can you choose the best inflatable hot tub for a wonderful experience?
Pick the ideal inflatable hot tub
There are a few things you should consider before purchasing the best inflatable hot tub.
Which size do you require? If you have a tight area, it is best to spend your money on a lower capacity tub that can comfortably fit 2-3 people. This size is also appropriate for people who plan to use it more for occasional relaxation than for socializing.
In any event, choose a tub with a larger capacity (4-6 people) if you have a large family or want one to entertain guests and make sure you have enough space for it.
Next, it's important to have a fundamental understanding of the components that make up an inflatable hot tub. Either reinforced PVC or laminated PVC is used to create these hot tubs. Additionally, the tub liner might have two or three layers.
Most high-quality hot tubs are robust and able to withstand any pressure. While some may be made of PVC or multilayer vinyl, others may have reinforced walls, which is always a fantastic option.
For those who prefer a more expensive hot tub, you can look for convenient cupholders, headrests, carry handles as well as changeable bubble jet settings to manage the intensity of bubbles. If you host events, you can choose ones with stunning LED lights to set the scene for a party.
5. Tips to cut cost while enjoying a hot bath
# Tip 1: Place your tub away from the elements in a safe area ideally against a wall or in a corner. It's also excellent if it's under shelter. It will use less energy to heat as a result. If you really want to reduce your heating costs, you can even bring your tub indoors.
# Tip 2: Spend money on an inflatable hot tub that includes an insulation lid. This serves as an additional safety precaution and will keep the heat trapped.
# Tip 3: Invest in a smaller tub. Only purchase the amount of capacity you need because the more water it retains, the more energy it will use to heat it.
# Tip 4: Instead of using your inflatable hot tub in the winter, do so in the summer. The hot tub will naturally require more energy to heat itself when it is cooler outside. Utilize it more frequently in the summer to lower costs.
# Tip 5: Frequently clean your inflatable hot tub. This will extend its lifespan and lessen the need to purchase cleaning agents.
Conclusion
If you are a newcomer to the world of inflatable hot tubs and are on the point of purchasing your very first hot tub, then reading this article will assist you in making the best choice.
You won't make an expensive mistake if you take advantage of our guidance and suggestions because it will provide you with all of the information you want.
Also, the Coleman SaluSpa Inflatable Hot Tub has won the attention of many, so you shouldn't miss out on it.
However, each of the seven inflatable hot tubs listed above, has its own set of advantages and benefits. So, read this article and bring your favorite inflatable hot tub home!
X
You might want to hear this:
vaugh said…
"Amazing spa! Set up in under 30min! Very impressed with quality!"