Here's an instant recommendation for the best gas cooktops.
It is not easy to find a perfect gas cooktop. You cook many dishes on the gas stove. Thus, you need to get the one that is capable of cooking a variety of food items.
Whether you no longer want your old stove or your new kitchen needs a new cooktop- here are the best 5 gas cooktops. These are 5-burner, convertible cooktops with modern features.
This gas cooktop comes with many features; and that too on a budget. The 34-inch gas stove allows you to place large pans. The design of the burner is spacious. From your soups at low heat to searing steaks at the highest – all cooks well.
The stainless steel and cast iron material are easy to clean. When the flame goes out by accident, the supply of gas gets cut. This avoids gas leakage and ensures safety. Orieme Cooktop's Flame Supervision Device assures safety.
Pros:
Orieme gives two-year warranty on the gas cooktop
It has a heat-discoloration resistance
Metal prevents knobs from melting
Thermocouple protection- Flame failure device allows safe cooking
Cons:
Users have complained that tempered glass cracked and broke
The knobs are very close so might have to take care while using bigger pans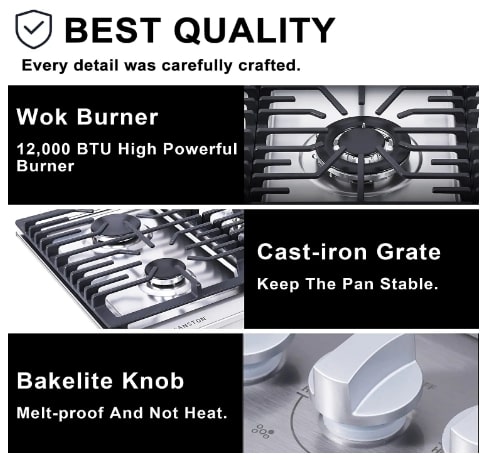 The gas stove has a pre-installation of a 120V power cord. This is the most affordable gas cooktop that you can have. The design is such that it fits in smaller kitchen spaces. The size also fits in a camper.
Propane or natural gas- delivers an equal amount of power. The product includes LPG nozzles and a natural gas regulator. Apart from the price, dust resistance is its special quality.
Pros:
A brushed Nickel finish makes the gas stove stain resistant
Cast Iron keeps the burner sturdy
It goes well with compact spaces
Cons:
Burner takes time to light up
It has an electronic control console
Due to the safety mode, you will have to hold the knob in ignite position for a few seconds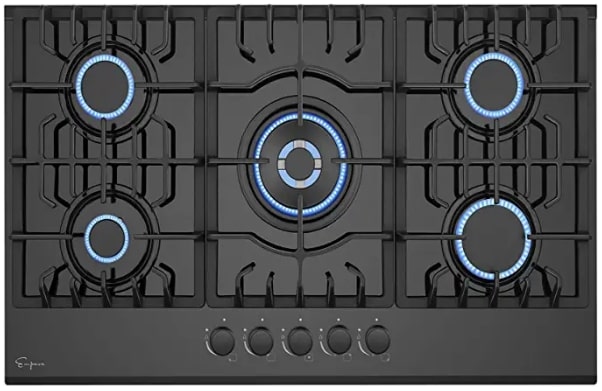 The reason that brings Empava Gas stove on this list is its durable quality and easy maintenance.
This stove proves to be a wonderful piece for modern homes. It has features like a flame-out failure system. It equips functionality and safety and allows you to cook without worries.
But of course, technology has its own drawbacks.
Pros:
The cooktop is of high quality
The burner flames well
The cooktops need very little depth under the counter so give more space
Cons:
The round burner plates are too narrow to clean
There are complaints of burner discoloration
The front burners are not in the center so it is difficult to place a pot
The electric cord is short
A cooktop of contemporary design acts as an element in the kitchen. it comes with marvelous features. This stainless steel stove comes with a conversion kit. You can switch the modes between LPG and natural gas.
As the main power source is gas, you can use it even during power cuts. For safety measures, you get automatic thermocouple protection from Spanish Orkeli Technology.
The 30-inch gas stove comes with a power cable, plug, and internal connection cables.
Pros:
This cooktop gives you the most versatile cooking options
The material is going to last long
It allows you to set a 60-minute timer while cooking
The sealed burner saves from spilling
Cons:
There are complaints about a very sensitive temperature control
The simmer is not effective
One of the most resourceful cooktops is Gasland's pro gas cooktop. It has a convertible Grill and Griddle. You can grill your sandwich or chicken on the same stove. This saves your expense of buying an extra griller.
The design is simple and ergonomic to use. You can switch between grill and griddle in no time. The handle of the grill is big enough to hold without getting hurt. If you are a regular party host or like to eat grilled food, this stove comes in handy for you.
Pros:
Zinc knobs survive longer even in higher temperature
The burner has a stable flame and provides full combustion
Cons:
Some buyers faced an issue with the burner turning off automatically
A combination of Cast iron and zinc alloy is hard to clean
It has an electronic ignition
The best gas cooktop
Overall, the finest gas cooktop is the Orieme OM501G Gas stove. The convertible is hassle-free to use. The installation is quick. And the price is perfect for the features it comes with.
But, to add up to your aesthetic kitchen goals; you can buy Gasland Pro GH3305SF Gas Cooktop.
Feel free to discover more about gas cooktops for your everyday purpose. If anything confuses you, see our buyer's guide.
Buyer's Guide for the Best Gas Cooktop:
1. Kind of Cooktop
The markets are now filled with a variety of options to choose from. In the same manner, there are different types of cooktops.
Two of the most common types are as follows:
– These are generally found in almost every household. As the name suggests, the cooktop or the stove is dependent on gas. One benefit that it provides is that you can use either an LPG or natural gas connection.
– These cooktops are faster, cheaper, and more convenient than other cooktop varieties.
– The size of the gas stove depends on the size of your kitchen cabinet. Nowadays, compact sizes are accessible, especially for smaller kitchens.
– The only drawback is its safety. But as we have mentioned already- gas cooktops have a safety feature. This quality prevents fire.
– If gas stoves do not convince you, here's the other variety.
– This type comes with an integrated electrical heating device that allows cooking. These are common in places with fuel shortages.
– It does not have gas/fuel so there is no leakage problem. This safety feature is considerable. According to a consumer report forum, electric stoves provide better cooking.
– Here lies the imperfection. Imagine there is a power cut for a long day and you are hungry. Or you have invited guests and there is no electricity to use the electric cooktop. What then?
– The electric gas stoves consume a lot of electricity. These are also not sustainable.
In the end, it is on you to buy whatever fits your kitchen and requirements.
2. Number of Burners
Our traditional kitchen gas cooktops had two burners. The latest cooktops come with five or even six burners. A gas stove with more burners is good for those who have a big family. If you invite people on a regular basis, then you can buy it.
More number of burners implies less cooking time. If your kitchen space is small and you want a compact stove; you might need to choose fewer burners. A small stove with many burners won't hold many pans.
A mindful buy would be to first know the kitchen size. Then cooktop size (30-36 inches is easy to find) needs attention – and then go for the number of burners.
Induction or Stove
Inductions differ from electric cooktops. The only common thing is that both run on electricity. Most users prefer induction as it is straightforward. It does not require any type of installation. Just one plug is enough for the connection.
For people who are always shifting places or live in dorms, induction is the best. Moving an induction is trouble-free and consumes no time.
The Copper coil technology is such that the induction heats the pan only. This happens through magnetic energy.
The reason why gas stoves are better- is you need not depend on electricity.
You have fine control over the flames/temperature
Gas stoves are more affordable than electric cooktops
Image- Comparison between Induction, electric and gas stove (Pinterest)
4. Size of the Gas cooktop
After putting all your efforts into deciding the type, focus on the size. The regular sizes are 30 to 36 inches. These sizes include two-burner to six-burner stoves.
A 36inch cooktop is better for five or six-burner stoves. A suggestion is to avoid stoves with cramped spaces between the burners.
Conclusion
Our first preference is the Orieme OM501G Gas stove. The design is brilliant and it has all the modern features.
Kadorer Convertible Gas Cooktop is for those who do not want to spend much on a gas stove.
Review Roller will keep bringing more such helpful reviews to you.
X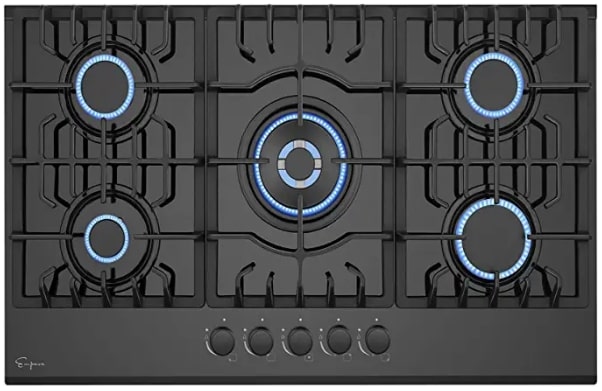 You might want to hear this:
Ivan Blaylock said…
"Very Decorative Stove top that works great"