For efficient gardening, you first need to protect your feet. Excess water, mud, and insects damage the skin of your feet. To avoid any skin issues, get your hands on gardening shoes.
Best in Men's Shoes- Muck Boot Muckster Garden Shoes
This is my third pair of these shoes because they last forever and they are great for being out in the mud and forest.
Best in Unisex Shoes- Tengta Waterproof Garden Shoes
Just what I was looking for. Some waterproof slip-on shoes to take out the dogs. Perfect. Easy on.
Best in Women's Shoes- Asgard Mid-Calf Garden Shoes
These boots are great! They fold up to pack in a suitcase and are smooth and comfortable on the inside.
Best Quality- Sylphid Garden Shoes
Really good for garden work and mowing. My feet can sweat on a cool day, so having something to keep moisture out and let things breathe is important.
Most Affordable- Bigant Clog Garden Shoes
These shoes are perfect! They are light as air and very comfortable. I highly recommend them.
Camping, lawn care, gardening, and many such activities impact your feet and legs. Don't we all complain of leg pain after rigorous cleaning sessions? This is because we do not wear comfortable gardening shoes.
Wrong fit or wrong shoe pattern can end up giving you shoe bites. Here's our round-up of the 5 best gardening shoes that provide support and comfort.
The best pair of shoes for gardening is this one. These shoes provide flexibility and comfort at the same time. The shoes are waterproof. They also have shock absorption and heat retention properties.
These shoes provide comfort in various temperatures. To avoid humidity and perspiration, these shoes have a breathable air mesh lining.
The 4mm neoprene fabric snugs according to your foot shape. This resists blisters on your feet. This pair of shoes are compatible even if you are working in an area with a lot of debris.
What We Like
3 different colors are available
These are extremely comfortable and do not bite
The quality of the gardening shoes is durable
The outsole has high-traction rubber. This provides support in the rain, mud, and slush
What We Don't Like
Many people have a complaint about the size
Get a pair of gardening shoes that are unisex. Anyone from your family, either a male or a female can use it while gardening. This is a good investment and you also need not clean multiple shoes after use.
These shoes are comfortable to wear for digging, mowing, and even camping. The non-slip outsole protects you from slipping and any injury. The shoes have a neoprene lining for warmth and insulation.
What We Like
4 different colors are available
12 sizes are available
The shoes are multipurpose for various activities
Rubber material makes the shoes water-resistant
What We Don't Like
As per the female users, the shoes are too wide. This is because the shoes are unisex
Customers say the sole of the shoe is thin
Women always love things that are trendy. So, even for gardening, we have a trendy option for you. These mid-calf collar boots are lightweight yet durable. Also, they add a fashion element to your activewear.
The shoes use high-quality PVC which makes them soft and foldable. If you love visiting countryside fields, you can carry these in your bag without any hassle.
What We Like
You can choose from 4 varieties of colors
The shoes have an adjustable collar. You can secure the tie to avoid water dropping into the boots
The heel size is 0.4" only. Hence, too comfortable
The shaft is 12" long. This is good when you go to muddy places. It also saves your legs from the insects
What We Don't Like
You will need to add some extra insoles for support
Women say the toe box is too narrow
If quality is your priority, we recommend Sylphid Garden Shoes. These shoes fit both men and women. The neoprene rubber fabric does not crack when the shoes stretch. These shoes are a better option if you go to uneven terrain.
The shoes dry out quickly. It is the rubber material that exudes the water. The shoes are useful for lawn care, camping, and even yard work.
What We Like
9 colors and 11 sizes are available
The shoes have a lower profile. Thus, even if you wear these for longer hours, your legs and back will not hurt
These gardening shoes are soft and light-weight
What We Don't Like
The shoes do not provide arch support
The only shoe bite you get is on Achilles
The customers are not too happy with the quality of the inner sole
Slip-on footwear is our favorite. Isn't it so convenient to wear crocs so effortlessly? You can now get gardening crocs/shoes as well. These use an EVA fabric. The whole pair uses Ethylene Vinyl Acetate (EVA) including the outer and inner soles.
For those who walk/stand constantly, these shoes are too comfortable. These are simple but sturdy. Another plus point is that you can also use these shoes indoors. And let us remind you that these are gender-neutral.
What We Like
The cushioned heel keeps your feet soft and avoids cracking
The abrasive bottom sole makes the shoe slip-resistant
You get to choose from 5 sizes and 4 colors
This pair is cost-effective
What We Don't Like
These do not avoid water as they are slip-on
These are only for low-level gardening or a walk on the lawn
Best Gardening Shoes – Our Verdict
Our comparison of the 5 best gardening shoes is in front of you. You can choose whatever fits your choice. But, to sum it up, we have 2 brilliant suggestions for you.
The best Unisex gardening shoes are Tengta Waterproof Garden Shoes. The quality and properties are up to the mark.
If you think this is expensive checkout Bigant Clog Garden Shoes. These crocs are easy to wear and remove. Also, these are not gender-specific.
Best Gardening Shoes Buying Guide
Shoe Size
We all know that shoe size matters. But what we usually forget is that size differs from one brand to another. Hence, always compare brand sizes.
Apart from this, the toe area of your shoes should not be too tight. That also should be a part of your size check.
Some shoes do not support the arch of the feet. Such shoes do not support your feet well. That is why focusing on the inner structure of the shoe is also necessary.
The utmost confusion occurs while buying unisex gardening shoes. You can see the image below to clear up the confusion. The image will clarify how to check the sizes.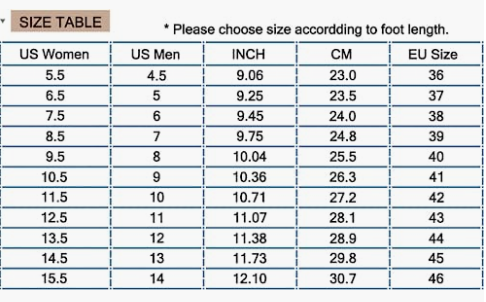 Comfortable Gardening Shoes
A wrong pair of gardening shoes can only give you discomfort. Sometimes, the gardening process itself is uncomfortable.
Stones, debris, thorns, and insects add to the problems. Having a comfortable pair of gardening shoes allows you to stay away from all these.
When we talk about comfort and support we also include the blisters. Cracks, blisters, and shoe bites are very common. But, you can avoid all of these if you have soft soles and shoes.
Blisters or shoe bites occur when the shoes use hard material or they are ill-fit. Avoid buying shoes that are tough and hard.
Water-proof Gardening Shoes
Gardening shoes need to be water-proof. The ground of the garden or fields may be moist. A lot of moisture is not good for your skin. The moisture can give you yeast or fungal infections between your toes.
The shoes also need air to get rid of the excess moisture and water. There are shoes that allow airflow and keep the shoe moisture-free.
Rubber shoes are waterproof. Muck Boot Muckster Garden Shoes are waterproof and comfortable. The air mesh line provides airflow and thus protects your feet.
Safety while Gardening
The gardening shoes should be safe in many terms. Gardening shoes are useful in camping, fields, and rough terrain areas.
Pebbles, stones, and debris create a tough path. Gardening shoes with thicker bottom soles keep your feet safe from all these.
You can buy mid-calf gardening shoes like Asgard Mid-Calf Garden Shoes. The shaft of these types of shoes protects you from water and insects. As the shaft is high, you can also avoid mud and dirt.
You also need to be safe from slipping in such areas. Thus, an anti-slip outer sole is important. Rubber soles have high traction and so, you do not slip off.
Conclusion
That is it for our recommendation of the best gardening shoes. We hope our suggestions will help you buy the best pair. If you are looking for something else to buy, don't forget to refer to the size chart.
For any more doubts, refer to our Buying Guide section to see how you can get the best deal. Check our website for more product guides and ideas.