Nothing can beat smart work. Not even your experience. Catch the fish smartly without utilizing a lot of your energy. Less time and less energy can get you more fish. How? You just have to use the Best Fish Finder.
Best Overall- Lowrance Fish Finder
The unit is easy to use and installation was a breeze. I highly recommend this graph.
Most Ergonomic- Humminbird Helix Fish Finder
I'm really enjoying the fish finder after finally getting one.
Best Splurge- Garmin Striker Vivid Fish Finder
I mounted this unit on my small fishing boat. Very simple to install.
Most Cost-effective- Phiradar Joywee Color LCD Fish Finder
Good value for the money.
Best Under $50- Lucky Kayak Fish Finder
The Lucky Kayak Fish Finder appears to be well made for its price and it is very easy to operate.
If your work surrounds fishing and fish finding, using a fish finder will make your task minimal. It works like SONAR. It is a device that locates underwater fish. It detects pulse reflection of sound energy.
Another popular name of Fish Finder is Sounder. If you are willing to enhance your fishing experience, try using a Fish Finder. To save you time, here's the list:
It is not always about just finding a fish. It is also about identifying a fish. The 5-inch screen display allows you to locate and identify the fish. The device uses the CHIRP SONAR technology.
Using this Fish Finder is simple and takes no time in functioning. The buttons on the device have Menu Operation and a dedicated Keypad.
Advantages
It has a GPS plotter that makes trail, route, and waypoint navigation easy
Splitshot feature gives you a wide angle to locate the fish below your boat
Autotuning SONAR allows you to focus on fishing. Without autotuning, you need to keep changing the fishing conditions.
You get to choose from 6 variants – type of map, contour, and other features
Drawbacks
This particular variant does not have maps
It does not support Add-on Mapping
According to some users, routing the transducer cable is not easy
The Helix series by Humminbird has been the talk of the town. But the release of the Helix 5 series is customers' favorite. The innovative technology provides a built-in GPS and Dual Spectrum CHIRP SONAR.
The G2 Di (Down Imaging) allows you to know the situation below your boat. The display shows – timber, rocks, brush, bridge pilings, and other underwater structures.
Advantages
It has a color WVGA (Wide Video Graphics Array) Display
The screen Display size is 5 inches.
It has Dual-beam along with SONAR. This gives you detailed coverage of the area
This Fish Finder comes with a cable of length of 20 feet
It includes a Built-in-Temperature sensor
Drawbacks
Customers say the GPS speed is not available with this model
Wiring did not go well for many users
Transducer quality needs to upgrade
This model is Striker Vivid 4cv. It has a 4-inch display screen. The scanning SONAR color palette helps in distinguishing fish and other water structures. It includes a tilt/swivel bracket.
If you are looking for a compact Fish Finder, you won't find anything better than this. For the smaller size, it gives you all the essential features.
Advantages
You can choose from 3 screen sizes – 4, 7, and 9 inches
The GPS is highly sensitive
It has a built-in Quickdraw contour mapping
You get to choose from 7 vivid color options
The display shows the battery voltage which you miss in other brand screen displays
Drawbacks
Too many buttons create confusion for the users
The Clearvu SONAR is not very useful as per the customers
The accuracy is low compared to other Fish Finders
You cannot download the Map data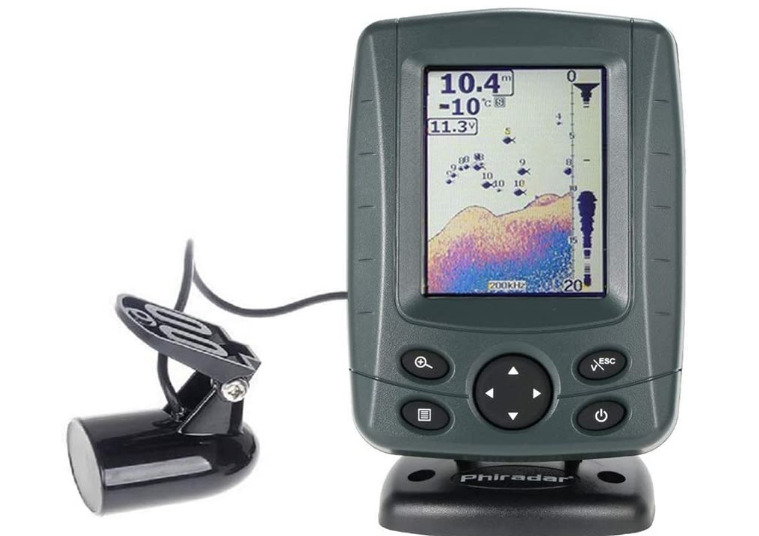 A screen Display of 3.5 inches but a Measuring Depth of 984 Feet! Surprising, right? Well, isn't that technology all about?
The company claims that the Fish Finder has 100 levels of sensitivity settings. You can also adjust the multi-level depth range. The in-built depth alarm works well for 3 to 99 feet. But the depth reading available is from 1.8 to 984 feet.
Here are some more features to consider –
Advantages
This one has an auto zoom bottom tracking feature
You get a multi-language menu setting – Chinese, Spanish, Korean, French, Danish, and English
A special feature – anti-interference from grass while fishing in the lake
Drawbacks
GPS is not available. It only has SONAR
It is not water-resistant
It does not have a Curved mounting bracket
Buyers say that the readings are not accurate
The Display Screen of Lucky Kayak Fish Finder is 4 inches. An amazing point is that this Fish Finder is under $50 only. This handheld Fish Finder displays rocks, sand, and weed too.
Under $50, it provides you with 5 levels of sensitivity settings. This helps you enjoy fishing in turbid or clear water. And the alarm buzzes whenever a fish or school of fish passes by your transducer.
Advantages
You can switch the measurement unit between Feet or meter
It comes with a neck strap that you can wrap around your neck and connect to the device
This Fish Finder has a battery-saving mode
The transducer cable length is 25 feet long
Drawbacks
The maximum Measuring Depth is only 328 Feet
The monitor is not waterproof
This is the only variant and thus, you do get a lot of variety to select from
Our winner
After going through all the 5 Fish Finders, we think Lowrance Fish Finder tops the list. From all the dimensions, this Fish Finder looks advanced and simple to use.
But, Lucky Kayak Fish Finder deserves a special mention. Imagine having a great Fish Finder without spending even $50.
Best Fish Finder Buying Guide
Type of Fish Finder
The 4 common types of SONAR are –
Regular SONAR
The other referral names of the same are standard/conventional SONAR. The waves go under the water until they bounce off on an object. This object can be a fish or any structure.
The Conventional SONAR is quite unconventional when it comes to detecting a fish. The screen also does not show a lot of details.
Down Imaging (DI)
DI is everyone's need these days. Down Imaging is getting to see what is under your boat. This is not compatible with long-distance screening.
It scans the movement of the fish and keeps updating you constantly. But it is far compatible with split shots.
The disadvantages – it is expensive, and it shows you only what is below the boat. It does not cover the sides.
CHIRP SONAR
This one sends faster SONAR waves rather than a distributive pattern. This shows accurate data as it reports the moving fish. The accuracy gives you clarity about your target and the structure (through movement).
d. Side Imaging (SI)
This helps the best while fishing in shallow water. The Side Imaging allows you to spot the fish swimming around your boat. The only drawback is that it can detect fishes only to a certain extent.
Display Size
The display or the screen size differs in fish finders. It has screen sizes from 3 inches to 12 inches.
A bigger screen size means the fish finder will be bigger too. And large-size fish finders are not easy to carry. A smaller screen size means the device is portable. The 5-inch screen Fish Finder is not only a better size but a portable one also.
GPS & Mapping Feature
The GPS helps you locate yourself and reach the launch point. Mapping is beneficial in a way pointing the fish and storing the data.
Another way to store data through mapping is by the chart-plotter feature.
Other Features
Quality of Transducer
The transducer is responsible for giving you a clear picture. A lower-quality transducer cannot give you a high-resolution image.
It also sends the waves of SONAR into the water body. The stronger the wave, the better the accuracy.
Transducer Cable Length
Even if you get a high-quality transducer, you will need a longer cable. A long cable lets you reach deeper into the water to catch fish.
Mounting
You will have to attach the transducer to the boat. This attachment is possible through a mount. The trolling motor is most common to avoid the heavy flow of water.
The mounting material varies in steel, plastic, copper, or basic boat material. This material has to be strong to hold the transducer. Weak material will lead to the ineffectiveness of the transducer.
Conclusion
Now that we have the list, we hope you know what to buy. If you do not like any, we assure you that our Buying Guide will clear your doubts.
With many new companies emerging in the market, there is a variety to choose from. Use our guide to clear confusion and buy the Best Fish Finder.
Stay updated with Review Roller to read more such reviews.