How much storage is enough storage? Chest drawers are super trendy. Along with a beautiful look, they provide safe storage for your items. Dressers are all you need to arrange the grooming items.
We bring you the 5 best Dressers and chest drawers that suit your style and budget.
Organizing the variety of products into categories is a tedious task. Do you know what is more tiring? To keep the things back in their respective places is a headache. That is why having a dresser always comes in handy.
Different drawers let you keep things back in place. It also saves you time as you need not find the items the next time. Here are the dressers we chose for you.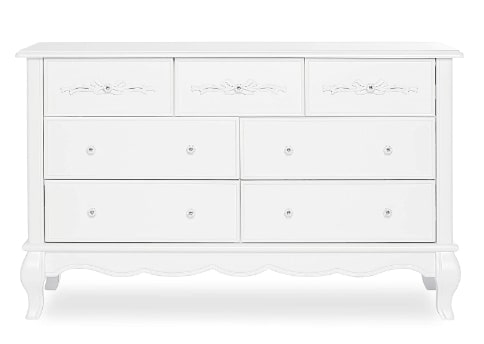 A bigger and more spacious dresser that too in white! All of us are fans of this one, aren't we? The royal and luxurious look enhances the look of your room. It has a lot of space to hold your items. The dresser belongs to Evolur's Aurora series.
With a frost finish, the main material of this dresser is wood. The crystal and metal knobs add a distinct look to the dresser.
What We Like:
It comes in 4 colors, 3 styles, and 2 patterns
The knobs are of good quality
The dresser is sturdy
It has 7 big drawers
The brand assures 1-year warranty on the dresser
What We Don't Like:
You will have to be careful with the dresser as it is not scratch-resistant
The dresser weighs 130 pounds
Some users say the drawers don't glide in all the way
Get this one if you want a mid-sized but spacious drawer. It has a patented T-lock assembly system as a safety feature. The 4 lower drawers are bigger and the upper 2 drawers are smaller.
The dresser meets ASTM International's industry-standard F2057-19 Safety Specification. It means that the dresser does not have any materials that are hazardous to the children. Also, the drawers are wide to fit enough clothes and it adds a good look to the room.
What We Like:
5 patterns to choose from
3 colors available
This dresser uses recycled material thus it is sustainable
The company offers a 5-year warranty
It ensures safety to help reduce tip-over accidents
What We Don't Like:
Some customers say assembling the drawer is hard
The dresser weighs 135 pounds
As per some buyers assembling the drawer is time-consuming
If you want a useful yet decorative piece for your space, this is it. The black dresser has 6 drawers. A plus point here is that this dresser fits in multiple rooms. From your hallway to the bedroom, you can keep it anywhere.
This is going to fit best in smaller spaces. For a simple and novelty look, this dresser is perfect. The top of the dresser is too wide and thus you can also keep your desktop on it.
What We Like:
3 colors available
The dresser is sturdy and durable
The drawers have metal slides and handle for easy access
The weight of the dresser is 80 pounds
What We Don't Like:
The brand does not offer any warranty on the dresser
Only one size is available
There are around 100 parts that you have to assemble. Thus, some users feel this is a drawback
Do you love all things colorful? Get your hands on the Aopsen 9 Drawer Dresser. It gives a colorful yet antique vibe. This drawer fits well in any room. You can set it in your living room to add the 'ancient dresser' look. You can also keep it in the bedroom as it has a lot of space.
A point that you cannot miss is its material. It uses a solid steel base frame along with MDF waterproof wood. If you are okay with the use of fabric in the drawers, then you may buy it.
What We Like:
2 sizes – 6 and 9 drawers available
The drawers are removable and foldable
The weight of the dresser is 38 pounds. This is too light in weight for its counterparts
What We Don't Like:
No color options are available
Some customers say the company should add clear instructions
Want more storage at a lesser price? Here it is. You get 9 drawers in this dresser on a budget. The rustic finish makes your dresser an attractive piece in the room. If you don't want to compromise on the space and still want an affordable option, buy this one.
The MDF wooden material adds sturdiness and durability to the dresser. The top is strong enough to keep a TV or desktop on it. Alongside it comes an anti-tip feature. It does not tip off the paint from your walls.
What We Like:
6 colors to choose from
The drawers are foldable
The feet of the dresser are adjustable
The base structure is of steel
The weight of the dresser is 31.3 pounds
What We Don't Like:
According to some buyers, the drawers do not slide easily
Assembling the dresser is a tedious task as per some users
The Best Dresser
The best among all so far is the Evolur Aurora 7 Drawer Dresser. It adds an elegant look and gives a lot of space to store items. The quality is long-lasting.
For a cost-effective option, you can get your hands on a Lyncohome Fabric Dresser. It has fabric drawers and a steel base.
Buying Guide for Dresser and Chest Drawers
1. Dresser VS Chest Drawers
A dresser is low in height and wide in size. It consumes more space. The dresser has deeper and more spacious drawers. The dresser almost touches the ground and thus, you can use it to place the mirror on the top.
The chest drawer is tall but narrow. The top of the chest drawer is a bit smaller than the top of the dresser. Though both storage options store similar items, the only change is the size.
Chest drawers allow a lot of storage but more height prevents you from placing various items on the top.
2. Storage of the Dresser
The storage here implies many drawers. A dresser can have from 2 to 9 drawers. It is better to buy a dresser with more than 4 drawers as it allows for organizing different categories.
In a dresser, you will find 2 sizes of drawers. While few are small, some are big. This is a great idea as you get to use the dresser for a specific purpose. Sauder Shoal Creek Dresser offers small and big drawers that have enough space.
If you want removable and foldable drawers, Aopsen 9 Drawer Dresser offers one. Whether for children's items or for your makeup vanity, these dressers are useful.
3. Design that matches your home's interior
If you want every piece of furniture to match the interior of your home, you get to choose from the colors. For a royal look, you can invest in Evolur Aurora 7 Drawer Dresser. White furniture is trendy in recent times and no doubt it looks classy.
Hasuit 6 Drawer Dresser gives the black aesthetic vibe. It adds a timeless element to your area. But, if you cherish colorful items there are 2 options on our list. You can place a multi-colored dresser in a monochrome room to add some pop of color.
4. Size of the Dresser
Lastly, size is important. The structural size of the dresser should depend on the space in your room. Smaller spaces and bigger dressers do not go hand in hand. If your area is smaller, choose a dresser with great height but a narrow body.
For a wide space, get a wider dresser. These dressers have bigger and more spacious drawers. The drawers vary from 4 to 9 in number.
Dressers with lower heights allow you to place mirrors on the top. You can also use such low-height dressers as your workspace. Make sure to have a dresser that fits your requirements.
Conclusion
These were our suggestions for the Best Dressers. Is there anything we did not mention? Tell us in the comments below. Share the Buying Guide with those who are looking forward to buying the dressers.
Are you setting up your abode from scratch? Here are the items you need to add to your space.
X
You might want to hear this:
Timothy Upton said…
"Shipment arrived well packaged, no damage. Instructions are clear, all small items are packaged and labeled for assembly. Very nice product, easy assembly, but took about 3 hours to get it done."