Since the 1990s the popularity of Reborn Dolls has skyrocketed and we're sure if you're going to invest in one you'll want to know what qualities make the best Reborn dolls.
Reborn dolls are purchased for many reasons. Some buy them as a child's toy, others use them for therapeutic purposes, and still some simply enjoy collecting the dolls.
No matter your reason, we've provided you with the top choices and a Buyer's Guide to help you make the best decisions during your buying process.
Our top picks
The list of Top Picks of the best Reborn dolls is only the beginning! We've done intensive research and gathered specific details along with pros and cons for each doll on our list. Also, please be sure to read our Buying Guide for answers to the most commonly asked questions about Reborn dolls.
Measuring at 22.8 inches/58cm (head to toe), this doll comes in 9 different styles and has a soft-weighted body. She can wear newborn size clothing and her arms/legs are poseable. Her beautiful blue eyes are hand painted as well as her eyelashes, lips, and eyebrows.
She is safe for children 3 and up and her legs are constructed of silicone vinyl.
Pros:
Comes with many accessories
Materials are BPA-free
Customers have noted the doll's durability
Great customer service
Cons:
Customers weren't impressed with the packaging
Hair may fall out after multiple washing and styling
Doll is a bit darker than depicted in photos
17 inches long and hand-painted details make this Reborn doll a great choice for anyone. She arrives with several accessories and a Birth Certificate that can be filled out by you!
The doll's body is made of vinyl, her eyelashes are rooted, and she wears preemie or newborn sizes.
Pros:
Can be posed
Her facial detailing truly gives her a "life-like' appearance
Common customer remark is doll looks exactly like the picture
Very well packaged
Cons:
The vinyl body isn't as soft as other dolls
Arms and legs may be a little stiff
If you're an adult searching for a Reborn, this one might not be for you; more suitable for children's play.
Meet Lucy! Each doll is uniquely crafted with care. She features blue eyes, rooted hair, and is approximately 22 inches long from head to toe. She is constructed of non-toxic material with a weighted cloth body.
Included with Lucy are clothing items and several accessories plus a birth certificate.
Pros:
Fingers are flexible
Hair is very soft
Her weight makes her feel very real
Doll is the perfect size for newborn clothing
Cons:
Some customers don't like the fact she can't be bathed (cloth body)
There were complaints the included bottle and pacifier didn't fit in the doll's mouth
Maybe overstuffed and oddly shaped
These handmade dolls are adorable! She features many hand-painted details with rooted hair. The doll measures 20-22 inches long and comes with clothes, a pacifier and birth certificate. The manufacturer claims these dolls are made from eco-friendly materials.
Note that because these dolls are handmade the delivery time may be longer than normal and the size will vary.
Pros:
Customers were pleased with how life-like the dolls appears
Well-worth the price; durable
Fingers and toes are flexible
A lot of care and thought went into the packaging; prevents damage during shipping
Cons:
Biggest complaint is the hair; out of control and too long for a "newborn"
Clothes are a bit too "doll-like" and not exactly realistic
Eyelashes may fall out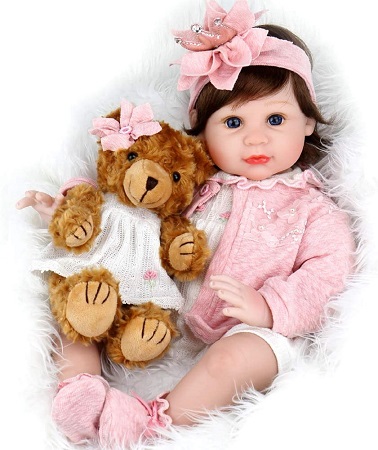 Hand-painted features and eyelashes installed by hand make this a great Reborn doll choice. She is 22 inches long and weighs almost 4 pounds. She wears newborn size clothes and has a poseable body.
We especially love her sweet expression!
Pros:
We love that the doll comes with a teddy bear and playmat
Good choice for sensory therapy
Quite realistic with nice hair
Included clothing is nice quality
Cons:
The included bottle is a little small for this doll
Stomach area is a bit over-stuffed; bulky
Slight plastic smell upon opening but does dissipate rather quickly
Paradise Galleries has been in the doll business since 1991 and they stand behind the quality of their dolls. Created by artist Jannie de Lange, these dolls are made with GentleTouch Vinyl™ and feature life-like details.
Accessories are included and these dolls are gender-neutral.
Pros:
Pacifier fits well and stays in doll's mouth
Included accessories are nice quality
Materials seem durable
Painted details are nicely done
Cons:
Biggest complaint: hair! Falls out too easily
Doll is awkwardly shaped without clothing
Skin coloring seems slightly "off"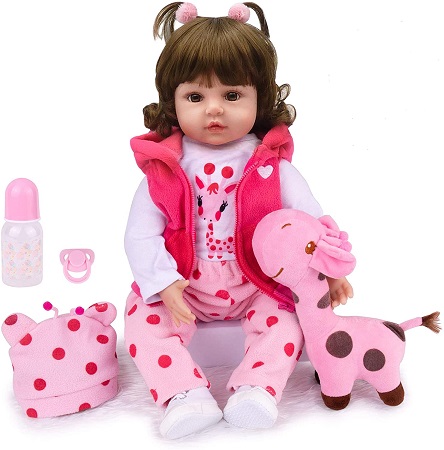 "Nana" is 22 inches long with gorgeous brown eyes. Her body is cloth and her head, arms and legs are made of silicone. She weighs approximately 3 pounds. Her hair as well as her eyelashes have been applied by hand.
We love the cute giraffe plushie!
Pros:
Hair is good quality
Doll's joints move easily
Well-packaged to prevent damage during shipping
Overall, well worth the price
Cons:
There were complaints the bottle and pacifier did not fit doll's mouth
Has a powdery smell; not unpleasant but a bit overwhelming
Included shoes just a bit too small
Our Winner
Our winner overall is HOOMAI Lifelike Reborn Baby Dolls. In our opinion, what makes this the best Reborn doll is the option to choose from several different dolls yet they all retain consistently quality throughout. These Reborn dolls are also slightly longer than other brands. Her hand-painted features are beautifully done and we value the great customer service.
Maybe you've looked at the HOOMAI Lifelike Reborn Baby Dolls and still have questions. That's okay! We've got answers in the following guide.
Buyer's Guide
Purchasing a Reborn doll isn't purchasing just any doll. These are special and as such, there may be concerns regarding how to choose one as well as care and maintenance. We found the following questions most commonly asked by consumers.
What factors should I consider when choosing a Reborn?
Here is what you should look for:
Skin tone/texture: What sets apart Reborns from standard dolls is their lifelike features and you'll want skin tone and texture to look and feel as natural as possible.
Realistic features: Features such as freckles, moles, wrinkling and even small pimples may be important to you so examine dolls up close and carefully.
Body quality: Suede will feel more natural than cloth and silicone will feel more natural than vinyl. Check for proportionality, as well.
Hair: You may or may not want hair on your Reborn. Whatever you decide, make sure it looks realistic whether it is painted on, rooted, or glued onto the doll's head. You'll also want to check manufacturer recommendations if washing/styling will matter.
Weight: If a true realistic feel is what you are looking for, weight will make a difference.
"Limited edition" or "sold-out" claims: These terms are sometimes used to increase the cost but can also be inaccurate.
Seller's history: Depending on where you purchase your doll, a seller's history may be available and this is where you will gain the most insight. Read carefully customer reviews and you'll easily discover whether you can or cannot trust the seller.
BONUS TIP: Ask for CLEAR pictures before buying! You'll want full body pictures of your doll including close ups and ask for pictures of the dolls clothed and unclothed so you can see the type of body you'll be getting.
What type of material should I choose?
There are basically three types of materials that make a Reborn stand out:
Silicone: This material is best for collectors and not meant to be heavily handled. It is susceptible to wear and tear but it does feel more like a baby's skin than other materials. These are the most expensive dolls on the market with prices ranging from $200 – $1,000.
Flex Touch Vinyl: A combination of silicone and vinyl, this will be the closest you can get to a vinyl doll feeling like silicone. These dolls will be cheaper than silicone but have some qualities of silicone. Flex Touch Vinyl does well against wear and tear. They are suitable for play and collecting.
Gentle Touch Vinyl: These dolls are made completely of vinyl. These dolls typically have very realistic features as well as a realistic feel. They are also highly resistant to wear and tear. In addition, you'll find these dolls to be the least expensive option.
Is maintaining a Reborn doll a difficult process?
While not necessarily difficult, Reborn dolls do require a bit more care than standard dolls. There are hand-painted details and hair to think about when caring for your Reborn. Use the following suggestions to maintain your doll:
Avoid direct heat and sunlight.
Avoid staining your doll by testing fabrics if they are highly pigmented (you can rub fabric on a test piece of vinyl) and washing all clothing before dressing your doll.
Keep out of reach of children and pets if your doll is meant to be a collectible.
If your doll contains magnetic parts then keep it away from anyone with a hearing aid, pacemaker, metal implants.
Treat your doll as you would an infant – use care and caution when handling and cleaning.
Gently dust your doll with a soft cloth to remove debris.
Reborn hair also requires special care:
Wig hair: Use a soft bristle brush to remove debris and dust particles.
Mohair: This type of hair is delicate and shouldn't be brushed or washed. Use your fingertips to pat the hair down into place.
Water: Submersion in water NOT recommended for any Reborn. Use a slightly damp cloth instead. Even better, use dry shampoo.
Many people buy these dolls as children's toys but are there any real benefits to owning a Reborn doll?
Absolutely! Aside from Reborn enthusiasts who collect the dolls, Reborns can be used to calm anxiety, help as a coping mechanism for grief due to the loss of a child, to help with stress disorders, and can be just plain fun!
If you are seeking to use Reborn as a type of coping mechanism, please consult with your doctor on the best and healthiest way to proceed.
Conclusion
Again, we encourage you to take a look at the HOOMAI Lifelike Reborn Baby Dolls as we consider this to be the best Reborn doll. Customer reviews and a high rating make this doll definitely one to consider.
X
You might want to hear this:
Julie Johnson said…
"I got this for my 8 year old and she loves it! The baby looks so real and is perfect for my daughter's age."