Our top picks
---
Most people don't think about replacing their wiper blade until it's too late. But, if you own a car, you should always have a spare windshield wiper blade on hand. There are many different windshield wiper blades to consider when purchasing a spare wiper blade. This includes traditional blades like rubber wiper blades, beam-type blades, and hybrid blades.
But, going through hundreds of wiper blades models is difficult. That is why to make your selection easy, we have compiled the five best wiper blades.
METO T6's silicone wiper blades have infused steel sheet technology to ensure the best possible fit into any windshield curve. This prevents over tightening while also avoiding gaps. It utilizes aerodynamic principles to reduce wind noise by up to 90%, even at high speeds.
METO T6 also has a TEFLON-coated Optimal Proportioning Rubber Strip on its blades. This strip ensures a more stable wipe performance in the snow without damaging the windshield glass. Furthermore, each METO T6 silicone wiper blade is packaged in a durable PVC package. This package protects the blade strip from deformation during storage and handling.
Pros:
METO T6's silicon wiper blades provide twice the durability of most other blades.
In bad weather, the silicon rubber wiper blades help promote water beading, resulting in better visibility for drivers.
METO T6 wiper blades are designed for use in colder climates. The blades are ergonomically designed to protect the windshield from snow and ice buildup.
The unique adapters ensure the blades fit for 96% of all vehicles out there on the road.
Cons:
Sometimes the attachments and adaptors are missing. This may make it difficult for the wiper to fit into certain vehicles.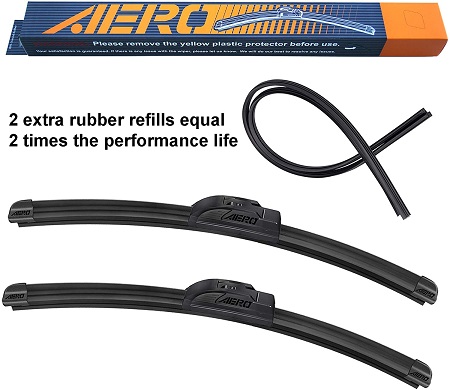 The AERO Voyager Premium wiper blade is designed specifically for the all-seasons market. It's a second-generation revolutionary frameless beam wiper with dual-tensioned spring strips. The blended rubber has a micro precision-cut wiping edge. This edge produces the best results for clean, smooth, and chatter-free wipes. Furthermore, the beam blade has a unique aerodynamic design that provides the best stability. By reducing wind lift, noise, and drag, it also prevents snow and ice buildup.
The all-season blades are made of Grade AAA rubber with a Teflon or PTFE coating. This coating can withstand temperatures ranging from 158°F to -40°F. Moreover, every buy includes two extra rubber refills. Extra refills result in a two-fold increase in performance. Also, this makes it a cost-effective investment for a wiper blade that has passed one million wipe tests and is suitable for all seasons.
Pros:
These blades not only offer the best quality but also the proper fitment.
All-Season wiper blades end the need for snow or summer blades.
Compared to other wiper blades, the durable material offers a longer service life.
The ultimate smooth, clean, streak-free, and chatter-free wipe is made with a specially blended rubber.
The flexible spine design better fits the windshield, resulting in better windshield contact.
Aerodynamic design reduces drag, noise, and wind lift significantly.
The absence of brackets aids in the prevention of snow and ice accumulation.
Cons:
The 6-month warranty is comparatively lower than other competitor brands.
It is best only as an OEM replacement and not as an upgraded model.
The EMITHSUN OEM Quality Wiper Blades are easy to install and perfect fit, without any need for awkward adapters. Install in seconds. All-weather performance is guaranteed for this model. The asymmetrical wind spoiler ensures uniform pressure distribution. The second high-tenacity memory spring steel sheet ensures better windshield contact.
The unsupported beam design is award-winning. The longer and thicker wiper base ensures that the wiper performs well in rain and snow. Also, it makes the wiper stable, durable, and quiet in all weather conditions.
Pros:
Easy And Quick Installation
All-weather performance
Zero Streak Wiping
High-Quality User Experience
Quality Products Not To Be Missed
Cons:
Limited to OEM replacement category
Bosch Rear Wiper Blade is constructed from a dual rubber compound. The compound is heat-resistant, and hence it is suitable for high heat areas. The brand itself is a significant attraction for people to try out the product. The blades have a 40% longer lifespan when compared to similar blades of other competitor brands.
The best part is you can use the wiper blade with most vehicle models of any maker. Furthermore, the blades are easy to install and easy to remove.
Pros:
Bosch rear wiper blades offer an OE fit for specialty rear applications
Easy one-step installation with quick click adapter
Wear-resistant natural rubber wiping edge contributes to long service life
Specially coated wiping element ensures smooth and quiet operation
Engineered and designed to application specific wiping systems
Cons:
The curvy blade may leave a gap between the windshield and the blade
The Rain-X water-repellent coating performs as a 2-in-1 wiper blade. Out of all the Rain-X blades, the beam-style blade provides the best performance. Furthermore, it is generally less expensive than competing models with similar features.
Because it is a beam-style blade, it isn't as durable for all-weather performance. So keep that in mind if the snowfall is prevalent in your area. Furthermore, the Rain-X Latitude Water Repellency blade lacks extra casing. Now, this may not prevent ice and snow from clogging.
The wiper blades come with a universal adapter. The best part, you can install it in a snap. According to the company, the adapter fits 96% of all vehicles on the road. The blade features a premium graphite coating. This design provides enhanced durability in rain and sleet.
Pros:
Water-repellent coating
Now even easier to install
Advanced, beam style blade technology
Noise and wind lift reduction
Cons:
The case isn't durable enough to prevent clogging of ice and snow
Buyer's guide:
Finding the perfect fit for the wiper blades can be challenging. Why? Because there are several varieties among models of windshield wiper blades. Some wiper blades may closely fit into your car's windshield. You may be left with one trial short of finding the perfect match of wiper blade for your car.
So, why burden yourself to find the wiper blade that fits into your car model perfectly? Here is a buyer's guide for you to consider while looking for the best wiper blade for your vehicle.
Tip 1: Choose the appropriate size
To find out what size wipers your car or truck uses, consult your owner's manual. It is common for the driver and passenger sides of the windshield to need different sizes. Also, if your vehicle has a rear wiper, you may need a third size for that as well.
Suppose you enter the model and year of your car on Amazon or other websites that sell wipers. In that case, they will recommend wiper models and sizes. But it's better to double-check your manual before placing the order.
Likely, you'll install the new wipers and be on your way. But what if they don't fit well with your windshield? If they don't attach properly to the wiper arm? Keep these in mind while going for the correct size.
Tip 2: Check the blade design
You can choose better if you know the different styles of blades and their differences. Traditional blades are more affordable and compatible with a wide range of vehicles. They have a metal base and a rubber blade as well. Traditional styles make less contact with the windshield than beam blades. This may result in an uneven wipe. So, keep that in mind.
Beam blades are a more expensive option, but they have significantly improved technology. These blades have a tensioned steel frame and top-grade rubber compounds (synthetic rubber). As a result, a beam blade has an infinite number of pressure points rather than a few. They also do better in the snow and ice.
Hybrid blades combine the structure of a traditional blade with that of a beam blade. They have pressure points like beam-style blades, but they are constructed with a metal frame. As a result, they are more expensive than standard wiper blades.
Tip 3: Consider your vehicle's make and model
The wiper arm connector, as well as the year, make, and model of your vehicle, determine whether you need a frame, beam, or hybrid windshield wiper. The best windshield wiper is a direct factory replacement from the manufacturer.
On today's low-slope windshields, a traditional frame wiper will not perform as well as a beam-style wiper. As a result, a flat or sharply angled windshield may not enjoy a cutting-edge beam wiper.
Tip 4: Take season into consideration
Knowing the weather condition and the right material which can withstand that is an important consideration while selecting the wight wiper blades for your vehicle. If your area has extreme weather conditions, then select the material wisely. Here is a guide that might help you to select the best wiper blades.
Beam blades are an ideal choice if you live in a cold area where snow and ice are prevalent. Since they have fewer metal parts to break off, the blades can easily clear off the residue of snow and ice.
Teflon or Graphite infused blades can add extra strength to the materials of the blades. Such blades are ideal as winter-ready blades.
Silicone wiper blades are the best choice if you live in harsh weather conditions where mercury remains high.
Remember that more durable blades with sturdy material may cost you extra bucks but it will be beneficial for your vehicle's wiper motor.
Tip 5: Check the installation
Installation is an essential aspect to look for while selecting the best windshield wiper blade. There are all different shapes and sizes: triple, quadruple, and even quadruple. Check the fitment charts for your preferred windscreen wiper. Choose the specification mindfully and the wrong choice will result in misalignment. Although installing the wiper blades of brands is not that difficult as they clearly specify the instructions, you can still approach customer care in case of the slightest confusion.
Keep in mind that "universal" size may not be compatible with your vehicle. Be extra careful if you have high-end models.
The bottom line
While we found the EMITHSUN OEM Quality Wiper Blades to be the winner in our best wiper blades category, it may not be the best pick for you. Remember that selecting the best wiper blades depends upon several factors including your vehicle's make and model. So, you can go for the best model after considering the factors to look for as specified in our best wiper blade buyer's guide.
X
You might want to hear this:
Old Goat said…
"Bosch rear wiper blade is easy easy to fit, old blade pulls off and new blade snaps on to fitting – takes 30 seconds. A Hyundai garage wanted to charge 5 X the cost of this blade to fit a new one, they use Bosch as well!"