Our Top Picks
Anyone who has been on a road trip with kids knows the importance of preventing boredom. For true peace of mind, why not try a portable DVD player?
Fortunately, we've done the research and can confidently recommend the best portable DVD players for cars. Here is what we've found!
Leading our list for best portable DVD players for cars is the Naviskauto brand. With its ability to synchronize from your cell phone, TV, and computer those family-favorite downloads and streaming services will be a breeze to access while traveling.
While a bit pricey, it is still a great value with many fantastic features, including an 18-month warranty.
Pros:
Easy to install
Independent volume and screen controls for second screen
Last memory function so what you are watching will pick up where you left off
Comes both a wall charger and car charger
Supports region-free and multi-media discs as well as gaming systems
Cons:
Battery only lasts 2-3 hours
Customers have mentioned in reviews that mounting may not be universal among all vehicles
Cables may not be long enough for your particular vehicle
Some customers felt that without headphones the sound wasn't loud enough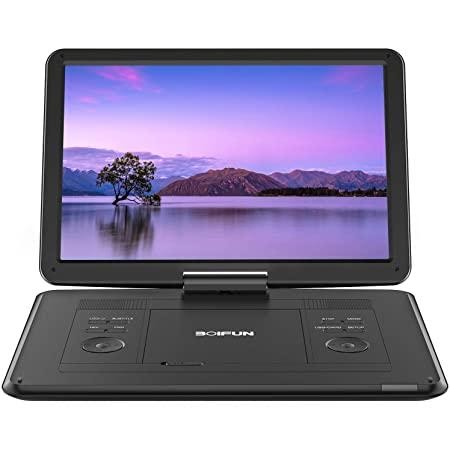 Featuring a widescreen that helps with the reduction of eye strain, easy-to-read function buttons for both children and the elderly, and an affordable price you can't go wrong with this portable DVD player for cars.
BioFun brings to you a region-free DVD player that will provide your family with hours of entertainment.
Pros:
Supports multiple formats as well as gaming
Anti-shock protection
Double speaker
Offers three power systems
High-definition quality
Cons:
Customers have stated the battery does not last a full 6 hours
Sound quality isn't great without headphones
Instructions not well-written
If not mounted, the machine can topple over if titled too far back
Vanku has created a fun and easy-to-use traveling buddy for your family. This portable DVD player offers flexibility and an easy installation process. The numerous features make it a great option for you and your family.
While not the most inexpensive option available, it is affordable making this a great choice to keep your family entertained.
Pros:
Offer multi-media support including video, audio, and image file formats
Auto memory function
Can watch one movie or two depending on how you set up connections
Clear picture quality
Remote is user friendly
Cons:
Customers have mentioned problems with mounting hardware
Quality suffers in cold climates (40 degrees or below)
Not rechargeable so must remain plugged in
Headphones may not be the best quality
If you are planning an international or cross-country trip, the best portable DVD player for cars is Impecca DVD player. It features dual voltage options when traveling worldwide and can easily be taken from vehicle to hotel room in a convenient travel case.
Dual screens make this a fantastic option for families with more than one child. In addition, the clear picture quality makes watching movies and shows a pleasure.
Pros:
Multiple transfer choices mean using your own memory card for your media
Includes subtitles and menu in various languages
Auto-resume
Includes all cables needed for successful installation
Arrives charged so it's ready to go
Cons:
Customers mentioned it is the DVD player and cords are easily accessible for small children in rear-facing seats
Ports aren't clearly labeled
Volume can fluctuate and isn't consistent with all movies
Remote isn't the best
The Arufuna portable DVD player is an excellent viewing companion for family travel with its safe and easy-to-install clamshell design. You'll find it a cinch to sync with multiple formats including Kindle, X-Box, and Raspberry Pi.
And how can you go wrong with a 100% money-back guarantee? Take a chance with Arufuna!
Pros:
Easy to change disc without removing the DVD player
Dual bottom speakers help eliminate interference from front seat noise
Region-free
Last memory recall
Comes with a headphone
Cons:
Some customers reported skipping during travel
Instructions aren't very clear
Screen has no movement and can't be titled
Not rechargeable and must be plugged in
Everyone knows that clear picture viewing is one of the most important requirements for a portable DVD player and with the Wonnie, you'll get just that. You can also expect minimal glare with this dual system as well as great sound.
If you experience problems, don't worry. You'll get a fast response to all possible inquiries.
Pros:
Dual speakers and earphone jacks
Easy installation with straps or hardware; includes pivot attachment
The remote is easy to navigate and use
Customers have stated that inserting a DVD is easy enough for younger children to do on their own
Region- free and auto-memory function
Cons:
Most common customer complaint is poor picture quality with second screen
Main screen is rechargeable; slave screen is not
AAA batteries are not included for remote
Fully charged battery does not last quite as long as manufacturer claims
Easy to operate and simple to install, the Fangor offers one of the best portable DVD players for cars. This is a new generation model with many improvements on features already appreciated by customers.
Is if improvements aren't enough, you also get the Fangor promise of 100% customer satisfaction so there is little reason to not give this portable DVD player a try.
Pros:
Compatible with various media formats
Can be used in many different countries
Dual speakers of great quality
Can be used with headphones or connected to car speakers
Region-free and easily hooked up to televisions
Cons:
Not all .avi formats are compatible with this product
Second screen must stay connected to main screen while in use
Customers have reported issues with the second screen not working well
Some customers reported the cords are not long enough for vehicles
Our Winner
We've researched and reviewed many products and while we have given you our favorite choices, our winner is the NAVISKAUTO 10.5″ Dual Screen DVD/CD Player for Car. It has so many exceptional features and while pricier than other models, you do get what you pay for.
In our opinion, high customer ratings and an 18-month warranty make this the best portable DVD player for cars.
If you're still unsure, that's okay. We've included a buying guide to help you make informed decisions and a consumer and make the best choice for you and your family.
Buyer's Guide
If you are a family that travels or someone who frequently runs errands, you'll want a quality portable DVD player for your car but how do you know what to look for? What makes a portable DVD player for cars the best?
If you are in the market to purchase one and haven't yet made up your mind, maybe these tips will help.
What are key features to look for in a portable DVD player for cars?
You'll want to look for a screen size large enough to see and enjoy but one that also does not make portability difficult. Most consumers find that 7 to 10 inches is satisfactory and easy to transport.
Resolution will also play a factor in your decision. You'll want a portable DVD player with at least a 720 x 480 standard resolution.
Depending on the length of your travels, the battery may be important. Do you require a long-life battery? Maybe you'll need a rechargeable battery. The average battery charge can last around 5 hours but keep in mind this will depend on how the portable DVD player is used. Attaching a second screen will likely drain the battery faster.
Now let's talk price. Most of us want the biggest bang for our buck. That goes without saying but know the prices for portable DVD players can vary widely. We would suggest choosing your price point, making a list of the most important features, and start from there when making a selection. You'll also want to check manufacturer warranties and return policies.
What about cords? They can be so confusing!
Depending on how you will use your portable car DVD player you'll need to have at least the following: AC power adapter, DC car power adapter, audio/video cable, and if you have a second monitor be sure you have a video/DC secondary monitor cable.
All manufacturers should be able to tell you exactly what cords come with your product and what additional cords you may need. If you are unsure, please don't hesitate to ask.
What will I be able to watch?
The best portable DVD players for cars will offer compatibility options for many formats. We've noticed the most common question asked by consumers is regarding Blu-ray. Not all players are compatible with this format so if it's important to you, be sure to find out before purchasing.
In our research, we have also discovered that not all players support all .avi file formats or all sd cards.
Conclusion
As previously mentioned, our choice for overall best portable DVD player for cars is the NAVISKAUTO 10.5″ Dual Screen DVD/CD Player for Car. We feel the high consumer rating makes it worth a look.
X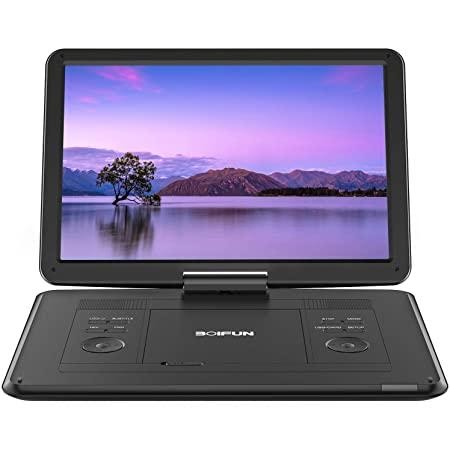 You might want to hear this:
Donna Dufield said…
"I love my dvd player. I bought one before but I started having trouble. So before it really don't work I bought this one. It's the same size as my other one but it's has a cool feature. If you have to stop or take the DVD out for any reason it will go back where you started. It's a great feature thanks"