Our Top Picks
Originally created for only military use, GPS navigation devices are now available worldwide and to everyone. There are many benefits to using a GPS navigator that will be discussed later in this article but right now let's focus on the best GPS navigator for trucks.
Below you'll find our top picks and the pros and cons for each.
Founded over 30 years ago, Garmin promises their customers superior quality and we think they have hit the mark with this device. It is truly one of the best GPS navigators for trucks we've found.
This device is intuitive and offers a crisp, clear view of the 7-inch display screen. It is also preloaded with 30 languages.
Pros:
Built-in WiFi capability for easy updates
Driver alerts that warn of dangerous road conditions
Voice assistant for hands-free use
Access to traffic, fuel prices, and weather conditions
Cons:
There have been complaints about mounting hardware
Some customers have said sound quality isn't great
Android users have mentioned the device uses a good bit of data
A trusted brand, Rand McNally has been in the business of helping us travel from place to place since 1856. If you are looking for a device that is easy-to-read and offers a custom truck routing display, then we suggest this GPS truck navigator.
It is a bit pricey but you can expect free updates as well as seamless Bluetooth connectivity.
Pros:
Includes lifetime maps of the U.S. and Canada
In panel touchscreen
Quad-core (4) memory; 2 GB
Ambient operating temp good for most climates
Cons:
Some customers felt the screen was too small
There are problems with the volume; too low
Does not automatically update
If you are looking for a bare-bones, simple-to-use device then the Xgody is for you. It is affordable and will get the job done. It features a 9-inch screen and can handle a MAX Micro SD card up to 32GB.
Look for free map upgrades as well as a fast battery charge.
Pros:
Nice resolutions of 800×480 pixels
Has a built-in RAM of 256MB
Free lifetime map updates
Features smart route settings that include fastest routes, locations of toll bridges, unpaved roads, and more
Cons:
Does not have Bluetooth capability
Must be charged using the car charger; battery life without being plugged in is not long
No voice command feature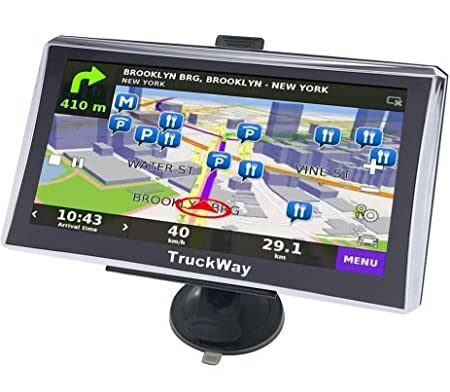 Giving you the option for 2D or 3D maps as well as the ability to customize the device to fit your needs, TruckWay has created a reliable device that won't break the bank. A nice size screen with fantastic graphics makes this a good choice.
You'll receive all you need to install the device and hit the road.
Pros:
800×480 resolution for a clear picture
Free lifetime maps
If you are a truck driver and have used Qualcomm, know this device has features Qualcomm does not
Great 24/7 customer support
Cons:
Customers have complained that weather can affect functionality of the device
Without a memory card, this device must be resent each time it is turned off/on
Users may have trouble with mounting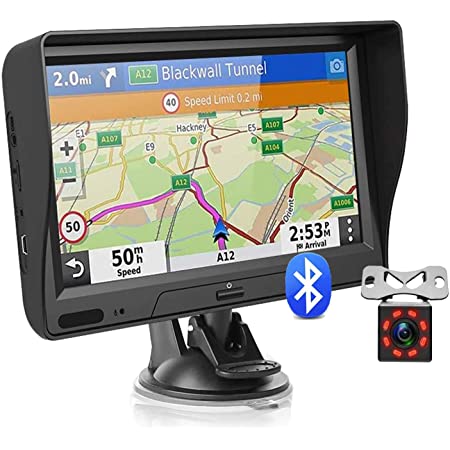 Podofo offers a GPS navigator that is competitively priced and easy to use. The real voice broadcast makes it easy to hear and you'll appreciate other features such as a calculator, calendar, and picture browser.
Have questions? No worries! Podofo has great customer service.
Pros:
A backup camera is included
Recognizes over 40 languages
Features an FM launch so sound comes directly through the vehicle speakers
This device does support Bluetooth
Cons:
Several customer reviews mentioned the need to acquire an updated instruction manual
Mounting may be difficult and not sturdy
Screen maybe a bit difficult to see at night
If reminders for speed limits and altitude matter or if you prefer warnings for sharp turns then this Carrvas GPS Navigator may be a good option for you. This system can be customized for professional trucks as well as small cars.
The manufacturer offers 100% customer satisfaction with a 30-day money back guarantee so why not give this one a try?
Pros:
Free map updates
This device features progressive voice navigation that makes trips safer
Added security warnings for railroad crossings, dangerous areas, and accident-prone areas
Automatically adjusts between day and night modes
Cons:
Customers complained the mounting system is faulty
It isn't as easy to use as other devices
Some consumers complained about poor sound quality
While the focus of this article is best GPS navigators for trucks, it should be noted that this device is customizable for ambulances, buses, and RVs. This system is available at an amazing price and the features make it worth the money.
Ohrex specializes in GPS navigators for large vehicles and the customer service is great.
Pros:
A vibrant 7-inch touchscreen with the option to view 2D or 3D maps
Bluetooth capability
Can run audio through vehicle speakers to better hear navigation broadcast
This device can save profiles for multiple vehicles
Cons:
May experience issues with locating weigh stations
It is strictly Windows-based so Mac users may find that a problem
Customers have complained that some addresses could not be located using this system
Buyer's Guide
This guide, much like GPS, serves to set you on the right path and keeps you protected from making a poor choice. Our research has provided options for the best GPS navigator for trucks but is there more? Absolutely!
Below are the most common concerns we found among consumers and answers to those concerns.
Do I really need a GPS navigator? What are the benefits of owning one?
If road travel is something you do frequently it is a good idea to have GPS. Not only will it prevent you from getting lost but you may also be able to avoid heavy traffic and find alternative routes. You must also consider the added and important benefit of safety. If you are stranded and do not know your location, a GPS navigator can provide that information for you. In addition, if your family members are also using your vehicle, this is a great way to be sure they stay safe.
If you drive a truck for a living you'll be happy to know that some models offer features such as ELD compliance, locations for truck-friendly parking, as well as truck stop locations.
What screen size is best?
This will be a personal choice but you will want to be sure it is a screen size you can easily view. Most people feel a 5-screen is sufficient. Others opt for a larger size but keep in mind the larger the screen the more space it will take. It should also be noted larger sizes cost more money but money can be saved if you go with a smaller screen.
What about screen resolution?
It is recommended you purchase a GPS navigator with a resolution of no less than 480 x 272 pixels, however; if you can afford one with a resolution of 800 x 480 pixels or higher, you'll definitely get a much clearer reading.
How important are maps and updates?
Very! You will most definitely want a GPS navigator that is current and that provides map updates regularly. You'll find that most brands come with preloaded maps of the United States. Some will also include other territories such as Canada, Puerto Rico, and Mexico. Your map needs will naturally depend on your travel.
Be sure you check the manufacturer's policy. Some will offer free updates, others may charge a one-time fee and still, others may charge per update which can be pricey.
Do I need Bluetooth?
This is a personal preference. If you are a person who is on the road often and you need to be able to catch phone calls or if you are someone who hates wearing headphones or earbuds then yes, we recommend Bluetooth. Be aware not all GPS navigators are compatible with all phones so check the manufacturer's list.
Will I have access to traffic updates?
There are devices that offer live traffic updates. This is a definite bonus to avoid sitting in a jam! If this is a feature that interests you, look for a traffic receiver when purchasing a device.
I'm not great with electronics. Isn't a GPS navigator difficult to use?
In a word, no. To use a GPS navigator only requires an easy installation and inputting your destination. The device will do the rest of the work and the touchscreens make using the system a breeze.
As a side note, it is not recommended you mount the device on your windshield as you do not want to obstruct your view. We suggest mounting it to your dashboard or maybe to the left of your steering wheel for easy view and access.
Conclusion
As mentioned above, our overall top choice is the Garmin dezl OTR700, 7-inch GPS Truck Navigator. With an easy-to-read touchscreen, voice assistant, and features tailored to truckers, we feel this is the best GPS navigator for trucks and one that will keep you on track and on time.
It is our hope this guide will help you along in making the best choice for you and your family. As a reminder to be sure you conduct thorough research before making any purchase.
X
You might want to hear this:
Cynthia E. Antone said…
"I needed something with a big enough screen that I could really see. This is perfect for me."