Why do you need a Smart Weather Station when you already have a smartphone? Well, the question is valid. But, you need it because your smartphone does not show accurate weather changes.
Smartphones cannot predict real-time weather. This is so as they collect the updates from a far-away weather station. It is better to get your hands on the smartest Weather Station.
Best Overall- Ambient Weather Ultrasonic Weather Station
Love the fact of no moving parts. Very accurate so far.
Best Features- Acu-Rite Iris Wireless Weather Station
This has been very helpful for me on my property. Mainly for wind speed and temperature.
Best Splurge- Sainlogic Outdoor Weather Station
Pretty easy to assemble with straightforward directions. Options are available on how to mount the weather station outside.
Best Size- Rainpoint App Control Weather Station
This weather station is nice. It has 3 probes that collect data on humidity and temp.
Best Price- Dekala Smart Weather Station
Most elegantly designed while still displaying information from multiple added temp/humidity sensors.
The weather application on your smartphone or laptop has many limitations. The earth is also facing some major climatic issues. And these issues lead to sudden weather changes. To cope with such sudden changes, you need a Smart Weather Station.
For modern solutions, we bring to you the 5 best Smart Weather Stations.
This is a complete weather station package. You get a rain cup, an ultrasonic sensor array, and a thermo-hygrometer-barometer. The all-in-one sensor array does not have moving parts.
It has a solar power source but you still need 5 AA batteries to run the weather station. The app allows you to check previous data for up to months. The display of the weather station is colorful and HD.
What We Like
You can choose what you want in your package. There are options between the IP module, rain cup, and ultrasonic.
The main material is metal hence this device is sturdy
Rain and wind sensors are accurate
The app is brilliant and works effortlessly
The smart weather station updates weather change every 5 seconds
What We Don't Like
Setting up the menu on the console is difficult
As per some users, the hardware and mounting need improvement
This smart weather station is good for indoors as well as outdoors. The LCD displays show time and date in broad daylight with the auto-dim feature. You can connect this smart weather station to the laptop with a USB port.
What We Like
It has an in-build anemometer and wind vane along with a thermometer and barometer
The wind vane is large so it can record even minute wind change
It has a rain funnel with a self-emptying rain gauge
What We Don't Like
Only the fan runs on solar power. But for the device, you require 4AA batteries
The device does not give correct temperature measures on warm days. It can happen if the weather station catches direct sunlight
According to some users, the app does not have a lot of many features
If you are looking for a mid-range weather station, try out this one. This 8-in-1 smart weather station calculates air pressure, humidity, and wind speed. Not only this, it also shows the phases of the moon.
This particular model has no WiFi connection. If a WiFi connection is your priority, you will have to look for some other variant. The device runs on 3X AA batteries which last up to 12 months.
What We Like
You can set up multiple alarms on the smart weather station. These include time, rainfall, and humidity
The transmission range between the console and outdoor sensor can be up to 328 feet
The package includes many mounting accessories
What We Don't Like
Some users say the display setup is not too easy
According to many customers the anemometer reading is not accurate
The mounting pole is short in height. A proper height allows the weather station to capture air, humidity, and temperature accurately to calculate the weather change.
This smart weather station is compact in size. It does not occupy a lot of area and adds a decent look. The adjustable backlight of the screen allows you to read the display easily.
To use the smart weather station, you need to download the HomGar App. The only drawback is that this app works with a 2.4 GHz band router only.
What We Like
It has 3 temperature sensors
The screen size is 7 inches. It is big and displays big digits
It shows the trends of the next 48 hours
It shows the records of up to 3 years
What We Don't Like
Though it allows you to pair up to 8 sensors; you can see the data of anyone at a time
You cannot set an alarm on this one
Customers say the sensors often lose connectivity
When we say 'smart' we also refer to 'save'. In simple terms, let this smart weather station save you money. The Dekala Smart Weather Station is cost-effective yet durable.
If you prefer minimalism, then you will prefer this smart weather station. Removing the button confusion, this device has a touch-screen.
What We Like
This is the only brand that includes the batteries with your purchase
You can buy either a 1-remote sensor device or a 3-remote sensor device
You can preset the temperature and humidity values
It shows the 3-day weather forecast
3 brightness adjustments levels are available
What We Don't Like
Users the data is not very accurate
You cannot place the sensors more than 6 feet away
You can read only a single sensor's temperature on the device. It is visible on the app only
The Best Smart Weather Station
Ambient Weather Ultrasonic Weather Station is so far the best one. The amazing fact is that the company provides many different accessories. The setup is easy and the screen is clear and readable. It shows various features like sunrise/sunset and dew point.
For budget-conscious buyers, we advise Dekala Smart Weather Station. The size is small and the device is simple to handle.
Smart Weather Station Buying Guide
Power Source
Deciding on what source of power the device uses is necessary. It is common that the majority of the weather stations stand outside our houses. The electric connection does not seem right. Then what?
Generally, Smart Weather Stations use 2 power sources –
Solar Power
The Sun is the ultimate source of power for such smart weather stations. These ones do not need any other connection. The only drawback here is for those who live in colder areas. If the sun does not shine well, the device may not work effectively.
Battery Power
The other common source is the battery. Batteries last up to 12 months in a smart weather station. These batteries can be lithium-ion also.
Most of the smart weather stations use solar and battery power sources. All 5 from this list use solar power as well as batteries to operate.
App Control
Smart relates to application control. Using a device from an app makes it convenient to use. If you are away from home and want to check the weather forecast, apps are useful.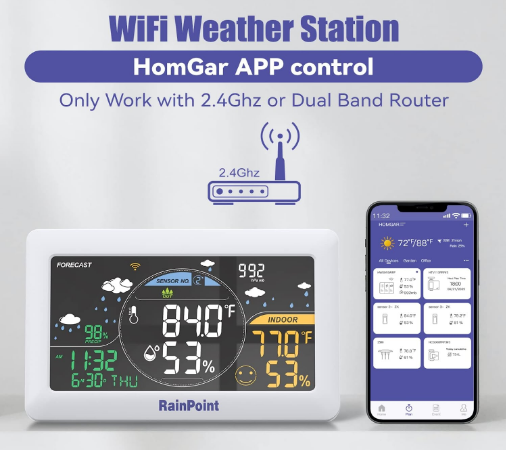 Apps also allow you to set timers and alarms. The long-term data is available in the apps. If you need it, you can go through the weather data. If you have multiple sensor connections, you can see the forecast of all those in the app.
But, remember to buy the smart weather forecast with the latest specifications. Many of the apps are compatible only with 2.4 GHz and 5G connections. Some do not connect to double-band WiFi.
Display
It may vary either as LED or an LCD display. Regardless of any of these, you need to focus on the size. Smaller screen sizes will not show all the measurements. The bigger display size shows temperature, rainfall, and humidity at once.
Dekala offers 3 levels of brightness adjustments. This is good for those with low visibility. Also, it is helpful when it is too bright in the daytime. Just like your smartphones, you can set the brightness level of the weather device.
Accuracy
What is the meaning of buying a smart weather station if it is not accurate? A tentative weather forecast is available on your laptops and mobiles too. Smart weather stations use a thermometer, wind sensor, etc. to calculate the situation.

Smart Features
Other smart features include connectivity to other smart apps. Let us say you want to sprinkle the garden or the field. You can connect the smart weather station with a smart sprinkler controller.
After you set the temperature, the smart sprinkler will water the garden accordingly.
You can also set up the smart weather station to Alexa, Google Home, etc.
Conclusion
These are our 5 best recommendations for smart weather stations. If you are looking for some other brand, compare the specifications. You can also use our Buying Guide to select the best weather station.
Smart products save our time and energy. We have a list of such smart products that can make your life peaceful. You can check those items here.