Even though nowadays every smartphone comes equipped with a flashlight, which can help one in some mundane tasks, such as unlocking a door at night or finding a way to the kitchen for a midnight snack, conventional flashlights are still a must for more serious and complex tasks.
Here we have a few different choices of flashlights in order to help you choose the right one for yourself.
This practical little flashlight from Anker can provide you with great illumination with the 900 lumens it can generate, at the very low price of $29.99. It is not a top-tier flashlight, but it will most surely fulfil all your household needs.
Pros:
By utilising its powerful Cree LED bulbs, it can create a beam of light around 200 metres long, which is more than enough for everyday needs, while the light can last for up to 6 hours.
Furthermore, the bulbs have a lifespan of 50,000 hours, which makes it very reliable.
This flashlight is also very sturdy and tough, and is designed to withstand heavy rain, snow, and other kinds of bad weather if necessary.
Cons:
However, you should keep in mind that it is merely water-resistant and not waterproof, so you should not try to submerge it in water.
Another con is that, while the battery can technically last for 6 hours, it can't do that at maximum brightness. If you are going to use that setting, it will last you for about 2 hours, which means that you might have to have a power bank nearby to recharge it.
Overall, comparing the price to what you get for it, it can be said that this flashlight is a good choice for general household use. If you want something stronger, you might want to opt for another one.
This flashlight is much sturdier and tougher than the previous one, and as such it is better suited for outdoor use than the last one. It is also designed for survival and self-defence situations, which makes it a good choice for security units as well as campers and hunters.
Pros:
Unlike the previous one, it is really waterproof, which means that it can actually be submerged in the water, and can also withstand being dropped. It can be used in all kinds of bad weather and emergency situations.
Furthermore, it is equipped with reliable LED bulbs which can create up to 1000 lumens and a beam of 200 metres, in three different modes.
The battery is durable, and can be easily charged via a USB cable.
Cons:
There are a few downsides to this flashlight, whoever.
Some users have said that it is too large and thus difficult to hold.
Some have also complained that the shape is a bit awkward and that it tends to slip out of their hands in bad weather.
Another con is that the bottom is rounded, so you can set it to stand on it.
All in all, this flashlight seems very practical and reliable, apart from the few caveats listed above. It can be especially useful for someone who is more adventurous and is looking for an affordable flashlight, since it costs only between $25.99 and $32.70.
This is another sturdy flashlight for outdoor activities, such as hiking or cycling, and it is very similar to the last one, but it has a slight edge over it in terms of brightness and practicality.
Pros:
It provides a slightly stronger light of 1200 lumens, at the same range of 200 metres, which means that you will be able to illuminate the same area much better.
It features 5 different modes, each of which is suited for different activities.
The design of the flashlight is also very handy, as it is relatively light and easy to carry and wield, and it also feels very good in the hand and can be set on its bottom as a lamp.
It will not slip out of your hand or make you carry some extra weight.
Cons:
The battery life is not the best, however, as it can last for only an hour and a half in the high mode (1200 lumens), and around 143 hours in the eco mode. It makes up for that by being very easy to charge via a USB cable, and the charging lasts for about three hours.
Overall, this is a good budget flashlight for outdoor activities and emergency situations, but it can also prove itself very useful for regular household activities. At just $29.99, it is a great investment and you will not regret spending money on it.
Here we have a nice tactical flashlight, designed for essential day carry, which means that it is elegant, light, and very convenient to use.
Pros:
Even though it is elegant and light, it is also relatively tough, as it is made from aircraft-grade aluminium alloy, which definitely a great, durable material, and it is water-resistant, which makes it good for use under heavy snow and rain. It can't, however, be submerged in water.
It is much brighter than the previous flashlights on this list, as it can provide the brightness of 1600 lumens, and its beam can reach 300 metres, which makes it a very powerful light.
It also comes with a bike mount in the pack, which makes it especially interesting for cyclists and bicycle aficionados.
Cons:
On the downside, users have complained of very short battery life, which is only around two hours, which means that it's not really suited for outdoor use. It is, thankfully, very easy to charge via USB, which partly makes up for that.
Despite its low cost of $23.99, it may not be the best choice, since it is not the most reliable flashlight for outdoor use, and there are many better choices for that. On the other hand, if you are looking for a regular essential day carry flashlight, it might be the one for you.
This one is largely similar to the previous flashlight on this list, as it costs exactly the same and serves a similar purpose.
Pros:
It is also a very good choice for essential day carry it won't have any problems providing you with enough light, as it produces 1000 lumens and has the beam of 200 metres. This does, however, make it slightly weaker than the last one.
Cons:
The flashlight has a decent battery life, but it is somewhat impractical to charge, as it comes with its own charger, which means that it can't be USB-charged, unlike most of modern flashlights. This might leave you without light in certain situations when you need it.
This flashlight can provide a good value for money if you are looking for something affordable and light, however, you can get more for your money with a different flashlight.
Pros:
This flashlight was designed with compactness and practicality in mind, and you will hardly be able to find anything to match. Its length is roughly the width of a palm, and it can easily fit a pocket or a purse, while managing to provide 800 lumens.
It is also made with resilience in mind, since it is shock-proof as well as waterproof, you can drop it on the ground, you can submerge it in water up to two metres, and it will still be as good as new.
To make things even better, it comes with a two-year warranty, so you can be sure of the quality and the durability.
Cons:
It can be difficult to charge, as the charger plugs directly into the battery, which makes it impossible to use while charging.
Some users have also complained that it has too many features, and is thus very difficult to use.
If you are looking for a flashlight which is super simple, this one might not be the right choice for you.
When it comes to flashlights at this price range (it costs only $23.70), you can hardly get better value for your money, and it would be highly advisable to purchase one for yourself.
Pros:
This is a very versatile, useful and practical flashlight, which also manages to be very sturdy and durable.
It is designed for outdoor use, so it is shock-resistant and waterproof, and it can be used in any weather.
It also features a compass, making it especially useful for hikers and campers.
The greatest feature about it is that it be charged not only via USB, but also by solar power, making it especially handy for situations in which the battery runs out, but you aren't close to a computer or a power outlet.
It can also be attached to a car or to another metallic surface, which means that it can be used as an emergency light when you get into such a situation.
Cons:
Some have complained that the magnet is not strong to hold the weight of the flashlight, so you should keep that in mind.
Also, the wristband sometimes tends to break, which might get you in a tricky situation sometimes.
Since it comes at the low price of $24.99, you can never find such a versatile flashlight offering so much while being so affordable. It is easily the best choice for all, or at least for most of, your needs, and it will provide an amazing value for money.
Conclusion:
As we can see, there are many different flashlights on the market, each with their own unique advantages and disadvantages.
Your choice will mostly depend on your needs and preferences, so you need to weigh the pros and cons of every flashlight for yourself.
However, when it comes to the ratio of quality, versatility, and practicality to the price, the last flashlight on the list, Delxo Patriot can offer the most and would be the wisest investment.
X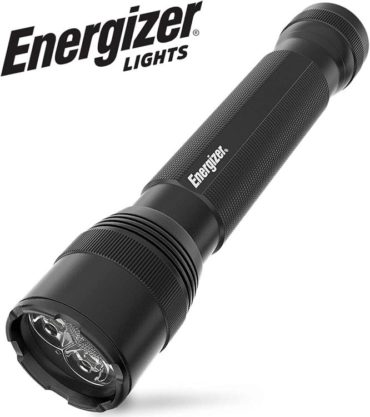 You might want to hear this:
The Gambles said…
"I am very happy with my new flashlight. It is bright, it is a good size and also has the port to charge my phone. I would buy again."