Our top picks
There are many cold brew coffee makers on the market today but which is the best cold brew coffee maker? Before we answer that, let's consider that cold brewed coffee dates back to the 1800s. It was the Dutch that introduced this delicious way to drink coffee and in 1930 it started to gain popularity in the U.S. If cold brewed coffee has been around that long, it must be good!
There was a time when people went to great lengths to make their own cold brewed coffee without the help of a machine. It can be tedious work! Now, we have the option of using a cold brew coffee maker. Take a look at the options we've found.
Vinci's patented Circle Flow Brewing Technology makes this 37 ounce cold brew coffee maker stand out as a top choice. In as little as 5-minutes you can expect a flavorful cold brew that has been fully extracted.
This is a convenient space-saver and well worth the money.
Pros:
4 brew strengths to choose from
Built-in cleaning function
Can brew and store in the same carafe
Coffee is less acidic and and smoother than other brands
Cons:
Some customers complained the coffee was too weak even after using the highest setting
Coffee that is ground too fine can get into and clog the filter
It's pricier than other brands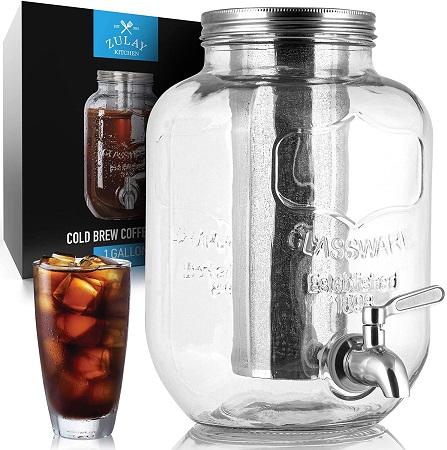 Zulay is in the business of making time-saving and money-saving gadgets for the kitchen. You'll find both of those qualities with their cold brew coffee maker. The 1 gallon carafe is made of thick glass for durability and it also has a fun design.
The manufacturer backs up their product with a lifetime guarantee. They also provide great customer service.
Pros:
Can be used for brewing drinks other than coffee
Comes with a stainless steel mesh filter which helps in keeping our too finely ground coffee
Very easy to clean; dishwasher safe
Easy operation that requires little work
Cons:
Common customer complaint was an instruction manual was not included
No handles make a bit cumbersome to carry
There is concern that metal parts are too sharp and cause injury
Ovalware is a relative newcomer to the cold brew coffee maker scene but they are certainly promising. The carafe, which holds 51 ounces, has an attractive and modern design.To avoid mishaps, you'll find a sturdy handle and a rubber base.
If you feel the best cold brew coffee maker is one that is no hassle to clean or use, then give this one a try.
Pros:
All components are dishwasher safe
Affordably priced
Customers have raved about Ovalware's customer service
Eco-conscious consumers appreciated the fact there is little plastic used with this machine
Cons:
Instructions aren't as thorough as they could be
The most common complaint is how fragile the glass is
Several consumers mentioned the seal is not airtight although it is advertised that way
The Bean Envy motto is "our customers deserve the best" and we believe they strive to reach that goal. This features a precision cut stainless steel filter, BPA free silicone, and a non-slip base.
This is another manufacturer that offers a lifetime warranty for this easy and safe to use cold brew coffee maker.
Pros:
The instruction manual is thorough and leaves out no details
Comes with a stainless steel cap as well as a silicone cap
The markings on the carafe are easy to read
It isn't necessary to strain the metal filter through an additional paper filter
Cons:
Its 32 ounce size makes it a bit impractical for large families
Some found the filter difficult to clean
It is a possibility the silicone ring may come loose
Made of recycled materials, this 34 ounce cold brew coffee maker provides a delicious, full-flavor coffee. What you'll find is coffee with an expensive taste without the expensive price tag. It is simple to use and easy to clean.
This is a durable and multi-functional appliance.
Pros:
Stainless steel, fine mesh infuser that keeps grounds out of coffee
BPA-free
Dishwasher safe
Silicone base on the carafe prevents breakage
Cons:
Lid has no opening to pour so it has to be completely removed; slight inconvenience
Customers felt the lid gasket might be a bit too flimsy
There is a potential or parts of this machine to rust over time
With this cold brew coffee maker you have the option of a 1 quart (32 ounce) or 2 quart (64 ounce) carafe. Unlike other brands, this carafe is not glass but is made of BPA free plastic. It features a no-slip silicone handle making it easy to transport and handle.
Takeya was founded in 1961 so it's safe to say they are skilled in the biz of cold brew coffee makers.
Pros:
Small enough to fit easily on most refrigerator door shelves
The plastic carafe is less likely to break/shatter like glass; less risk of injury
Very simple to setup and clean
Air tight lid makes it possible to store on its side
Cons:
Given the lack of bells and whistles other brands have, this is a bit overpriced
Customers complained about grounds leaking into coffee
May not make as strong a concentrate as desired
Primula has crafted a cold brew coffee maker that is easy to use and easy to clean. The streamline design means it fits on most fridge door shelves and the removable bottom makes it a breeze to clean.
This is the least expensive coffee maker on our list and it is worth a try if you enjoy cold brewed coffee at home.
Pros:
Customers appreciate the detailed instructions that come with the product
Unlike other brands, this one features silicone that covers a large area of the carafe
Unscrews from the bottom to remove grounds
Makes smooth and full-flavored cold brewed coffee
Cons:
Lid is somewhat poorly designed making pouring awkward
Despite the silicone cover, consumers felt the glass was a bit too fragile
Filter could be better; it is likely grounds will end up in your coffee
Our Winner
As previously stated our choice for best cold brew coffee maker is the Vinci Express Cold Brew Electric Coffee Maker. We felt this one stood out above the others due to it's brew strength options and the overall taste of the coffee. It's clever design makes it a good fit in even the smallest refrigerators.
The Vinci company was created by a team of engineers who understand the importance of quality and functionality. While this particular model is pricier than others, we feel it's worth the money.
Buyer's Guide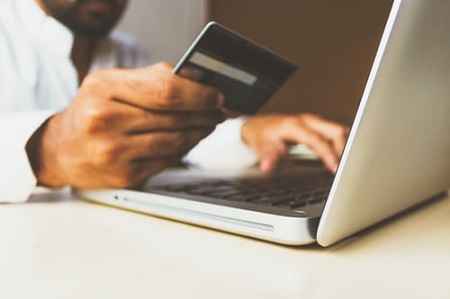 We understand that you may have questions you need answered before choosing the best cold brew coffee maker for your household and we're here to help. We've gathered what we found to be the most asked questions and because we take what we do seriously, we have provided you with well researched answers.
Are there benefits to using a cold brew coffee maker?
Like you, we feel staying healthy should be a priority. That's why we understand you may have concerns about the healthy benefits of drinking cold brewed coffee. Here's what we've learned:
Antioxidants: Coffee contains many helpful antioxidants that can increase life span and while cold brewed coffee has fewer antioxidants, it does contain compounds with high antioxidant activity.
Better brain function: Studies have shown that caffeine can increase and improve brain function and cold brewed coffee contains compounds that may offer protection against brain-related diseases.
Gentler on your stomach: It is well known that hot coffee can cause acid reflux and other digestional issues due to the high level of acidity. Cold brewing coffee reduces the acid which may make it easier on your stomach.
Less calories: Cold brewed coffee is naturally sweeter than hot coffee which reduces the need for copious amounts of sugar/sweetener for most drinkers.
This is my first time buying a cold brew coffee maker. What do I look for?
If you are a first time buyer, knowing the best cold brew coffee maker to choose can be confusing with so many brands and options on the market. Here are some tips we think will help.
Filter vs. Infuser: You may be faced with the decision of choosing paper filters or a reusable infuser. If so, keep in mind while paper filters are convenient they must be replaced constantly. This cost adds up. If you choose an infuser, it must be regularly cleaned but will save money in the long run.
Size: This is based solely on personal preference and is determined by how much cold brewed coffee you drink, if you plan to make big batches at a time, and how much space you have to dedicate to your brewer.
Cost: As with any item, it is important to have a clear price point in mind before shopping.
Method of brewing: You will find you have the option of slow drip or immersion. The latter is the most common form of brewing, it takes the most time (12-24 hours), and the end result is a much stronger coffee that will likely need to be diluted. Slow drip takes much less time and you'll find this method makes coffee with the similar strength as a regular coffee pot, no diluting necessary.
I'm a little confused about the types of cold brew coffee makers. Help!
As mentioned above, there is the option of immersion brewing and slow drip brewing. Another option is automatic brewing. This method is the fastest way to make cold brewed coffee. This is a more versatile option than immersion or slow drip and typically allows you to choose your preferred strength. It should be noted that an automatic cold brew coffee maker will be more expensive.
I've heard maintaining a cold brew coffee maker can be difficult. Is this true?
Most manufacturers claim their products are dishwasher safe. Because we have found the most common complaint across the board is that carafes break easily, we recommend washing all components by hand. Using warm water (especially with glass carafes), first gently rinse each part then wash/rinse thoroughly with warm, soapy water. Dry with a soft, clean towel.
Does a cold brew coffee require a special kind of coffee?
Coffee brands vary greatly in price. Unless you prefer a more expensive brand, it isn't necessary to use one, however: it is important to note that it is possible your favorite brand may not work with a cold brew coffee maker. Please consider the following factors when selecting your coffee:
To grind or not to grind: Any coffee connoisseur knows that fresh ground coffee provides the best flavor but it isn't necessarily the most time-saving method. Buying whole bean coffee also isn't always the cheapest option either. There are pros and cons to grinding your own and buying pre-ground but what it comes down to is your preference in taste.
Coarseness: This is where you'll want to be careful. For cold brewing coffee makers the best coarseness is rough and not fine. Fine grounds tend to end up in the bottom of your pot and that can be unpleasant. We suggest checking manufacturer instructions on which is the best option for the brand you choose.
Roast: As far as roast is concerned, our research has shown that when cold brewing there isn't really a "best" type for cold brewing coffee makers. Again, this depends on personal taste preference. Commonly consumers choose a darker roast simply because it is cost-effective. It also requires less extraction time and the coffee tends to be more robust and flavorful.
Do you have tips for making cold brewed coffee?
We do! Try these suggestions when making your coffee:
At minimum, the grounds should steep for 12 hours.
Tap water will work fine but for the best flavor, use filtered water.
If you want the best possible results, use coarsely ground coffee beans
As a little bonus, make coffee ice cubes to keep your drink from becoming too diluted.
Conclusion
We hope our recommendation of the Vinci Express Cold Brew Electric Coffee Maker as the best cold brew coffee maker meets your expectations. This one has extra features that a true lover of cold brewed coffee will appreciate. Finding your "sweet spot" with regard to your perfect cup of cold brew may require trial and error but in the end, it is so worth the effort. And remember, any time is a good time for cold brewed coffee!
X
You might want to hear this:
Debbie L. Foster said…
"I LOVE my Airtight Iced Cold Coffee Maker decanter! I have purchased 3 of these and use them for Cold Brew Coffee, Iced Tea and OJ. You can remove the filter so it can be used without the filter also."